UCF quarterback John Rhys Plumlee inks NIL deal with Mercury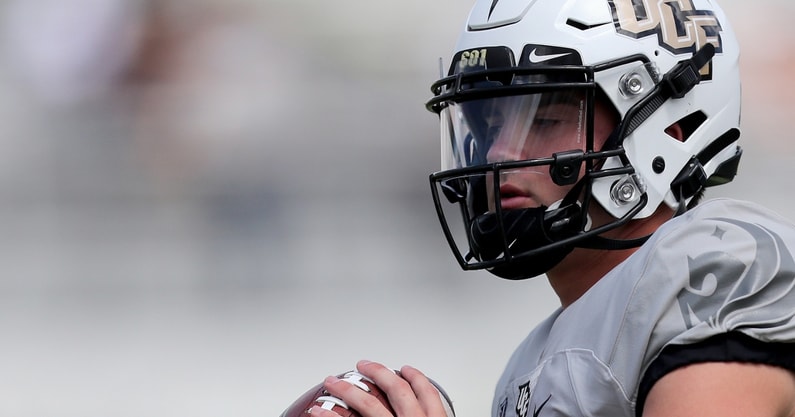 UCF quarterback John Rhys Plumlee has signed an NIL partnership with Mercury Sports.
The digital brand-experience company creates exclusive digital-first platforms and communities for top collegiate brands to bring fans closer to their favorite athletes and teams. As part of the deal, Plumlee will partner with the company for the remainder of the season.
Mercury recently released its digital UCF platform, dubbed ChargeOn. Plumlee will be a monthly guest on the company's Next Up podcast with Adam Breneman, who serves as Mercury's vice president of NIL. ChargeOn community members will receive early access.
As part of the deal, Plumlee will be able to drop digital collectibles and experiences on ChargeOn. He'll also be a member of the platform's Discord chats with UCF fans. He has the Knights at 3-1 entering this weekend.
"Over conversations about gameday and life, and through our interviews on the Next Up by
Mercury podcast, it became apparent to me that John Rhys is a great leader and communicator," Breneman said in a statement. "He is a star on the field for UCF football and baseball, and a difference maker in the UCF community. I'm excited to help UCF fans to get to know JRP in a unique and authentic way through content and experiences."
Plumlee previously inked deals with Craddock Oil Company and B-Unlimited. He's a baseball player, too. Before transferring out of Ole Miss, the outfielder hit .267 with four doubles, a home run and seven RBIs in 2021.
He did not play for UCF this past spring because the NCAA denied his transfer waiver. Plans are still in place for him to play for the Knights this year.
"Our goal is to partner with the most dynamic players in the country, and JRP is one of the most
exciting players to watch on Saturdays," Mercury CEO Porter Grieve said.
John Rhys Plumlee's On3 NIL Valuation
John Rhys Plumlee's On3 NIL Valuation has continued to rise since he arrived at UCF. He currently holds an On3 NIL Valuation of $100,000. The Knight quarterback's evaluation ranks in the top 500 of the college football NIL rankings.
He also has a per post value of $740 thanks to a social media following of 87,000. He's seen a steady growth throughout the fall.
In Saturday's win over Georgia Tech, he rushed for 100 yards on 16 carries and a touchdown.
The On3 NIL Valuation is the industry's leading index that sets the standard market NIL value for high school and college athletes. A proprietary algorithm, the On3 NIL Valuation calculates an athlete's NIL value using dynamic data points targeting three primary categories: performance, influence and exposure
While the algorithm includes deal data, it does not act as a tracker of the value of NIL deals athletes have completed to date, nor does it set an athlete's NIL valuation for their entire career. The On3 NIL Valuation calculates the optimized NIL opportunity for athletes relative to the overall NIL market and projects out to as long as 12 months into the future.