UCF NIL collective Mission Control hosting 'Built by UCF Knight'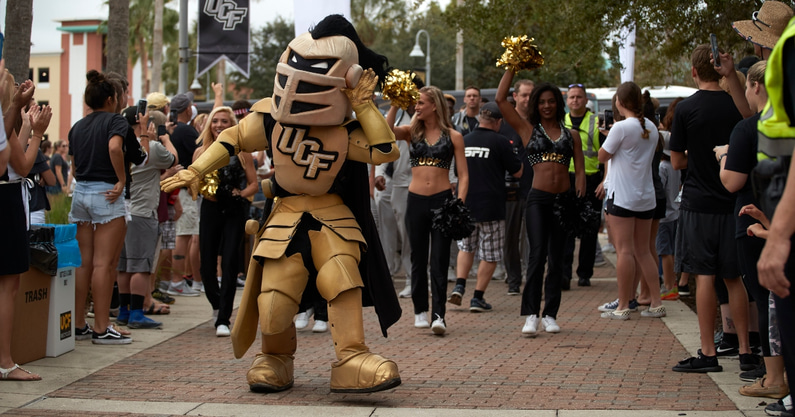 The UCF NIL collective is called Mission Control. The group is hosting an event Friday called Built by UCF Knight.
The event — which takes its name from UCF's Built by UCF hashtag to celebrate UCF players in the NFL — will allow fans to meet and greet with former Knights stars. Among those attending are Daunte Culpepper, Blake Bortles, McKenzie Milton, Latavius Murray, Gabriel Davis and Shaquem Griffin. Food and drink are also available.
The proceeds of the event are going to raise money for Mission Control. The UCF NIL collective has been working to better establish itself and grow. This is a step in that direction.
Money from the event will also be go to the Otis Anderson Jr. Foundation. Otis Anderson Jr. was a running back at UCF from 2017 through the 2020 season. He signed as an undrafted free agent with the Los Angeles Rams before being murdered by his father, while he tried to protect his mother. The Otis Anderson Jr. Foundation is run by his mother, Denise Anderson.
Tickets to the event cost between $250 and $10,000, depending on the sponsorship level. Along with the meet and greet there is a cocktail hour and a silent auction. It has sold out.
About Mission Control
Mission Control is the UCF NIL collective, which hopes to improve the UCF fan experience. They're doing this through NFTs, meet and greets, limited-run apparel, camps, clinics, and more. Like many NIL collectives, it is crowdfunded by fans, alumni and other supporters. To join, you can pay a monthly fee of $10, $25, $50, or $200.
Mission Control is not affiliated with UCF. It is, however, powered by the NIL company Dreamfield. Dreamfield offers a NIL platform for brands and student-athletes. They also offer advice and support to student-athletes. Importantly, Dreamfield was also co-founded by star UCF quarterback McKenzie Milton.