UCLA star Jaylen Clark scores NIL deal with Newegg, MSI and Seagate Technology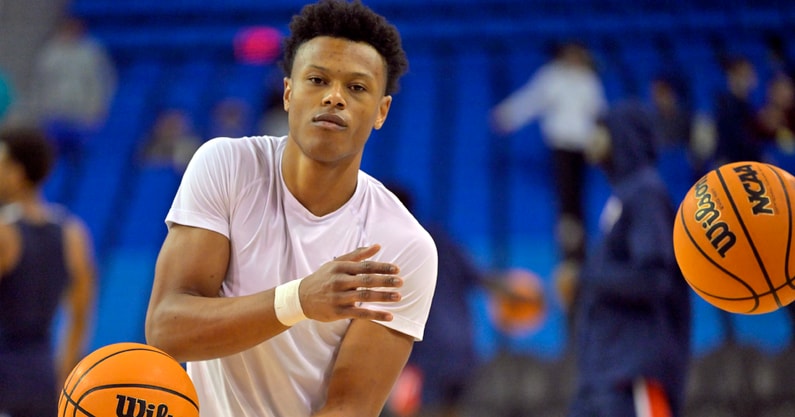 Even though he's done for the year because of injury, UCLA basketball star Jaylen Clark has signed a slam dunk NIL deal ahead of March Madness.
Newegg, MSI and Seagate Technology announced Monday morning the launch of a basketball-themed and NIL-fueled campaign featuring Clark.
A spokesperson for Newegg confirmed to On3 the NIL deal was agreed to before Clark suffered an Achilles injury that will keep him out of the NCAA Tournament. All photos and videos from the agreement were also completed before the injury.
Clark was a key player for UCLA. He was second on the team in scoring and is considered to be one of the best defenders in the country. His loss is a massive blow to UCLA. The Bruins drew a No. 2 seed in March Madness and got UNC-Asheville Thursday in the first round.
The deal is a further sign that more and more big brands are going to engage with top players before March Madness tips off.
Clark was the Pac-12 Defensive Player of the Year, UCLA's first honoree for that award since 2008, and was a second-team All-Pac-12 selection. In addition, he is among 10 national semifinalists for the Naismith Men's Defensive Player of the Year after averaging 2.6 steals per game.
NIL deal makes sense for Jaylen Clark, technology companies
The deal between Clark and technology companies Newegg, MSI and Seagate Technology makes sense. Clark has his own YouTube channel with more than 33,500 subscribers. He often posts behind-the-scenes videos about himself and his life as a student-athlete.
"If I'm not playing basketball or sleeping, I'm probably using some form of tech in the classroom, between classes and in my limited downtime," Clark said in a statement to On3. "Taking notes in class and then studying them is easier with a laptop. Of course, I have to back up everything with a hard drive.
"As a communications major, I've documented a lot of the behind-the-scenes moments through my YouTube channel so people can get an idea of what a student-athlete's life is like. I shoot the footage and then edit on a laptop. I can't imagine a day without using tech now and in the future."
The terms of the agreement were not released. Clark will be featured on social media accounts using a MSI Katana 15 Gaming Laptop and backing up his data with a Seagate Expansion external hard drive. Additionally, he appears wearing a Newegg jersey and with Newegg delivery boxes on a basketball court.
Expect more NIL deals ahead of NCAA Tournament
This is not the first time Newegg has ventured into the NIL world with student-athletes. Last March, Newegg signed a NIL agreement with Arizona basketball player Cate Reese ahead of the NCAA Women's Basketball Tournament. Reese was a 2021-22 All-American, and she was a second-team All-Pac 12 pick this season – the fourth time she's made the all-league team.
Other brands are weighing into the NIL world in March.
Recently, Gonzaga star Drew Timme inked a deal with Beats by Dre, Auburn guard Wendell Green announced an agreement with The Next Round, the Illinois NIL Store launched a Matthew Mayer "Mullet Monster" T-shirt campaign and MarketPryce agreed to a deal with the entire UCLA's women's basketball roster.
Additionally, Nabisco released deals with top stars like Baylor's Keyonte George and TCU's Mike Miles. Plus, Great Clips signed Mayer and UConn's Caroline Ducharme to a deal to promote  its "Hats Off Sweepstakes" during March Madness.