UConn basketball's Paige Bueckers announces NIL partnership with Crocs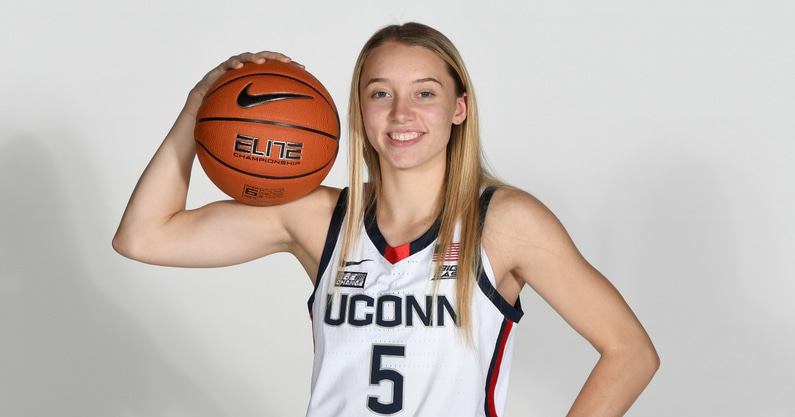 UConn women's basketball star Paige Bueckers continues to set the pace for student-athletes when it comes to NIL deals.  
Bueckers, the 2021 women's national player of the year who led UConn to the 2022 Women's Final Four and national championship game, announced a partnership on Tuesday with Crocs.
The NIL deal was announced on Bueckers' social media accounts, including on Instagram where she has more than 1 million followers.
Financial details were not released by Bueckers or Crocs. But as part of the deal, she will be an official Crocs Ambassador.
Crocs is a world leader in innovative casual footwear for women, men and children. Crocs offer a broad portfolio of all-season products while remaining true to its core molded footwear heritage. The shoes have become popular with athletes to wear before and after games when they're not in their athletic shoes.
Paige Bueckers one of top brands in all of college sports
The NIL deal with Crocs is not the first big deal Paige Bueckers has signed. She already had lucrative deals with Gatorade, Cash App and StockX. She has also filed a trademark for "Paige Buckets" — presumably to create her own line of merchandise.
Experts say Bueckers may be the most marketable college basketball player in the nation.
"There are not many seven-figure potential student-athletes in the country," Opendorse CEO and co-founder Blake Lawrence said earlier. "Paige is one of them."
Bueckers also agreed to a NIL deal in March that aims to draw awareness to the issue of student hunger. As part of the deal, she became the first student-athlete brand ambassador for the education platform Chegg. 
Many fans are viewing Name, Image and Likeness only as an opportunity for student-athletes to make money off their brands. But NIL observers say more athletes like Bueckers are doing deals that raise awareness on social issues.
"Deals like this where the athlete is using his or her NIL to draw awareness to a social issue are definitely growing," Mit Winter, a sports attorney at Kansas City-based Kennyhertz Perry LLC, said after the deal was announced. "I think these types of deals are great for the athlete, the brand they're working with and the social issue being addressed.
"For the athlete, it shows the public and other brands that they have interests beyond athletics. So often, athletes can get pigeonholed as just an 'athlete.' I'm a big fan of deals where athletes can open up about their interests outside of sports. And these deals also allow athletes to use their star power to bring attention to issues they feel passionate about."