Texas supporters launch NIL program that other schools likely will copy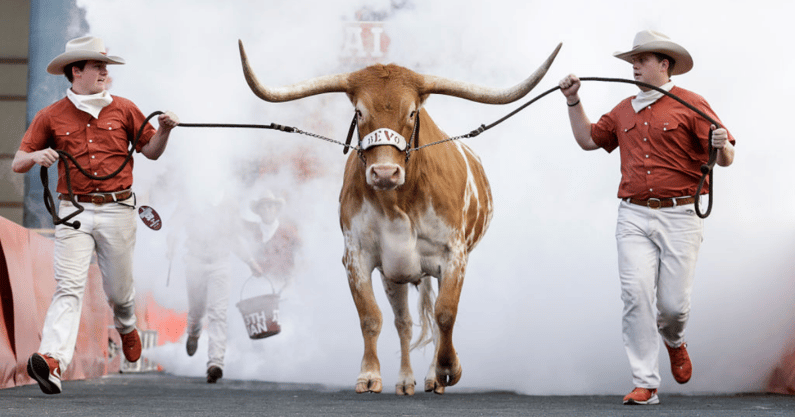 Prominent University of Texas donors, former Longhorns athletes and veteran sports marketer Nick Shuley launched an eight-figure NIL program Wednesday that should become the template for deep-pocketed supporters of blue-blood schools nationwide.
The Clark Field Collective has secured an initial pledged commitment of $10 million for Texas NIL activities, an attention-grabbing starting figure for a program whose goal is nothing short of possessing the largest dedicated fund in the nation for college athletes. On the NIL front, consider the nationwide arms race among well-heeled boosters well under way.
"It is the game-changer," said Shuley, who will serve as CEO with a board of directors composed of business leaders and former athletes connected to the university, including former men's basketball star T.J. Ford and former All-American safety Kenny Vaccaro. "This is the program that Texas deserves, and if we're going to do something at the University of Texas, it needs to be done right."
The collective, which is unaffiliated with the university, was created to assist the school's athletes in 17 varsity sports in cultivating and facilitating NIL opportunities in conjunction with businesses, donors and fans. Shuley, who for years has run successful marketing efforts for the likes of Bo Jackson, Lance Armstrong and Lollapalooza, believes the university maintains the largest and wealthiest alumni donor base in the nation, an asset that needs to be tapped into during the new NIL era.
Shuley said the collective aims to serve as a one-stop fund to be disseminated among all sports for NIL activities, which include endorsements, autographs, appearances and more. It establishes a universal basic earnings program based on services provided by Texas athletes. Exactly how much each athlete would receive is yet to be determined by the boards representing each specific sport. 
There is a broader executive board as well as sport-specific boards that include a mix of donors and former athletes. For instance, Ford, a former nine-year NBA veteran, will serve as a basketball board member; Vaccaro will serve on the football board; and Juliann Johnson, a three-time All-American, will serve on the volleyball board. 
Vaccaro, an eight-year NFL veteran, noted in a statement that Texas perennially is one of the highest-grossing athletic programs in the country (with annual revenue typically exceeding $220 million) and that the collective intends to ensure that all athletes at the school "have a way of participating in these immense financial opportunities" through NIL.
An easily adaptable NIL idea for other schools
The Clark Field Collective will surely be copied by donors of other blue-blood programs. But few schools nationwide possess the wide swath of boosters that Texas boasts, a vast collection of supporters with the financial muscle to match their passion for their school. When the NIL era dawned July 1, it allowed fervent burnt orange boosters to not only fill the pockets of current athletes in an over-the-table manner — provided athletes endorse a brand or provide a service — but also create an enticing recruiting pitch for talented prospects who are considering making the Forty Acres their home.
"We have a unique setup here at Texas where we have the biggest and best and most prominent donors, in my opinion," said Shuley, who lives in Austin. "That definitely sets us apart from other universities. There is no reason we shouldn't line all that up so everyone benefits. . . . There are so many opportunities to work with some of the best brands just in our backyard."
In the technology space alone, Austin is fast become a booming tech hub, with more than 100 tech companies relocating to the Austin metropolitan area just in the past two years. In 2020, Austin earned the top spot in the Tech Town Index as the best metro area nationwide for businesses in terms of opportunity and livability. 
The launch of this collective comes on the heels of two Texas supporters in September launching the innovative "Burnt Ends" program, which enabled all Texas tight ends to monetize their NIL by tapping into the zealous community within the popular Texas message board, Surly Horns, and beyond. It was hyped as the nation's first fully crowdsourced NIL program, with all of the profits funneling directly to the Texas tight end room.
More broadly, several Longhorn players have taken advantage of NIL opportunities, including running back Bijan Robinson and linebacker DeMarvion Overshown. In addition, Texas and The Brandr Group partnered three months ago to launch group licensing for Longhorns student-athletes, creating the opportunity for their NIL to be paired with official UT trademarks and logos.
And now with this collective, Texas supporters and alums have set a new "gold standard," as Shuley called it, in the fast-developing NIL landscape, offering partial basic income to athletes in all sports.
"You have this incredible donor base and alumni base and an insane athlete base — let's tap into that," Shuley said. "It is going to be an ever-changing thing that is going to continue to evolve as we figure out the right way to really maximize this. NIL is such (a young) space, so we are going to have to be willing to move and change and be smart about how we do things."
(Inside Texas staffer Joe Cook contributed to this report.)