USC's Boogie Ellis signs NIL deal with House of Victory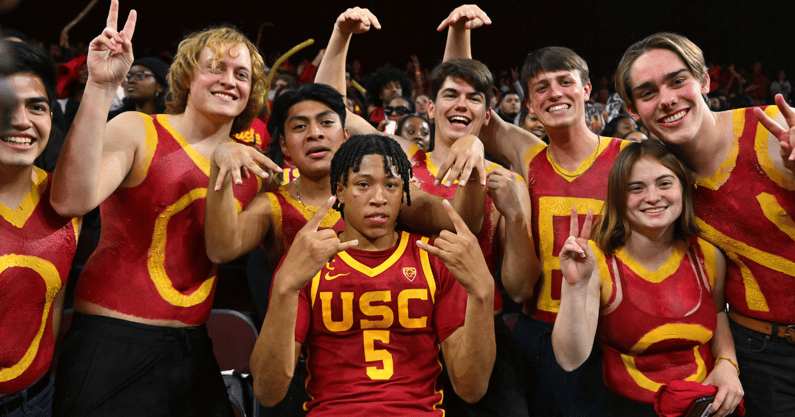 Boogie Ellis decided to return to USC for a final season last month.
Nearly four weeks later, he officially announced the decision while signing an NIL deal with the Trojan-focused House of Victory collective. The USC point guard announced the partnership simultaneously with the organization Wednesday afternoon on social media.
Ellis opted not to enter his name from the NBA draft in favor of returning to Los Angeles. The former four-star recruit transferred into USC back in 2021 after spending two seasons at Memphis. He immediately made an impact in Year 1 with the Trojans starting all 33 games and averaging 12.5 points and 3.5 rebounds.
This past season he was able to help them finish third in the Pac-12. USC earned a No. 10 seed in the NCAA tournament, falling in the first round to Michigan State. His production saw a notable uptick, too, as he averaged 17.7 points and 3.7 rebounds. The first-team All-Pac 12 selection and 6-foot-3, 165-pound point guard has emerged as a leader.
That may be the best part of the decision for USC.
"He's just becoming more of a point guard," sophomore shooting guard Kobe Johnson said back in March. "He's taken a big stride in controlling the game. When he needs to take over, he takes over."
Terms of the agreement between House of Victory and Ellis were not released. Returning to USC allows him to continue to profit off his NIL and work with brands and collectives. It's unclear what his draft positioning would have been, yet NIL makes exhausting his final year of eligibility financially worthwhile.
He signed on with Athletic Brewing ahead of March Madness, joining a marketing campaign with Texas' Rori Harmon and Houston's Marcus Sasser. Ellis promoted Panda Express on his Instagram in March, too.
Andy Enfield will now have Ellis back in the lineup next to the top-ranked class of 2023 recruit, Isaiah Collier. A five-star point guard, he will be a strong complement to Ellis' game in the USC backcourt. Bronny James has yet to make a college decision; USC is the favorite, per the On3 Recruiting Prediction Machine.
Boogie Ellis' On3 NIL Valuation
Next to Zach Edey and Hunter Dickinson, Boogie Ellis is arguably one of college basketball's top returning players. His social media following saw growth over this last season, jumping to more than 144,000 followers.
Those two factors are a major reason why he holds a $150,000 On3 NIL Valuation. The valuation ranks No. 56 in college basketball. Once the NBA draft class is finalized, Ellis' positioning will surely rise.
The On3 NIL Valuation is the industry's leading index that sets the standard market NIL value for high school and college athletes. A proprietary algorithm, the On3 NIL Valuation calculates an athlete's NIL value using dynamic data points targeting three primary categories: performance, influence and exposure.
About On3 NIL Valuation, Brand Value, Roster Value
While the algorithm includes deal data, it does not act as a tracker of the value of NIL deals athletes have completed to date, nor does it set an athlete's NIL valuation for their entire career. The On3 NIL Valuation calculates the optimized NIL opportunity for athletes relative to the overall NIL market and projects out to as long as 12 months into the future.