USC WR Brenden Rice signs NIL deal with financial app MoneyLion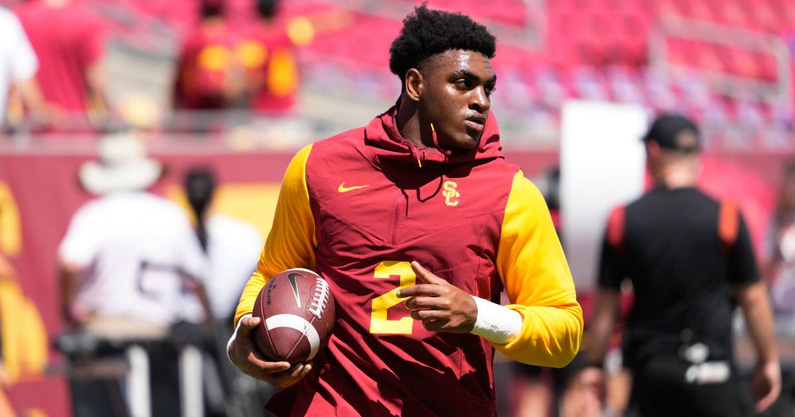 The content and compliance software platform INFLCR and the financial app MoneyLion announced a partnership Monday. Through the partnership, the companies will provide college athletes with new offerings regarding financial preparedness and investing in the second academic year of the NIL era. USC junior wide receiver Brenden Rice is one of the athletes who has signed an NIL deal to help promote the new partnership.
"With the whole NIL era dawned upon us, you can definitely expect to see a large amount of money given to athletes and athletes need to learn how to use that money towards an overall greater financial education," Rice told On3. "With these large amounts of money, you also have taxes. You have to invest that type of money into long-term growth."
Through the first year of the NCAA's NIL era, college athletes said they needed more guidance regarding NIL, taxes and financial literacy.
In May, the NCAA released the results of a survey of more than 9,800 college athletes. Forty-nine percent of respondents indicated "a need for educational resources on tax and financial literacy."
"You can't be too prideful when you get a large sum of money," Rice said. "You have to make sure that you invest it and take critical time to really go about it and plan certain things out because if you go ahead and blow your money, then you're going feel as though you're stuck."
USC has been in the NIL spotlight
In June, USC announced that it signed an agreement with the media agency Stay Doubted, which established a subsidiary called BLVD. BLVD, which Stay Doubted CEO Michael Jones has referred to as a "collective+," has quickly earned the distinction of being one of the most ambitious NIL collectives.
A collective is a catch-all term for various, often independent organizations that assist a school's athletes with NIL activities by pooling funds or connecting them with marketing opportunities.
BLVD helped wide receiver Jordan Addison, a transfer from Pitt who won the Biletnikoff Award last season, secure an NIL deal with United Airlines. The collective also announced it will fly the families of more than 50 USC players to games this season.
USC quarterback Caleb Williams ranks fifth on the On3 NIL 100, which is the first of its kind and the defacto NIL ranking of the top 100 high school and college athletes ranked by market valuation.
Addison ranks seventh.
Brenden Rice's On3 NIL Valuation
Brenden Rice is a former three-star recruit who played for Colorado the previous two seasons. He's one of the many players who transferred to USC after the school hired former Oklahoma coach Lincoln Riley.
Rice has an On3 NIL Valuation of $45,000. The On3 NIL Valuation is the industry's leading index that sets the standard NIL market value for high school and college athletes. It uses a proprietary algorithm that incorporates data points that include an athlete's performance, influence and exposure.
The On3 NIL Valuation doesn't track the value of the NIL deals an athlete has signed to date, nor does it establish an athlete's market value for the athlete's entire career.
After Williams provided his teammates with pairs of Beats headphones thanks to an NIL deal with the company, Rice hopes he can repay the favor someday.
"It feels as though it's a type of brotherhood just to be able to do that," Rice said. "Hopefully I will be able to do the same thing within MoneyLion or another deal."