USC's NIL media agency BLVD makes first set of hires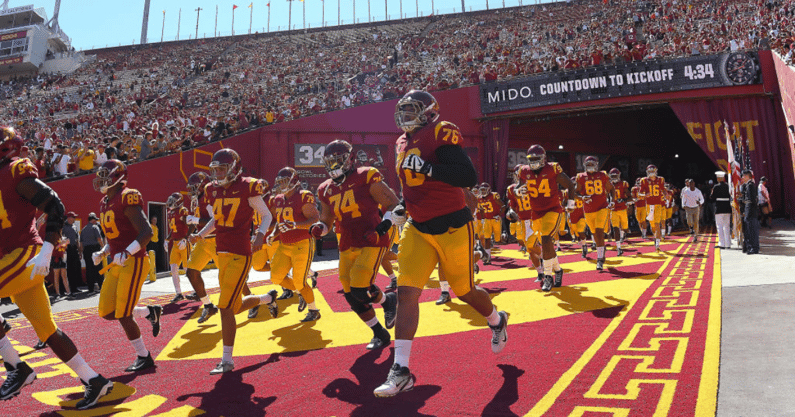 BLVD, the new third-party agency and media company exclusively serving USC athletes in NIL, has made its first set of hires.
USC football director of player personnel Spencer Harris is joining Stay Doubted to help run BLVD LLC. And Megan Mueller, USC's director of player engagement, and a major name in the recruiting department, will handle player relations for the newly-formed company.
The Trojans athletic department announced the formation of BLVD on Wednesday. This marked the first move USC has made in the NIL game. With the addition of the new third-party option, players will be supported in their pursuit of NIL opportunities from inside the university.
USC does not have a booster-driven collective, so this unique move keeps the school competitive in NIL. BLVD positions the Trojans to assist student-athletes in NIL ventures on a day-to-day basis while not taking away time from coaching staffs. Just three percent of USC's student-athletes have engaged with professional service providers.
Harris has been working in recruiting with USC football since 2019. Beginning in December, Harris was charged with growing that into an 11-man operation that would start to move USC in the direction of college football's recruiting elite.
While he does come from a recruiting background, sources told On3 that he's well-versed in NIL. With the new college landscape changing every day, Harris can bring his experience to USC's new agency.
Mueller joined the USC recruiting department in March 2021. She had previously spent time as a football recruiting assistant at Kansas and Colorado. With her relationships throughout USC's department, she can put BLVD in position to make an instant impact.
Why BLVD matters to USC, NIL landscape
USC has not rushed into the new world of NIL.
Making the move to hire Lincoln Riley obviously addressed some major needs in the football program, specifically recruiting and validation. But this latest move will put the Trojans in a unique category.
USC's partnership with Stay Doubted creates an unassociated and unaffiliated organization focused only on Trojans athletes. But instead of the typical collective where donors are pooling funds together to pay players and find deals, this takes out all of the inducements out of the picture.
The Trojans investing in BLVD. These first set of hires show how quickly USC can be a player in NIL.