Collective Conundrum: USC, BLVD 'very wary' of Student Body Right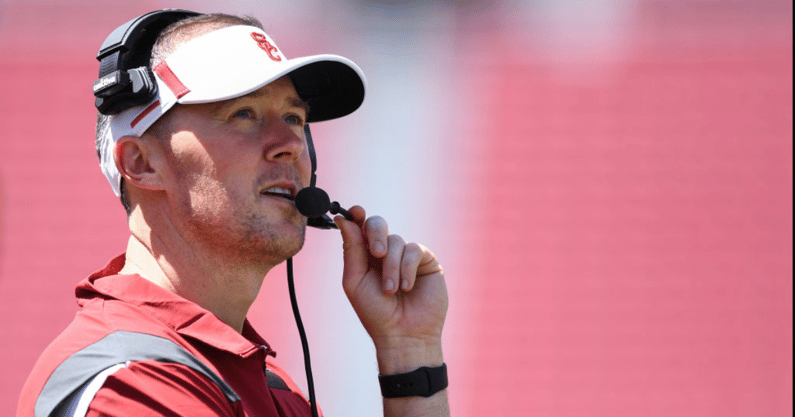 USC prepped behind closed doors for a month. With Stay Doubted founder Michael Calvin Jones working closely with former Trojans chief of staff Brandon Sosna, the two pieced together a first-of-its-kind collective that would bring USC into the NIL era.
That organization, dubbed BLVD LLC, launched in June. With a seven-man staff and the backing of Stay Doubted, a media agency, USC created the future NIL collective. Typically founded by alumni and influential donors, school-specific collectives pool funds to create opportunities for student-athletes.
BLVD set out to accomplish that and more. With the full backing of Lincoln Riley and the USC athletic department, more than 75% of the football roster has signed on. The organization also has plans to secure official partnerships for the Trojans student-athletes with a goal of raising $75 million in five years — a number that appears to be within reach early on.
Yet, the collective and institution hit a major speed bump Tuesday night. In an article in the Los Angeles Times, Florida businessman and USC fan Dale Rech detailed plans for a third-party collective to join the LA market. Dubbed "Student Body Right," the organization claims to have "a group of deep-pocketed USC donors and diehard fans" on board. Rech has a plan to provide "the equivalent of a base salary" for every member of the school's football team who is academically eligible.
Upon further review, however, signs point to the new collective being much less organized than it initially appeared.
"We're not at the point where we can definitively give a start date," Rech told On3 on Wednesday afternoon. "We actually are targeting the first of the year."
Brian Kennedy, who Rech has touted as one of the main donors, was once a chief USC donor. The Trojans' practice field is named after him. But in the last decade, he has distanced himself from the program, specifically after he felt double-crossed by former USC athletic director Pat Haden for hiring Steve Sarkisian over Ed Orgeron.
In a call with On3 on Wednesday, Rech did not identify any compensation his organization is ready to pay. He also refused to name any other boosters who have signed on to Student Body Right. There is also no evidence that Kennedy has made a single contribution.
"There are people that have been involved with this, and will continue to be involved with this, but right now are afraid of blowback from the university, individually," Rech said. "And otherwise, if they are identified in this, it doesn't really matter. Brian Kennedy has come out. He could care less what they want to do."
In a statement to On3 on Wednesday afternoon, a high-ranking USC official stated that the athletic department does not have any record of a donation or ticket purchases from Rech.
"USC shares the desire to promote and protect the BLVD program in support of our more than 600 student-athletes," the administrator said. "To that end, USC has no relationship history with Mr. Rech, nor do they have record of any ticket purchases or athletics donations. We would be very wary of anyone launching a NIL initiative who has no known connection to the athletics program and no proven track record of supporting our student-athletes."
Given the opportunity to respond, Rech told On3 that "I have given money to USC, not directly, but have funded different things during the PC (Pete Carroll) era that did not come directly from me."
Sources with direct knowledge of the situation at USC have characterized the news as a "distraction." Others have said that USC head coach Lincoln Riley is "annoyed" with the situation.
Meanwhile, BLVD continues to thrive. The organization has dished out $2 million worth of deals in less than three months. Car deals with some of the top-level players on USC's roster are being unveiled next week. And the collective has eight figures of cash in the bank through donations and other ventures.
Disconnect between Dale Rech, USC
In Tuesday night's story, Rech said Student Body Right has filed for 501(c)(3) charitable organization. This has the USC administration on high alert already. While BLVD is an LLC, Student Body Right could be opening itself up for IRS scrutiny. The organization will also be required to file a 990-N form. This will force them to disclose every deal they do, including the cash delivered to each athlete.
Another issue that USC has with the new collective is Rech's belief that his group can exist in the Trojans' NIL landscape. The athletic department has partnered with BLVD in the hope of uniting the USC donor base.
Instead, Student Body Right hopes to exist side-by-side with BLVD.
"It can and will coexist," Rech said. "We want to work with BLVD. We would not be surprised if there are more collectives that sprang up, and we welcome them. If it gives people a reason to contribute to helping us win national championships.
In response to the thought of partnering, Stay Doubted founder Michael Calvin Jones told On3 that the collective would be happy to work with an organization if it operates in the best interest of USC.
"BLVD has and will always be open to working with any party that wants to support USC student-athletes NIL initiatives in a manner that's in the best interest of the athlete and the university," he said.
Rech also outlined repeatedly in his conversation with On3 that Student Body Right can not interact with USC officials. He said the same thing to the LA Times, stating that his attorneys had carefully looked over the NCAA policy.
California law does not prohibit USC employees from participating in or facilitating the NIL activities of student- athletes.
Darren Heitner, who helped do legal work for USC in the establishment of BLVD, is a well-known NIL expert. He helps create NIL contracts for multiple clients, including the Cavinder Twins. He also assists institutions in formulating strategies for navigating NIL and outlined how Rech's stance on NIL laws is incorrect.
"Schools cannot be involved in actually negotiating those deals," Heitner said. "I think the NCAA has been pretty clear about that, that the school should stay as far away from that as possible. There's also not anything specific that does or should prohibit a school from more loosely being involved in NIL activities.
"NCAA rules are subject to the state laws."