Top five On3 NIL Valuations in USC, UCLA showdown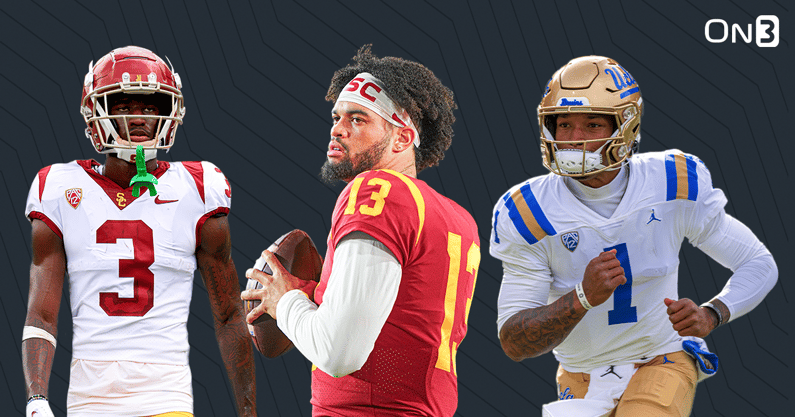 Roughly a year ago, Lincoln Riley was shooting down rumors he was leaving Oklahoma for LSU.
How the tables turn. Riley is now in his first season at USC and will get his first experience of the Crosstown Rivalry on Saturday night against UCLA. The last time both teams were ranked for this matchup was back in 2014 when USC was No. 24 in the AP Poll and UCLA sat at No. 11.
The Trojans are now trying to squeeze their way back into the College Football Playoff picture. A loss at Utah on the final play of the game is the only blemish on their resume. Beating the Bruins on Saturday night at the Rose Bowl would seal an appearance in the Pac-12 title game.
But first, USC will have to get past UCLA. Yes, the Bruins slipped up on the road last week at Arizona. But Chip Kelly has his best team he's had yet in Year 5 in Westwood. Plus, historically, UCLA has been a problem for their crosstown rival.
Before kickoff, On3 is breaking down the top-five On3 NIL Valuations ahead of the showdown.
1. Caleb Williams
On3 NIL Valuation: $2.4 million
Position: Quarterback
Per Post Value: $5,100
On3 Impact 300 ranking: No. 2
Caleb Williams has not skipped a beat this season. When he entered the portal nearly a year ago, the former Oklahoma quarterback had his pick of suitors. For a moment, it appeared he was even giving Wisconsin a long look. Ultimately, however, he followed Riley out to Los Angeles. He's thrived on the field at USC, surrounded by one of the country's top receiving corps. Williams has thrown for 31 touchdowns and just two interceptions with a 63.7 completion percentage. He's dominated the NIL space in recent months, too. Working closely with the marketing firm Smith & Company to shape his brand, he's inked deals with Futuremood, Fanatics Authentic, AC+ION Water and Beats By Dre. Williams has also taken a part-owner roll with the brand Faculty. Plus, he's helping former USC quarterback Matt Leinart in creating an arcade-style video game which will have an NIL component.
2. Jordan Addison
On3 NIL Valuation: $1.2 million
Position: Wide Receiver
Per Post Value: $789
On3 Impact 300 ranking: No. 31
When Jordan Addison has been missing this season for USC, there's been an obvious difference. In the Trojans' loss at Utah back in mid-October, the receiver was injured on the final drive of the third quarter. What appeared to be a leg injury, he was tackled awkwardly on the Trojans sideline and finished the game on crutches. Addison ended up missing two games — Arizona and Cal — and the USC offense powered through. He was eased back in against Colorado last week, finishing with just one catch. And he could be limited again Saturday against UCLA. But the reigning Biletnikoff Award winner has continued to put up stats when he's played. Through the first six weeks of the season, Addison had 32 catches for 479 yards and six touchdowns. When he has played, defenses have been forced to make sure they know where he is on the field every play. All of that's not to mention the exposure he's received since moving out to Los Angeles. His social media following continues to grow and now sits at more than 45,000.
3. Dorian Thompson-Robinson
On3 NIL Valuation: $703,000
Position: Quarterback
Per Post Value: $3,200
On3 Impact 300 ranking: No. 90
Dorian Thompson-Robinson has not had any trouble finding endorsement opportunities since the onset of NIL. The UCLA quarterback has signed partnerships with SoFi, crocs and Candy Digital, just to name a few. This week, he signed with Activision to promote "Crash Bandicoot 4: It's About Time." He earned enough in the first year of NIL to rent out a yacht for his teammates to enjoy before the start of training camp this summer. Most of that is thanks to the massive social media following he has built. With more than 763,000 followers, including 644K on TikTok, brands have been clamoring to strike partnerships. For all the success he's found off the field, he's made sure to deliver his best season yet for the Bruins. Entering Saturday's game, Thompson-Robinson has thrown 20 touchdowns and four interceptions, adding another seven more scores on the ground. He has a 71.0 completion percentage, too, and has thrown for more than 2,385 yards. While UCLA's playoff hopes are done — they slipped up on the road at Arizona and Oregon — they can ensure USC won't be headed to the postseason.
4. Zach Charbonnet
On3 NIL Valuation: $571,000
Position: Running Back
Per Post Value: $592
On3 Impact 300 ranking: No. 28
Chip Kelly tried to land the four-star tailback in his 2019 recruiting class. Just turns out it took a two-year stint with Michigan for Zach Charbonnet to realize the best place to play his college ball was back at home. The Oaks Christian product has emerged as a star in UCLA's offense these past two seasons. He had his first 1,000 yard season of his college career in 2021, racking up 1,137 yards on 202 carries and 13 touchdowns. He's already passed the threshold this season with two games remaining. His 1,145 rushing yards this season ranks 14th in the nation. The 6-foot-1, 220-pound back is averaging 7.5 yards per carry with 13 touchdowns as well. Charbonnet is one of the top running backs in the Pac-12, if not the top. And it's paid off in the NIL space, too. The tailback has continued to add social media followers, now sitting north of 22K. And he inked a big-time endorsement deal this summer with NOBULL. His On3 NIL Valuation has seen a $208,000 spike in the last 10 weeks.
5. Laiatu Latu
On3 NIL Valuation: $525,000
Position: EDGE
Per Post Value: $306
On3 Impact 300 ranking: No. 23
The former Washington edge rusher, Laiatu Latu was not even allowed to play college football two years ago. A neck injury cut his career short in Seattle. He sustained the injury at the beginning of the 2020 season, and team doctors weren't ready to allow him back on the field the following fall. All signs pointed to his career coming to an end. Then Latu's old Washington position coach moved to UCLA, and the edge rusher received medical clearance from one of the country's top spine surgeons. Fast forward and he is now terrorizing Pac-12 offensive lines. The redshirt junior has registered 9.5 tackles for loss this season, including eight sacks. He's forced three fumbles, too. Latu and the UCLA defense will have to cause havoc upfront on Saturday night against USC.
About the On3 NIL Valuation
The On3 NIL Valuation is the industry's leading index that sets the standard market NIL value for high school and college athletes. A proprietary algorithm, the On3 NIL Valuation calculates an athlete's NIL value using dynamic data points targeting three primary categories:
+ Performance
+ Influence
+ Exposure
While the algorithm includes deal data, it does not act as a tracker of the value of NIL deals athletes have completed to date, nor does it set an athlete's NIL valuation for their entire career. The On3 NIL Valuation calculates the optimized NIL opportunity for athletes relative to the overall NIL market and projects out to as long as 12 months into the future.