Washington high school student-athletes can profit from NIL activities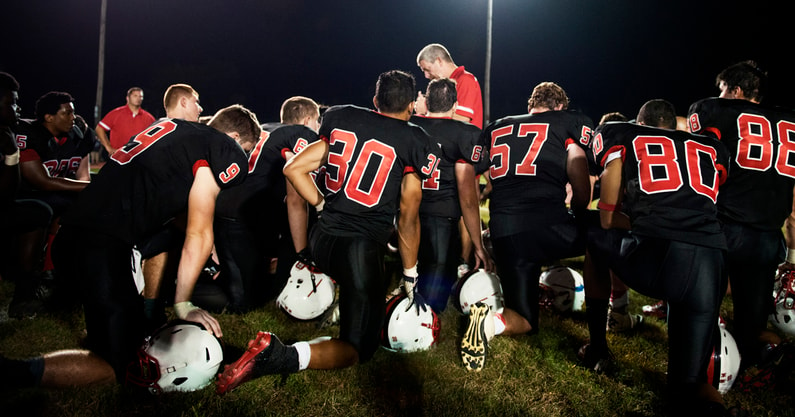 According to a spokesperson for the Washington Interscholastic Activities Association (WIAA), high school student-athletes can participate in NIL activities — with some guardrails — without losing their eligibility.
It has long been believed that Washington was one of the states that did not allow NIL activities for its high school student-athletes. At best, some NIL observers thought it was somewhat unclear what was and wasn't allowed by the WIAA.
WIAA Director of Information Casey Johnson stressed that no rules have recently changed. He also said the guidelines have been in place for a while.
"The WIAA's rules allow for students to benefit from NIL as stated in the handbook," Johnson told On3. "This was not a rule change, as this has been in place for some time. The language in the handbook was simply clarified after our staff received that request from some member schools.
"That updated language was communicated to membership in several forms last year at the time it was made through a meeting with athletic directors and the distribution of the Board meeting minutes."
Where is NIL allowed on the high school level?
With NIL activities acceptable in Washington, there are 20 high school activity associations across the country that allow their student-athletes to participate in NIL without losing eligibility.
Oregon voted in mid-October to make it acceptable. The move in Oregon follows the Oklahoma Secondary School Activities Association, which passed NIL rules in the first week of October. Additionally, the District of Columbia State Athletic Association also recently gave the green light to NIL activities.
Washington, Oregon, Oklahoma and the District of Columbia joined Colorado, Iowa, Idaho, Louisiana, Maine, Massachusetts, Minnesota, North Dakota and Utah by changing their bylaws in 2022 to allow NIL on the high school level. It's also allowed in Alaska, California, Connecticut, Kansas, Nebraska, New Jersey and New York.
Complete list of NIL High School Rules
NIL allowed for H.S. athletes in Washington news to some
News that NIL activities are safe for Washington high school student-athletes was surprising to national NIL followers. In fact, the spotlight on the WIAA's stance was first noticed by Dan Greene, an associate attorney at Newman & Lickstein in Syracuse, N.Y.
Greene said he detected that there may be changes in the handbook after recently reviewing the meeting minutes from the last WIAA Executive Board meeting on June 5. He discovered there was a reference to NIL and that "editorial changes" were made to the "Amateur Standing" rule.
Now the updated 2022-2023 WIAA handbook clearly states:
"WIAA rules do not prohibit student-athletes from engaging in certain commercial activities in their individual capacities. These activities generally referred to as Name, Image and Likeness (NIL), will not jeopardize a student athlete's amateur status if they comply with the WIAA Amateur Standing Rules."
Greene said he's happy the WIAA provided clarification and provided guidance to its member schools. But Greene also wonders how easily available the information was to student-athletes and their advisors.
"If a business approached a WIAA athlete, there's a high chance that the first thing each party would do is look up on the Internet if NIL was permitted, and what they would've found was numerous sources stating that high school NIL was prohibited in Washington," Greene said. "I'm not sure how many people would've either contacted their school or athletic association administrators or tried reading the handbook on their own after seeing that information.
"It's unknown if any WIAA athletes did not pursue or pass up NIL deals because they thought NIL was illegal for them. But high school athletic associations would be helping everyone involved if they sent out a press release online that was clear on its NIL policy and easy to find."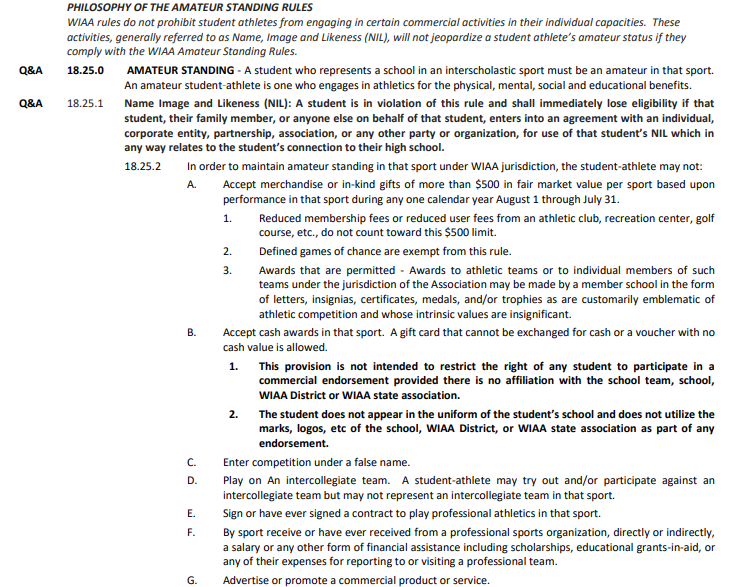 What states could be next?
Even in states where NIL is not allowed, there seems to be change in the wind.
Pennsylvania appears on track to allow its athletes to engage in NIL. In mid-July, the Pennsylvania Interscholastic Athletic Association approved on first reading a policy to allow student-athletes to profit off NIL. Plus, officials in Nevada and Illinois are also having serious discussions about revising their current NIL regulations.
"We really need to probably get ahead of this and address it and put some parameters in place to guide students and their families so that they're educated, and they know what they're getting into," PIAA Assistant Executive Director Melissa Mertz recently said.
There's even been talk that Texas, which currently has one of the strictest state laws against NIL, could be taking up the issue in January. Texas High School Coaches Association director Joe Martin told ABC 13 earlier this summer that he expects the Texas Legislature to tackle NIL in January. The University Interscholastic League, which governs Texas public high schools, currently bans NIL, but legislation could change that.
"I can't look into the future," Martin said in the report. "But what I do know is that I want to stay in front of the curve. Hopefully, we'll deal with it in a little more efficient and organized manner than what you saw with our college counterparts."