White Sox sign 8 athletes, add to CHISOX Athlete NIL roster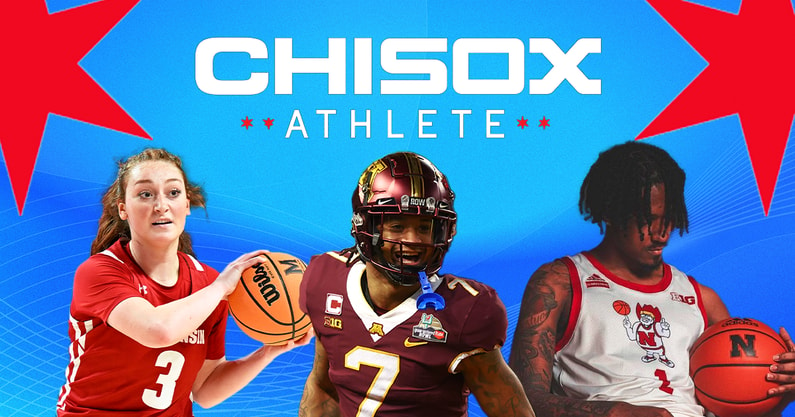 After jumping into the NIL world in 2022, the Chicago White Sox added to its student-athlete roster Wednesday.
The Major League Baseball club announced Wednesday it signed eight new college athletes to contracts as part of its CHISOX Athlete NIL program. The initiative was created "to help empower student-athletes, their voices and careers both on and off the field," the White Sox wrote on Twitter.
Sticking to its roots, each student-athlete the White Sox signed has ties to the Windy City. The second wave of CHISOX Athletes includes:
The club also announced 2022 student-athletes A.J. Henning (formerly at Michigan), Kylie Feuerbach (Iowa women's basketball), Anaya Peoples (DePaul women's basketball), Cameron Williams (Michigan women's basketball) and Temi Thomas-Ailara (Northwestern volleyball) return to the CHISOX Athlete NIL roster for 2023. No baseball or softball players were signed as MLB and NCAA guidelines prohibit certain sports from engaging in deals with their professional counterparts.
As part of the deal, the athletes have branding opportunities with financial incentives for social media promotion. The organization plans on welcoming them to a game in a private suite. They'll also have access to professional resources and career mentorship from the White Sox front office.
Other perks for the CHISOX Athletes include a professional photoshoot at Guaranteed Rate Field or nearby Chicagoland sports venue, a custom White Sox jersey, additional ChiSox Athlete-branded merchandise and special opportunities at the ballpark such as throwing out the first pitch.
White Sox sign accomplished group of student-athletes
Players on the CHISOX Athlete NIL roster aren't just social media superstars. They're also highly accomplished players in their respective sports.
Chris Autman-Bell returns to Minnesota in 2023 as the school's 12th all-time leading receiver. His 2022 season was hampered by injuries, but he's racked up nearly 2,000 yards and 13 touchdowns in his career with the Golden Gophers. He has an On3 NIL Valuation of $34,000.
Yulexi Diaz was a second-team All-Missouri Valley pick after the 2022 season. She started all 17 matches for the Flames and led the team with 1,467 minutes.
Along with playing on the football team, Bryan Dowd is the starting goalie for the Fighting Irish soccer team. He started all 17 matches and recorded 43 saves in 2022.
After spending her first four years at Jacksonville State, Addie Halverson had 48 kills for Ball State in 2022.
Bridget Mitchell has appeared in six matches during her Northwestern career, and she scored the game-winning goal in the second round of the NCAA Tournament against Vanderbilt.
Brooke Schramek played in all 31 games for the Badgers in the 2022-2023 season. She finished sixth in the Big Ten in free-throw percentage and had a career-high 20 points against Minnesota.
Skyla Schulte was one of the most decorated gymnasts in the country. She was a second-team All-American in 2022 and was named the Big Ten Freshman of the Year with an all-around career high of 39.675.
Ahron Ulis recently transferred to Nebraska after spending the last three seasons at Iowa. He averaged 22.5 minutes, 6.1 points and 2.1 assists per game for the Hawkeyes last season. He has an On3 NIL Valuation of $26,000.