From mayonnaise in coffee to game-winning drives: Why Will Levis is positioned to cash in on NIL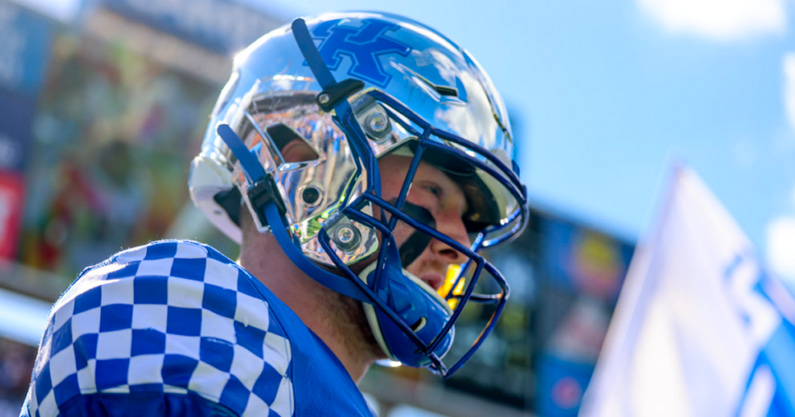 ATLANTA — Will Levis is unusually aware of his standing in the NIL universe.
The Kentucky quarterback became the seventh player in school history to reach 3,000 yards in a season last fall. Add in the mix of his unique, viral health habits — mayonnaise in coffee, eating the entire banana — and he has the notoriety to cash in on the new world of college athletics.
None of this is news to Levis. What is new to the former Penn State backup is his rise up 2023 NFL Draft big boards. His 24 touchdown passes last season were the most in Lexington since 2007, and he also became the first Kentucky quarterback since 2014 to have three 350-yard passing games in one season.
Scouts continue to place Will Levis early in the first round of mocks and near Bryce Young and C.J Stroud. That's taken some adjustment time the Kentucky quarterback. He's not trying to pay attention to it, but admittedly it's hard to avoid.
With the rising NFL profile and TikTok fame, the potential of what Levis can accomplish this season could redefine what success looks like in the NIL era. The first step is just getting his cousin to stop sending him texts.
"There's no way that I can avoid it when my cousin is sending me screenshots of all this stuff, like I cannot not see it," Levis told On3 at the NIL Summit, on the impact draft boards have made on his NIL value. "So no, it's exciting stuff. But at the end of the day, you got to just kind of throw it out the back of your head and just keep working."
Will Levis builds trust, relationships to utilize NIL
The Kentucky quarterback has not had trouble finding ways to profit off the field. Yet he did not sign a single deal during the college football season.
In his conversation with On3, Levis admitted he consciously made the decision not enter into NIL-related activity this past fall.
His first move in NIL was before the Citrus Bowl. Levis sported custom cleats honoring those who were killed in a tornado outbreak in his school's state. The Kentucky quarterback auctioned the cleats off and donated the money to relief efforts.
"That's what it's all about," he said. "I mean, being able to use your platform to reach out and help others. When that tragedy happened, tornado in Kentucky and Tennessee and surrounding areas, we knew as players that we wanted to step in and do something about it. And we were able to take initiative and raised a good amount of money for relief, which is awesome."
With the success he saw multiple teammates have with Lexington-based sports agency Athlete Advantage, he decided to jump into the mix. From there, he started to aggressively sift his way through NIL.
With his breakout season and electric performance in the Citrus Bowl, offers started to pour in. He signed a six-figure deal with Grand Slam Collectibles in early February. Two months later he agreed to an endorsement with War of Will, a syndicated Thoroughbred stallion standing at Claiborne Farm in Paris, Kentucky.
Levis also partnered with a national group. The decision on hiring representation did not just happen quickly. With a growing brand and knowing he can create change by utilizing NIL, the quarterback went through a stringent interview process before making his decisions.
"I interviewed a bunch of different companies," he said. "You just got to do your research. Gotta do you got to know what the rate is, and you can't get screwed over because you didn't do your research. And as long as you have that consensus answer from people that you trust, you're ready to go forward. And until you get to that point, you shouldn't shouldn't do anything."
Will Levis breaks down NIL plans headed into 2022
Will Levis may have never stumbled on to TikTok if it wasn't for his time at Penn State. The quarterback gives all the credit to his former roommate in State College for his start on the social media app.
Since he made his account back in December 2019, he's amassed nearly 120,000 followers. Across all social media platforms he has 215,000 followers. With his rising profile on the field, Levis has an On3 NIL valuation of $564,000, which is ranked No. 42 in the NIL 100.
He plans to make the most of NIL in what will probably be his final year in the college ranks. But he's not going to think twice about turning down a partnership, too. And the last thing he wants is for his social media following to just scroll past his content.
"I look for uniqueness, like just something that's unique," he said. "You never want to be boring, especially with the content you're putting out for people. I want to be I want to be able to promote content that can be engaged by people who don't care about the deal. You know, it's still something that's likable, and something that's enjoyable.
"You can't just have a advertisement page for your social media."
Levis was open about what he looks for in a deal. He gives his all his NIL marketplace information to his representation to sift through the requests he receives. His focus is and will always be on football; NIL comes second.
Money matters to the Kentucky star. It's not the only deal-breaker for him. But if he's taking time out of his busy schedule, he expects to be compensated at his standard.
"I mean, quite frankly, compensation is usually the one that ends up being what separates it," Levis said. "Based on previous deals that I've done, I have a set idea of what what my of rate looks like. A lot of companies just, like, it makes sense but they don't want to reach that. You need to make sure you're doing deals that align with your brand and your personality. You can't be promoting something that you don't represent as a human being."
The future lies with Kentucky quarterback
Will Levis has had a memorable few months.
He hung out with Gronk. Then causally went to The Masters, then the Kentucky Derby. Oh yeah, a meetup with Tom Brady in Vegas at "The Match," too.
But he may of met up with his favorite on the list of celebrities this week in Atlanta at the inaugural NIL Summit. Before he presented at the awards dinner this past Monday, the Kentucky quarterback had some one-on-one time with WWE legend Triple H.
It's a summation of his rise up the college football ladder. Two years ago, he was a backup quarterback in the Big Ten. He's now a starter in the SEC and hanging out with sports legends. Positioning himself to be a potential top pick in the 2023 NFL Draft is within reach.
"I'm amazed at the way he throws the ball," Kentucky head coach Mark Stoops marveled on Levis' progressions this offseason in a conversation with KSR.
The opportunities in NIL and off the field are endless. None of it happens without success on the field, though. A successful Kentucky season will just mean that the former three-star quarterback could write his NFL future.
"I want to make sure that every time I'm talking about NIL that I keep reminding myself about the main goal," he said. "The main goal is to focus on the team and focus on our success as a team. Because with that, and team success, comes everything that I want individually."