Will Shipley inks NIL deal with Chipotle, 'Shipotle' signage to be placed at Clemson location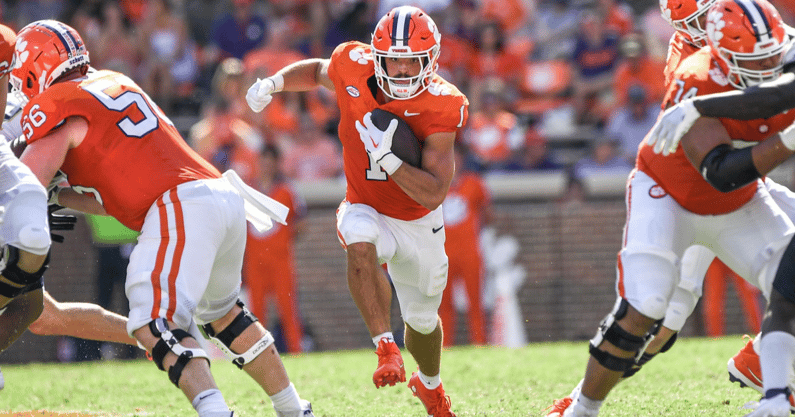 On the first day NIL became legal in college sports, Chipotle asked social media to recommend athletes for the fast-casual Mexican chain to partner with.
Will Shipley went a step further, vouching for himself.
"I've been waiting for this opportunity for quite some time," the Clemson running back wrote on X. "I can promise you I love Chipotle more than anyone else in the world. SPONSOR ME."
More than two years later, Chiptole is delivering on Shipley's request. Now one of the top running backs in college football has secured his dream NIL deal. As part of the agreement, "Shipotle" will be placed on signage at the Clemson, South Carolina, location starting Sunday night and leading up to the Tigers' matchup with Florida State this Saturday.
"Shipotle" comes from a nickname Shipley's teammates gave him last season after they noticed how much Chipotle the tailback eats. Along with the signage, Chipotle is giving away limited edition "Shipotle" T-shirts to the first 1,000 guests who purchase any entree at the 393 College Avenue location in Clumelsn beginning Sunday.
"When it comes to sponsoring athletes and celebrities, we only work with the biggest Chipotle fans," Chipotle's chief brand officer Chris Brandt said in a statement. "Will is not only a proven superfan of the brand, but his passion for our real food is worthy of temporarily naming his favorite restaurant after him – a rare feat for a one-of-a-kind student-athlete." 
The NIL deal goes past the typical agreement. Instead of just paying the Clemson star to post on social media, Chipotle is capitalizing on his legitimate name. It's a smart move as the restaurant will be able to boost walk-in traffic and gain plenty of views on social media.
Chipotle has spent marketing dollars in NIL since 2021, signing notable names like TreVeyon Henderson and Azzi Fudd.
"From growing up in the Charlotte area to my time in Clemson, South Carolina, Chipotle has always been my go-to meal," Shipley said. "To have this validated with the 'Shipotle' restaurant is unbelievable, and I'm looking forward to the buzz it will help bring to campus ahead of our game this weekend." 
Will Shipley continues to grow NIL brand
The third-year running back has been Clemson's starting tailback since he arrived on campus. After rushing for nearly 750 yards as a freshman, the former four-star prospect racked up 1,182 yards and 15 touchdowns a year ago. Shipley became the first player in ACC history to be selected as a first-team All-ACC honoree in three different categories (running back, all-purpose and specialist) in 2022.
His NIL brand has taken off, too. He holds endorsement deals with Hendrick Honda of Easley, Great Clips and United Bank, among others. With nearly 100,000 social media followers and one of the most marketable athletes at Clemson, he has found no shortage of NIL deals.
The tailback holds a $367,000 On3 NIL Valuation, ranking in the top 125 of college football. He's rushed for 225 yards on 36 carries so far this season.
The On3 NIL Valuation is the industry's leading index that sets the standard market NIL value for high school and college athletes. A proprietary algorithm, the On3 NIL Valuation calculates an athlete's NIL value using dynamic data points targeting three primary categories: performance, influence and exposure.
About On3 NIL Valuation, Brand Value, Roster Value
While the algorithm includes deal data, it does not act as a tracker of the value of NIL deals athletes have completed to date, nor does it set an athlete's NIL valuation for their entire career.