Wisconsin collective celebrates Signing Day with billboard in Times Square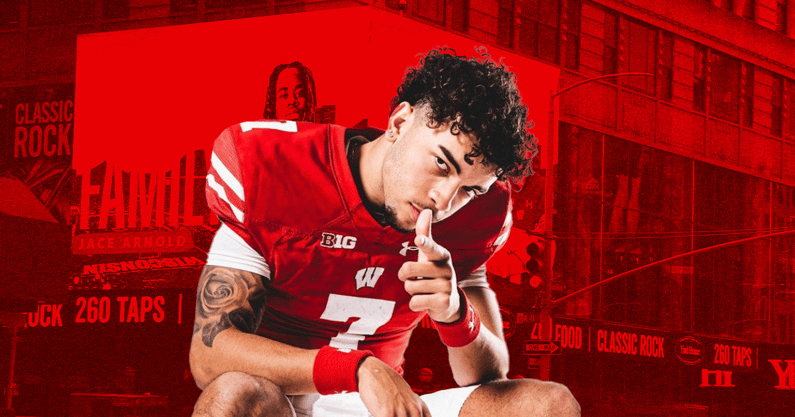 When Wisconsin boosters relaunched the Varsity Collective, the NIL collective's leaders said they had big plans. Yet, nobody could have expected their plans to be Big Apple big.
But that's exactly what we got on Wednesday.
The Varsity Collective celebrated National Signing Day by recognizing the 2023 Wisconsin recruiting class with a 15-minute-long video billboard in Times Square. A total of 19 signees were featured on the billboard, including highly-coveted transfers C.J. Williams, Nick Evers and Tanner Mordecai and high school mid-year enrollees.
Video of the billboard quickly went viral with Badger fans from all over the country saying things like "next level" and "it's the new era." The billboard is a really smart move by The Varsity Collective because it generates exposure for recruiting success down the line and it showcases what type of brand power student-athletes could have if they join the collective.
More NIL billboards on the way
The Varsity Collective is also putting up billboards in the hometowns of six early enrollees:
In a news release, the Varsity Collective said it is determined to help these newest Badgers maximize their NIL opportunities – and show them how they can use their status as collegiate athletes to bring about positive change in their community and the causes they deem meaningful.
"When you commit to Wisconsin, you don't just become a Badger on the field – you join a family that will support you in the classroom, in the community and in your career," The Varsity Collective Executive Chair Rob Master said in the release. "These young men have promising futures ahead of them, and we look forward to continuing to help them make the most of their NIL opportunities during their time in a Badger uniform and beyond."
Wisconsin coach Luke Fickell supports collective
The larger-than-life video activation by The Varsity Collective is another show of support for new Badgers coach Luke Fickell.
And in return, Fickell has done a good job early on of supporting The Varsity Collective. For example, just days after officially accepting the position in November, he joined a virtual event sponsored by The Varsity Collective and encouraged Wisconsin fans to "play a critical role" in the program's success by donating.
"The No. 1 priority is our players, and NIL gives us a chance to make more opportunities for our players," Fickell said during the event. "They all deserve NIL support because of the way they work."
Fickell also appears as a guest on the latest episode of Badger Bigs, a podcast presented by The Varsity Collective and hosted by Pro Football Hall of Fame finalist Joe Thomas and basketball student-athlete Annie Thomas. The appearance was Fickell's first podcast interview as Wisconsin's head coach. It was a good demonstration of how he values empowering each member of the football program through NIL.
Since being relaunched in September 2022, The Varsity Collective says it has engaged nearly 200 student-athletes from 10 different sports in NIL deals. This work includes six full-team charitable activations and collaboration with 17 local, state and national charities. UW Athletics has been a supportive presence for the collective since its formation.
"We're all working toward the same mission, which is maximizing opportunities for our student-athletes, both in the short and long term," Brian Mason, Director of NIL Strategy for Wisconsin Athletics, said in the release. "Our student-athletes will continue to benefit from The Varsity Collective's holistic approach to developing impactful NIL activities alongside learning and networking opportunities that will serve them for a lifetime."