Zachariah Branch sees his On3 NIL Valuation soar to $272,000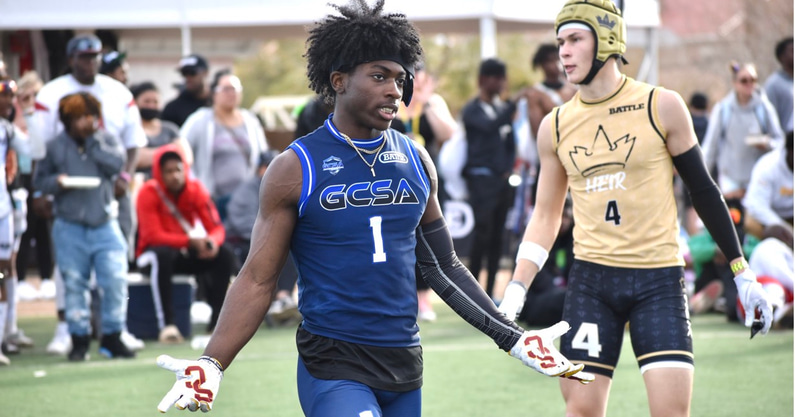 Zachariah Branch is an On3 Consensus five-star wide receiver from Bishop Gorman in Las Vegas, Nevada. On Christmas Eve of 2021, Branch committed to Lincoln Riley at USC. It seems like that is going to be the perfect combination because he's a home-run hitter already.
Since then, Zachariah Branch has also seen his On3 NIL Valuation take off to $272,000.
The brother of Zion Branch, a four-star safety who signed with USC in the 2022 class, Zachariah Branch is widely considered the best wide receiver in the Class of 2023.
With a brother already at USC and his own commitment to the Trojans, Branch has seen his NIL value soar. His $272,000 valuation is 12th among all high school athletes in the On3 NIL High School Rankings. It also cracked the On3 NIL 100, which includes high school and college athletes in football and basketball, at No. 91.
On his social media platforms (Instagram, TikTok, and Twitter), Branch has a combined 78,000 followers. This is a massive part of his On3 NIL Valuation, lending him a per post value of $708.
What's incredible about Branch's NIL value is how much it has gone up in recent weeks. On February 15, 2022, his On3 NIL Valuation was only $30,000. Just 14 weeks later, it's $272,000. That's a growth rate of 803% over that time period. It's remarkable growth from a remarkable athlete.
What makes Zachariah Branch a 5-star?
Zachariah Branch is widely regarded as one of the best wide receivers in the Class of 2023. The industry consensus ranking has Branch as the top-ranked wide receiver and the 13th-ranked player overall. On3's rankings, meanwhile, agree Branch is the top wide receiver in the class but rank him as the ninth overall player.
On3's Charles Power says Branch is a dynamic playmaker.
"One of the more dynamic receiver prospects in the nation, regardless of (recruiting) class," Power said. "Built like a traditional slot wide receiver at 5-foot-9, 170 pounds. An elite track athlete with a 10.33 second 100-meter mark and a 24-foot long jump as a sophomore. He is able to harness that speed on the football field with his high-end change of direction. Branch creates big plays as a deep threat and after the catch. He's also very difficult for defenders to tackle in space. A fluid mover with route-running and true wide receiver skills in addition to considerable athleticism. Branch shows good ball skills with the ability to track and make extended catches in traffic."
About the On3 NIL Valuation process
The On3 NIL Valuation is a tool that can be used to determine the fair market value of college and high school athletes. It then categorizes those athletes based on this evaluation. Importantly, this is not a way of tracking the deals that an individual player has received. The amount of money a player has made on NIL deals is likely going to be different from their On3 NIL Valuation.
There are three main categories that contribute to the On3 NIL Valuation. The first is social media. That's because social media is the best tangible way to look at a player's brand value. This is a way of showing how many people are interested in following a player and how much engagement their posts get. After that, the actual talent of the player involved, including their achievements and awards impact their value. From there, the endorsements and opportunities they have matter too. A player can be fantastic, but they have less access at a Mountain West school than a PAC-12 one.
In the case of Zachariah Branch, he's currently the perfect storm of a recruit in the NIL era. He has an excellent social media presence, is a top-tier talent, and he's going to USC. It's no wonder that Branch's NIL value is exploding.
What's next in Zachariah Branch's recruitment?
In the modern world of NIL, you never can tell. NIL Collectives are strong and have the ability to influence individual players and programs fairly heavily. At the same time, Zachariah Branch is committed to USC and it doesn't appear that there is any reason for that to change.
In any recruitment, teams are always going to try and recruit someone who has already committed. In particular, they try and recruit star players like Zachariah Branch. It just doesn't seem like Branch has been particularly responsive. He had taken two visits to Ohio State, but he hasn't taken any since he committed to USC. Since he last visited Ohio State, he's visited USC five times. That includes three visits to USC in April of 2022.
As of now, Zachariah Branch is given a 99.2% chance of landing the star-wide receiver. Ohio State is the next closest, but they have a less than 1% chance of landing him. It looks like he's a Trojan.