American Gaming Association projects record-breaking March Madness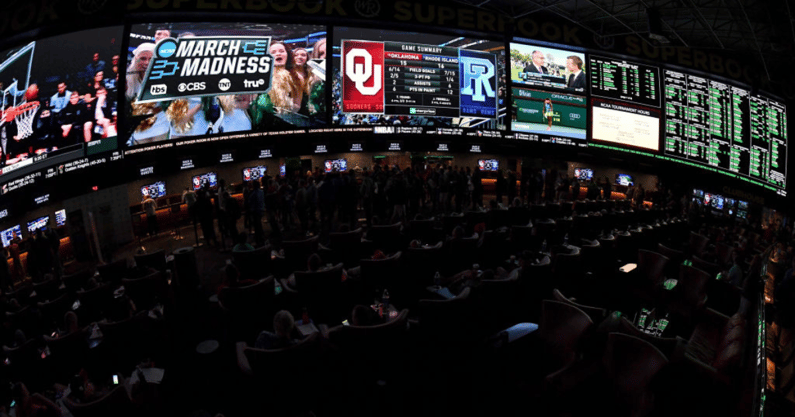 With March Madness set to begin Tuesday night, the American Gaming Association (AGA) has released its projections for sports betting surrounding the event.
The association predicts that roughly 68 million adults plan to wager $15.5 billion on the men's tournament in the coming weeks. That's more than a $12 billion bump from last year's projections. A reason behind the expected rise in bets this year is backed by the resurgence of bracket contests, along with Americans taking advantage of legal online wagering.
This is also the first time in tournament history that Las Vegas will serve as a regional host.
According to the report, three-fourths of bettors said this will be their first time betting on the tourney online. Since 2022's edition of March Madness, Kansas, Massachusetts and Ohio have launched retail and mobile sports betting markets. Maryland also now allows mobile wagering.
"March Madness is one of the best traditions in American sports – and America's most wagered-on competition," AGA president and CEO Bill Miller said in a statement. "Critically, the expansion of regulated sports betting over the past five years has brought safeguards to more than half of American adults who can now bet legally in their home market."
While sports betting for so long was unsanctioned, 33 states along with Washington, D.C., now feature it. Three more markets – Florida, Maine and Nebraska – are set to launch in the coming months. More than half of American adults live where sports betting is legal, according to the AGA.
Eighteen million more adults plan to bet on the Big Dance than on last month's Super Bowl. Yet, half a billion dollars less is expected to be placed on the tourney compared to pro football's big game.
Full list of first-round betting lines
All point spreads from FanDuel
South Region
No. 16 Texas A&M-Corpus Christi (-3.5) vs. No. 16 SE Missouri State (play-in game)
No. 9 West Virginia (-2.5) vs. No. 8 Maryland
No. 5 San Diego State (-4.5) vs. No. 12 Charleston
No. 4 Virginia (-5.5) vs. No. 13 Furman
No. 6 Creighton (-5.5) vs. No. 11 NC State
No. 3 Baylor (-10.5) vs. No. 14 UC Santa Barbara
No. 10 Utah State (-1.5) vs. No. 7 Missouri
No. 2 Arizona (-13.5) vs. No. 15 Princeton
East Region
No. 16 Texas Southern (-2.5) vs. No. 16 Fairleigh Dickinson (play-in game)
No. 8 Memphis (-2.5) vs. No. 9 FAU
No. 5 Duke (-6.5) vs. No. 12 Oral Roberts
No. 4 Tennessee (-11.5) vs. No. 13 Louisiana
No. 6 Kentucky (-4.5) vs. No. 11 Providence
No. 3 Kansas State (-9.5) vs. Montana State
No. 7 Michigan State (-2.5) vs. No. 10 USC
No. 2 Marquette (-10.5) vs. No. 15 Vermont
Midwest Region
No. 1 Houston (-19.5) vs. No. 16 Northern Kentucky
No. 8 Iowa vs. No. 9 Auburn (-0.5)
No. 5 Miami (-2.5) vs. No. 12 Drake
No. 4 Indiana (-4.5) vs. No. 13 Kent State
No. 3 Xavier (11-5) vs. No. 14 Kennesaw State
No. 11 Mississippi State (-1.5) vs. No. 11 Pitt (play-in game)
No. 7 Texas A&M (-2.5) vs. No. 10 Penn State
No. 2 Texas (-13.5) vs. No. 15 Colgate
West Region
No. 1 Kansas (-22.5) vs. No. 16 Howard
No. 8 Arkansas (-1.5) vs. No. 9 Illinois
No. 5 Saint Mary's (-4.5) vs. No. 12 VCU
No. 4 UConn (-9.5) vs. No. 13 Iona
No. 11 Arizona State (-2.5) vs. No. 11 Nevada (play-in game)
No. 3 Gonzaga (-15.5) vs. No. 14 Grand Canyon
No. 10 Boise State (-1.5) vs. No. 7 Northwestern
No. 2 UCLA (-17.5) vs. No. 15 UNC Asheville