The Big 12 will hold its own 'combine,' but will other leagues follow suit?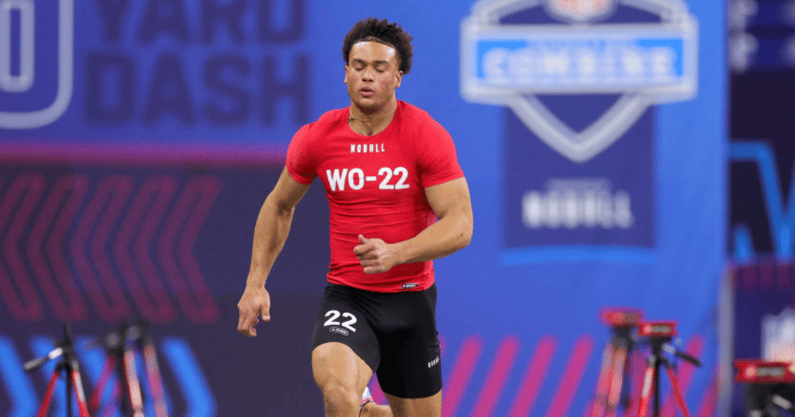 Since landing the Big 12 commissioner job last June, Brett Yormark has made sure to do things his way. A former entertainment industry executive, he tried to reinvigorate the conference's basketball tournament this year with a custom food menu and Shaquille O'Neal performance. 
Amid the squabbling between the Big 12 and Pac-12 over media rights and realignment, Yormark slipped in his latest initiative. Starting in 2024, the Big 12 will hold its own "Pro Day" at the Dallas Cowboys' training facility, dubbed The Star, in the Dallas suburb of Frisco.
While Deion Sanders organized a pro day for every HBCU in the state of Mississippi during his time at Jackson State, this is the first time a Power 5 conference has organized its own event. The event will not be open to the public and will substitute for the annual pro day trips scouts take to every Big 12 campus. 
Along with offering networking opportunities for players and a job fair, all of this appears to come with a blessing from the NFL. Troy Vincent, the league's executive vice president of football operations, was quoted in the Big 12's announcement, and the NFL Network will provide some coverage (though not live) along with support on social media channels. 
How it all comes together remains to be seen. Even if every program sends 10 to 12 players, the Big 12's Pro Day will be dwarfed by the NFL Scouting Combine. But maybe that isn't the point. Yormark's move could be a glimpse of how college athletics' top conferences evolve. 
"Brett is super-smart," a source at the Big Ten recently told On3. "If he can build revenue for a sponsored event, he will sell the shit out of it." 
Conferences react to Big 12 combine announcement 
While the SEC and Big Ten clearly have become the top two conferences in college football – the latest TV contracts show that – holding their combine for NFL front offices and scouts does not immediately equal a win. 
Each conference has its own network; the SEC Network runs through ESPN, and the  Big Ten Network has a joint project agreement with Fox. Each platform allows institutions a place to broadcast their own NFL draft event. 
When Ohio State's C.J. Stroud throws in front of every NFL organization on Wednesday, the Big Ten Network presumably will be on-site. The SEC Network was on-site for Georgia's pro day last week. 
The Big 12 is currently the only Power 5 conference without its own network. While the Pac-12's endeavor has struggled, it exists. The ACC Network, which runs through ESPN, also has had its share of success. 
The SEC didn't return requests for comment, but the source at the Big Ten said the conference knew of the Big 12's plan as early as this past fall. But with league commissioner Kevin Warren set to take over as the president and CEO of the Chicago Bears in April, any decision on the formation of a conference-wide combine will be made by the next commissioner. 
There also would need to be buy-in from coaches to make the move. "Big Ten coaches and Big 12 coaches are very different animals," the source said. 
A source at the ACC said the topic "has not been discussed." Meanwhile, the Pac-12 has no plans for a league-wide combine in the foreseeable future.
"While the Pac-12 is always open to creative ideas to support our student-athletes, our universities have had great success with hosting their Pro Days on their campuses," the conference said in a statement to On3. "Having the NFL scouts on campus also can give an early exposure to undergraduates to both the scouts and the process."
The Pac-12 noted that 48 NFL team representatives attended Oregon State's pro day on March 13, and that the NFL Network had cameras at the Oregon and UCLA pro days.
As for the American, which is losing three teams to the Big 12, "while we haven't had specific discussions on a conference-wide pro day, we are always open to any initiatives that make things more efficient for our schools," an AAC representative told On3 in an email. 
Is the Big 12's plan better for agents and scouts? 
Before establishing himself as a top NFL agent, Mike McCartney spent more than 25 years in college and pro football. He was the Philadelphia Eagles' pro scouting director for a time, too. 
McCartney can see both sides of the Big 12's move to hold a combine-esque event.  Scouts surely will look forward to making the trip to the Dallas area as opposed to traveling across the Big 12 footprint. Yet the on-campus pro days always gave athletes a comfort blanket. For instance, when a highly regarded draft prospect has turned in a bad 40-yard dash effort at the combine in years past, they could turn to a pro day on their campus, where they felt comfortable. That could look different in 2024 for Big 12 players. 
"I think the negatives are scouts, or at least position coaches, do like to go to campus and watch tape of players," McCartney said. "I don't know if you're going to be able to do that. I think one of the selling points to get kids to do something again that they didn't do well at the combine is their pro day – it's an environment they're comfortable in. They've got their teammates rooting them on. There's just a confidence level when you're in where you've been the last few years. 
"How will the Big 12 handle the better players, who all they really want to do is position drills and visit with coaches and staff? It just raises questions."
McCartney said while the Big 12 can have its own combine, it never will be able to compete with the NFL's, primarily because of the interview process and the access to players available to teams. A top quarterback also always will have the power to have his own pro day whenever he chooses.
DeMaurice Smith, executive director of the NFL Players Association, was outspoken last month at the NFL Scouting Combine about why the event should not exist. He said athletes don't deserve to show up and waive all their medical rights, just to be criticized. 
McCartney sees where Smith is coming from. He also believes the combine has some other faults that the Big 12 will have to get right, specifically when it comes to food and travel. The conference will have to decide on who is paying for the Cincinnati players, for example, to travel to Frisco.

"The beauty of the Pro Day is you're in your own bed, you're in your own time zone, you got your own food," he said. "Everything's comfortable, and that's going to allow you to be at your best.
"I actually liked the idea of what the Big 12 is talking about, but I have concerns."