Golf inside LSU's Tiger Stadium? Stadium Golf Tour to host event there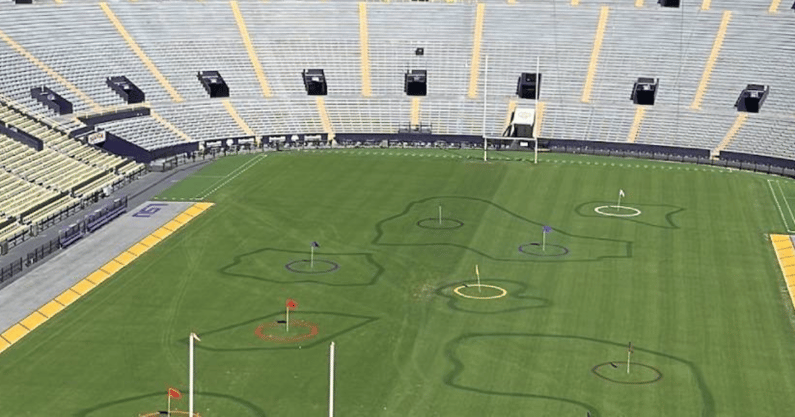 Starting Thursday morning, LSU alumni, donors and sponsors will make the trek to a tee box situated in Section 642 of Tiger Stadium. To reach the first tee box on a makeshift nine-hole course, they'll use the stadium's east upper deck elevator. Their choice of clubs are an 8-iron, a 9-iron, a pitching wedge or a sand wedge, and they'll line up shots intended for the field. They'll aim just past the "Eye of the Tiger" logo at midfield.
After taking multiple swings, they'll move on to Section 631 in Tiger Stadium for the second hole. Next, they'll maneuver their way to tee boxes in sections 303, 241, 226, 618, 615, 611 and 566 to play holes No. 3 through No. 9.
For four days, Tiger Stadium will turn into a golf course of sorts.
"If you get a little fear of heights, it's going be just a lot different than teeing off from the Topgolf third floor," LSU director of game and event management Julie Cribbs said, laughing, in a Zoom interview.
This week intentionally was selected because it's the week of LSU's spring break, before LSU's spring game and during a weekend when the Tigers' baseball team is on the road. Tee times range from 7 a.m. to 9 p.m. CDT.
The course designers from Stadium Golf Tour believe this particular design will be impervious to any errant hook or slice. Players don't use golf tees, and the hole layouts are designed to limit shots to between 90 and 150 yards. "Big Bertha isn't coming in and popping one across the stadium," Cribbs joked.
"Our consideration when we place a tee box is the worst golfer in the world is on the tee," Stadium Golf Tour president Michael Wiggins said via phone. "That's where we place the adjacent tees around the stadium, so that the worst golfer in the world can't hit a 90-degree shot into somebody next to them."
Cribbs said Tiger Stadium is the first college football stadium to host a Stadium Golf Tour event. The company's previous events have often been in Europe or in Major League Baseball stadiums.
Golf equipment provided
General admission tickets start at $90 per golfer. Tickets are sold in even numbers "so you always come with a friend," Wiggins said. VIP packages start at $150 per golfer, which include three golf balls per hole compared to two for GA tickets, plus two drinks, food and access to a VIP area with simulators and private hitting decks.
Cribbs said as of Wednesday morning, just over 1,700 tickets had been sold. Some members of the Tiger Athletic Foundation (TAF) had access to presale tickets.
The only golf equipment participants need to bring – if they want – is a glove. Stadium Golf Tour provides the rest, in part through a club deal with Wilson.
There will be golf greens, complete with flags and a cup, for each hole, which can be replaced in time for the April 22 spring game. Cribbs said the LSU field maintenance group let the grass grow longer (it's Bermuda with ryegrass mixed in, if you're wondering), and the greens will be spray painted with paint that will easily wash away, "like you do in your backyard," Cribbs said, laughing.
But competitors will never step foot on the field to putt. If a golfer's tee shot doesn't make it onto the field, the shot is scored as a triple-bogey. A shot that lands on the field but not on the green is a bogey. A shot that lands on the green is a par, and a shot that lands in the circle around the flag is a birdie.
And, yes, there are cups for each hole, so a hole-in-one is on the table, too.
There are three simulators, including a long-drive contest designed to let golfers "swing hard once," Wiggins said. There are add-ons available, including the putting, chipping and long-drive challenges, plus spectator tickets and extra golf balls.
The winners of the events will receive prizes, such as an autographed football or basketball signed by an athlete connected to the university.
"At LSU, we're taking them on the 'Tiger Walk' as part of the course so they'll walk into the stadium like the team does during the event," Wiggins said. "On game day, the team walks through the locker room and heads past the national championship trophies, so we're having the golfers have that part of their route."
Cribbs said an important consideration for TAF is finding events or experiences it can offer donors that cost little or no money.
"I don't know if this is still true, but I heard a long time ago, like if you have a booster club, a donor, whatever, and you contribute $100 to that booster club, you shouldn't expect $100 back in swag and food and free tickets, whatever, because you're supporting that program," Cribbs said. "You're making a donation. So, you know, 10% should come back to you. What can I find for $10? That gives you maybe a polo, say. I think this is where you find these unique opportunities that don't cost us money. Giving tours of the stadium, that might cost us $20 for a tour guide."
Events scheduled at Clemson, Michigan
Stadium Golf Tour has events scheduled at Clemson this year and Michigan in 2024, Wiggins said. The company held a call with representatives from Oregon 
last week in hopes of adding dates at Autzen Stadium later this year, potentially during a bye week.
"The greatest fan base to me in the United States, after being in the NFL for 15 years before all of this, is college football," said Wiggins, who previously worked for the NFL's Washington Commanders and Miami Dolphins, as well as a consulting producer for the TV show "Pitch." "These are people that go to games and then their kids go to games and then their grandkids go to games, and they really just go from the parking lot to their seat to the parking lot. This is sort of an idea to give them views from all over the stadium, sort of give them a backstage tour."
The company's website also lists upcoming events in states such as Texas, Florida, Kentucky, South Carolina and Wisconsin. But those listings are more general than the one for LSU, which reads "Louisiana State University Tiger Stadium."
Wiggins said Stadium Golf Tour would like to host 10 to 12 events per year in the U.S., scheduled around each school's football schedule and potential weather restrictions. "We just want to go to iconic fields around the country," Wiggins said.
On3 obtained a copy of the contract via a public-records request. Stadium Golf Tour agreed to pay LSU $137,500 in stadium rental fees. Cribbs said the planning started in November. The four-day event includes three days of preparation and one day of clean-up. For the week-long process, Stadium Golf Tour agreed to pay a stadium rental fee of $25,000 per day and $12,500 for "load-in dates." Plus, the company is responsible for paying for trash removal from LSU's facilities and any property damage.
The appendix lists $134,956 in anticipated expenses for Stadium Golf Tour for security, parking attendants, custodians and more. LSU has the opportunity to pursue sponsors for naming rights for the event, the individual tees, the private deck and the VIP lounge. The parties agreed Stadium Golf Tour will receive 30 percent of the gross revenue from any sponsorships.
"I think they just needed somewhere like an LSU to get on the map," Cribbs said of Stadium Golf. "You know, not as concerned about a big profit and whatever. This, for them, is more 'spend money to make money,' I guess."
Wiggins said Stadium Golf Tour conducts a site visit at each location – Cribbs said the executives' first trip to LSU was in the first week of January – and the company puts padding in front of any potentially vulnerable windows or doors from damage from what Wiggins called "the absolute worst shot of all." Cribbs said Stadium Golf Tour changed the layout for one of the holes and added more piping and drapes after its employees arrived on-site.
"We leave in escrow at the end of the event so that they have something," Wiggins said. "We do a walk-through at the end of the event to see if there's any damages. If there are, then we're more than happy – we build that into it. … We make it so that they have no liability for anything that we might do to the stadium."
The contract says an agreed-upon amount will remain in escrow for 14 days after the event.
NIL collectives could potentially utilize Stadium Golf events
Bayou Traditions, the official name, image and likeness collective of LSU, previously announced it would host a VIP event featuring LSU athletes during Stadium Golf Tour's four-day stop in Baton Rouge. The tweet has since been deleted.
As various NIL collectives nationally have shuttered operations, merged or rebranded, the third-party organizations are tasked with pursuing sustainable fundraising and operational models. Stadium Golf Tour's events can provide fans, donors and members of the local business community with an up-close, in-person experience.
"Finding creative ways that don't kill us but, 'Oh, Stadium Golf is going to come in? OK, can we do maybe a presale to make them feel like they're getting something special that costs us a thing, makes them feel special?' " Cribbs said. "I think trying to find those unique ways that don't cost money but give more things that are on that list of 'This is what you get when you donate at this level.' "
Collectives could try to tap into that opportunity at other schools.
"You have the alumni who've gone from starving student to successful businessperson, and especially now with the NIL, it kind of changes a lot of what we do because we have a private deck now that we build for corporate events or private parties during the event," Wiggins said. "It's a perfect vehicle for the folks with the NIL [collective] to utilize."
FBS programs host between five and eight home games per season. College football stadiums might host a handful of other events in a given year, such as concerts, commencement or freshman orientation.
"It's a great revenue stream to have these events in there because a lot of these stadiums sit idle," Wiggins said.