With projected No. 1 seed Houston preparing to leave, AAC commissioner Mike Aresco still bullish on his league – and seeing red about use of 'Power 5' designation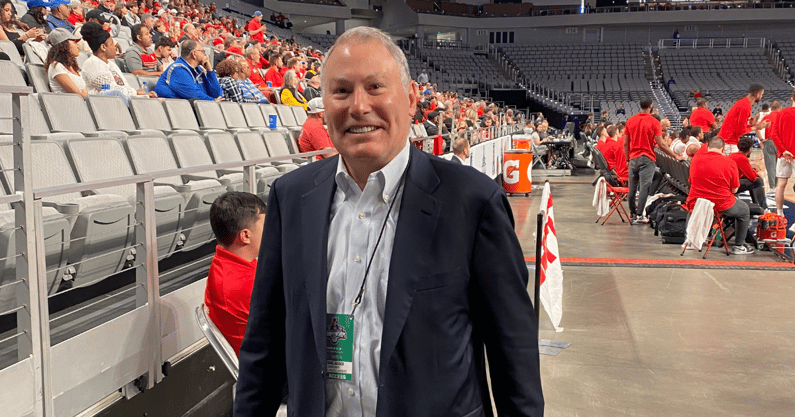 FORT WORTH – As American Athletic Conference commissioner Mike Aresco made his way around the Dickies Arena court this weekend – greeting well-wishers with a handshake and smile – he made clear he will fight for his conference.
Amid a dizzying week of conference tournaments and coaching carousel news, Aresco ensured that his league wouldn't be forgotten. He issued a lengthy statement Thursday calling for the so-called "Power 5" label – the widely used reference for the group of ACC, Big Ten, Big 12, Pac-12 and SEC – to be abolished. And during a nearly one-hour interview with On3, Aresco doubled down on his sentiments, advocating for his league to wield more influence in a college landscape undergoing seismic change.
From his vantage point, Aresco takes inventory of a rapidly evolving sports industry that clings to the notion that even a currently distressed league, like the Pac-12, is still considered a Power 5 conference. At the same time, his conference boasts the nation's top-ranked basketball team in Houston and another school, Cincinnati, that crashed the College Football Playoff just two years ago, yet it is considered a Group of 5 league.
"You basically relegate these athletes, who are terrific, to second-class citizenship," Aresco said of the designation, "which I have been fighting. The Power 5 [label] is destructive for college sports."
He also sees the Autonomy 5 leagues (the Power 5's official name in NCAA circles) uniting to craft a negotiating strategy to appeal to Congress in attempts to secure a federal bill to address NIL, potential athlete employee status and antitrust issues – and doing so, he said, while excluding input from conference leaders like himself.
And on yet another front, he is uniquely, if not awkwardly, positioned this month at the heart of the never-ending conference realignment drama. He shook Houston coach Kelvin Sampson's hand before No. 1 Houston's quarterfinal victory in the AAC tournament, one that further cemented the Cougars' status as a No. 1 seed in the NCAA tournament. But within months, Aresco will say goodbye to Houston, in addition to Cincinnati and UCF, as it departs for the Big 12.
"I'm pretty sanguine about realignments; I've been through it so many times," said Aresco, who also was the last commissioner of the original Big East in 2012-13. "I don't know if there's another commissioner who has been through it as much as I have."
Aresco: 'Labels matter'
A few years ago, Aresco recalled, a New York Times writer called him and asked how he felt about being in the Group of 5 and not even being eligible for the College Football Playoff. Aresco corrected the writer and said that while it's an uphill climb because of systematic challenges, teams from the AAC are most certainly eligible.
"Labels matter," Aresco said. "Promotion matters. Kids read that."
While he's been contemplating this issue for some time, one of the triggers that led to crafting the statement Thursday was reading several stories that referenced the top quarterbacks from Power 5 conferences. He said the AAC has at least six who can compete with any of them. 
"If we were a P5 – or a P6 – we'd have a TV deal probably double what we have, and we still have a good TV deal relative for us," Aresco said.
In 2019, the AAC reached an agreement with ESPN on a 12-year, $1 billion deal. It started in the fall of 2020 and runs through the 2031-32 academic year. The league receives $83.3 million per year, with each school receiving almost $7 million annually. 
While virtually everything else in college sports is evolving at a dizzying pace, the characterization of Power 5 leagues has remained consistent. Aresco believes it is media-driven, adding that "what worries me is some in the media act like we play in a different division."
Aresco contends the true divide at the top of the college sports' food chain is not between the fifth and sixth conferences in the pecking order, but rather between the second and the third. Media-rights revenue underscores his point. ESPN will pay the SEC some $300 million annually for its rights – almost a sixfold increase from the $55 million annually that CBS has paid – for 10 years starting in 2024. And the Big Ten has secured a seven-year, $7 billion media-rights deal with Fox, CBS and NBC that begins in July.
The separation between those two leagues and everyone else is only growing larger.
"It's massive," he said. "And think about it: They [the Big 12] just took three of our teams. By signing a piece of paper, you're suddenly a P5?"
The Power 5 'a self-selected group'
Aresco was rankled after reading Andy Wittry's recent On3 story detailing that an ACC document laid out the negotiating strategy for the five autonomous conferences. The memo, dated December 13, 2022, said working groups from the ACC, Big 12, Big Ten, Pac-12 and SEC had "reached consensus on our positions … what we consider 'Must Haves' " in potential federal legislation.
The five "Must Haves," the ACC memo says, include wanting to prevent three things through federal legislation: college athletes being classified as employees; granting athletes their name, image and likeness rights in media telecasts of competition; and NIL or third-party payments being used as "recruiting or participating inducements."
"We have the same issues they have," Aresco said. "Our schools have the same issues with NIL, with the transfer portal, with all of these issues, pay for play. And we're not involved in this. We don't even know what's going on, let alone having input and information. We didn't even know they were doing this. When I saw that, I said, 'OK, that's sort of the last straw' " that led to Aresco's statement on Thursday. 
Aresco questions whether it's even necessary to have a group of conferences classified as autonomous anymore. He said they've united to pass very little legislation. And when one assesses which way the wind is blowing on the heels of the NCAA Transformation Committee's report, conferences are assuming more and more responsibility to formulate their own rules and structure anyway. 
Aresco said the AAC has been much more closely aligned, in many respects, with the Power 5 leagues, but "it's just they don't want us in the group," he said. "It's like anything else when you have a self-selected group, and that's essentially what it is. The other issue with that group has always been – and it's frustrating – there's no path in and there's no path out. You can lose your marquee teams, which got you that [designation] in the first place, and you stay a so-called P5.
"We can't get in, and they can't get out. That's not a healthy situation."
Houston, Cincinnati 'did it in our league'
Aresco swears this isn't a bittersweet March watching Houston contend for a national title before its exit to the Big 12. He said it wasn't bittersweet, either, watching Cincinnati break the glass ceiling and reach the CFP two years ago.
"Sure, there's part of you that feels, 'Ahh, it's too bad they are leaving,' " he said. "But I'd love to see them win it because they did it in our league. It is a legacy for this league."
He raves about what Houston's Sampson and then-Cincinnati coach Luke Fickell did for the AAC, how they promoted it and supported it throughout. Aresco, ever the prompter, also is bullish about what the additions of the likes of FAU, North Texas, UAB and UTSA will mean for his rapidly changing league.
But that's only half of the equation this March. Dating to his days with the Big East more than a decade ago, Aresco knows all too well that conference realignment cuts both ways. Commissioners need to stay attuned to all the machinations as the game of musical chairs continues.
The Pac-12, still looking to secure a media-rights deal in the wake of pending departures of UCLA and USC to the Big Ten, is exploring adding two or four schools. The league is considering the Mountain West's San Diego State as well as SMU from the AAC. 
"We're all waiting for the shoe to drop; it will be nice just to get this over with," Aresco said, later adding, "This is irritating because we'd gotten to the point where a lot of this had ended, and now we've got to start up again. We don't know what's going to happen with SMU, or even other schools, depending on what happens with the Pac-12. What happens to the Pac-12? We don't know whether they're going to implode, or they're going to be fine and add people. I just hope it gets done in the next month or so and we can move on."
And in Aresco's world and beyond, the fierce winds of change in college sports continue to howl. While he assesses how dramatically the landscape may change, the one thing he won't stop doing is fighting for his conference. He reflected on what the late Glenn Tuckett, who was BYU's athletic director from 1976-94, always used to say: "Success unattended is really a tragedy." If you don't promote yourself, if you don't talk about your successes, people won't even realize you did it.
Aresco takes that to heart.
"I do," he said. "I have from the very beginning."