Aaron Rodgers shares offseason plans cigars, scotch, whale watching ahead of decision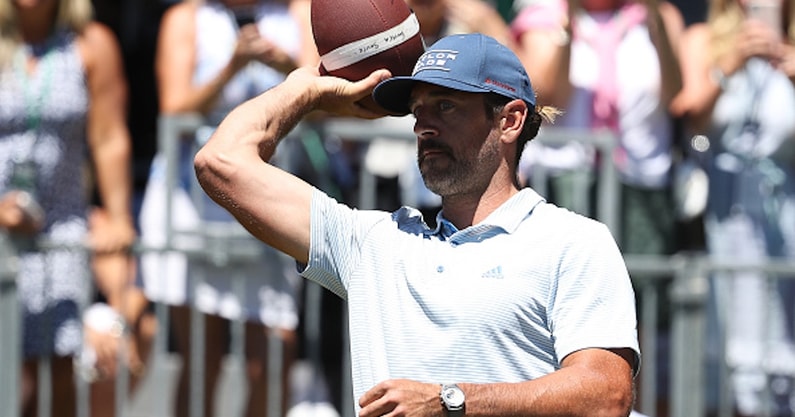 Aaron Rodgers headed into the offseason with one thing in mind before the decision regarding his football future.
The Green Bay Packers quarterback has yet to make a decision whether he'll retire or play football in 2023, but he has quite the process of coming to that decision. Rodgers revealed on The Pat McAfee Show he'll spend his time smoking cigars, drinking scotch and going whale watching.
Perhaps the future Hall of Famer will get the clarity he seeks during this process.
"It's taking some time (and pausing)," Rodgers said. "Letting all of the emotions kind of run through you and then starting to see how it feels day after day. (And then see) what's coming to mind if you're missing is or not missing it. (Are you) excited about the next season, new challenge, whatever it might be, got to lean into that that feeling and whatever feels right in your body is probably what it's gonna be.
"I think it's got to be a full (expletive) yes. You gotta be like yes, I'm 100% in. And if it's not that then you're out."
Rodgers gave the right explanation to making a decision and then added on how he'll do it: his way.
"Well, I know that you know, I know you're a big fan of this mammal, maybe your spirit animal, but this is the humpback whale season," Rodgers said. "And lot of humpbacks are going through the old Southern Pacific here. (Maybe) sitting back with maybe a cigar and perhaps some scotch and the binoculars and the humpback whales. It's a good start to the contemplation."
Do whales, cigars and scotch have anything to do with Star Trek? Well, at least Rodgers can make a comparison of his zen-like state for the beginning part of the offseason.
"I'm going to be like Spock in the 'Search for Spock,'" Rodgers said. "Star Trek IV. No, not searching for Spock, the 'Voyage Home.'"
Rodgers' return likely hinges on at a chance to win a Super Bowl. Whether that is with Green Bay or someone else remains to be seen and he left that door open.
CLICK HERE to subscribe for FREE to the On3 YouTube channel
"If they want to go younger and think Jordan (Love) is ready to go, then that might be the way they want to go," Rodgers said. "If that's the case and I still want to play then there's only one option and that's to play somewhere else."