Alex Bowman opens up about his condition after returning from broken back for Coca-Cola 600 at Charlotte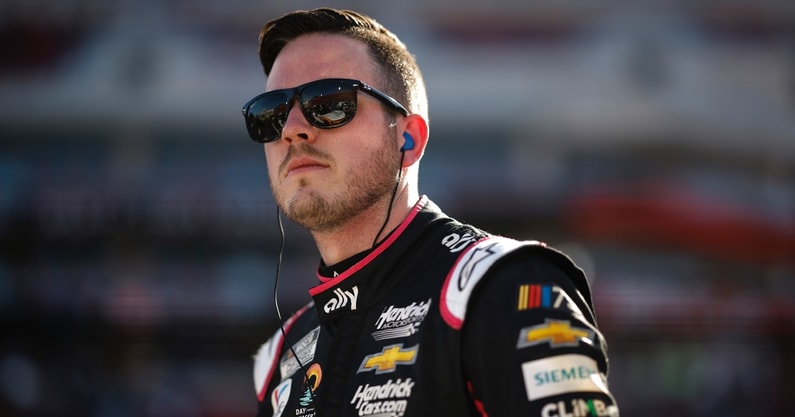 Alex Bowman successfully returned from a broken back to finish P12 during Monday's Coca-Cola 600.
The Hendrick Motorsports star was sidelined due to an injury suffered while racing a sprint car, and returned sooner than most expected. Finishing P12 is a wonderful accomplishment in his first time back in the car, but he was certainly feeling the rigors after the race.
"Like I broke my back a month ago," joked Bowman, asked how he felt after the Coca-Cola 600 by FOX Sports' Bob Pockrass. "Yeah, so glad I didn't end up worse, or worse than 12th. We started 300th every restart, but just trying to make the most out of a day that was kind of stuck on pit road, in-between those two cars. So had some good runs, just needed long runs for us and we didn't have any. So proud of my Ally team, and wish we would've been a little better."
Continuing, Bowman was alright "fitness-wise" in the car, which was a great sign, as that's what he was most worried about prior to the race.
"Yeah, yeah. I'm really sore. It hurts," laughed the Hendrick wheelman, asked if he was sore following the race. "… It's pretty much what I expected. So glad that I was fitness-wise okay in the car, I think that's the thing I was worried about the most. I haven't, you can't train with the type of injury that I had until maybe a week and a half ago, two weeks ago. So just trying to be fit enough to run a 600 mile race I was worried about, but I felt okay."
Alas, Bowman is now above the cut-line in NASCAR's playoff standings, which is a testament to how well he's run even with missing a couple of races. A win is missing from his 2023 resume though, which he'll be looking to add soon.
Nevertheless, after a successful return to the No. 48 Chevrolet, Bowman is looking forward to getting back further into the swing of things at Gateway, where his team will be hoping for some heightened success this weekend.
"Just proud of my No. 48 Ally Chevy team. We had a really fast long run car. Obviously, the short runs were what we needed, but we were just too tight for that," added Bowman, via Hendrick Motorsports' team website. "We got stuck on pit road – every stop, we came in like 10th, but lost spots coming out. That wasn't on my guys, it was just pit stall selection.
"We'll move onto St. Louis. Hopefully we'll get to qualify there, have a good pit box and just go have a normal day."