Dallas Cowboys announce death of Jerry Jones' long-time executive assistant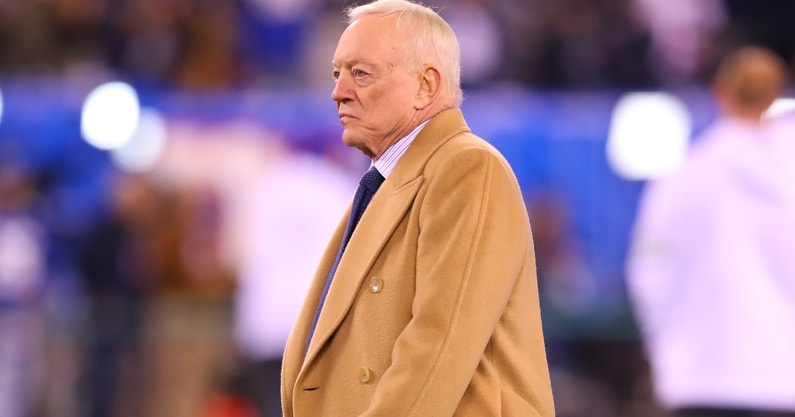 Jerry Jones' long-time executive assistant, Marylyn Love, passed away, the Dallas Cowboys have announced. Jones released a statement Thursday night following her death.
"The entire Dallas Cowboys organization is devastated by the news of Marylyn's passing. Marylyn has been by my side, she has been my rock, my voice, my calm in the storm for more than 40 years," Jones' statement reads. "Marylyn was respected and loved by everyone who passed by her desk or spoke with her on the phone. She was our foundation. Marylyn helped shape this franchise as one of very few people who Dave been with means my family since day 1
"… This is a loss that everyone in my family, everyone in the Dallas Cowboys family, feels. Marylyn was not only my executive assistant, but she was my advisor, my confidant, my best friend and a cherished member of our family. We all mourn together with her family; a family we all hold very close to our hearts."
NFL legend and current Jackson State head coach Deion Sanders gave a shoutout to the late Love in his Hall of Fame acceptance speech in 2011, saying, "Marylyn covering for Jerry [Jones] was the greatest cover corner in the NFL." In his statement, Jones agreed. She impacted everyone who came in and out of the organization season after season for the better.
Her cause of death is unknown as of this writing.
Read the rest of Jones' and the Cowboys' statement here.
Report: Dallas Cowboys entertaining trade offers for offensive mainstay
The Dallas Cowboys still have their eyes set on a Lombardi Trophy, but due to issues with the salary cap with so much talent eating up massive chunks of cash, Jerry and Stephen Jones are going to have to make difficult decisions in order to free up space, while still ensuring their core is in tact for another run in 2022. 
On Thursday, NFL Insider Ian Rapoport reported the Dallas brass is entertaining moving on from one of the anchors of the offensive line. Offensive tackle La'el Collins could be headed out of Dallas.
The 28-year-old Collins, who has played his entire career with the Dallas Cowboys, is set to count $15.25 million against the Cowboys' salary cap this season, but the Cowboys can save $13.95 million of that by cutting or trading him.
Last year Collins played in 12 games, starting 10, but the Cowboys didn't miss him much when he was out of the lineup, and it's unsurprising that they're not sure he's worth the cap space they're devoting to him.