Dallas Cowboys offseason workouts, minicamp dates announced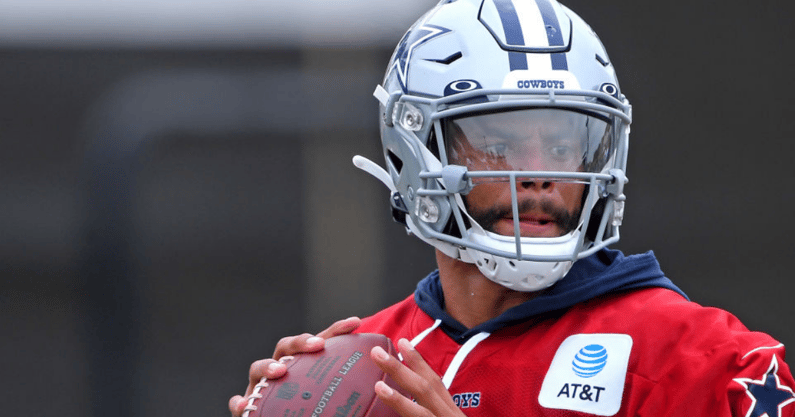 Amid an already busy offseason, the Dallas Cowboys have announced the dates for OTA workouts and mandatory minicamp. The dates are approaching fast with the first day of voluntary spring workouts on April 17.
The Dallas Cowboys' OTA offseason workouts are on May 22-23, May 25, May 30, June 1-2, and June 13-15.
Mandatory minicamp is from June 6-8. However, the Cowboys have not announced dates for rookie minicamp. Per NFL rules, the rookie minicamps can start after May 15.
This month, the Cowboys front office has orchestrated two trades, multiple free agency pickups and seven of their own free agency re-signings.
The offseason has also come with quite a few departures already as well. One of the faces of the franchise, former first-round draft pick Ezekiel Elliott is now on the free agency market. Tight end Dalton Schultz is now with the Houston Texans, as is wideout Noah Brown, and offensive lineman Connor McGovern signed a deal with the Bills.
The Dallas Cowboys cleared the cap space for new signings and more with the Elliott release, as well as other free agent departures. They also restructured deals for Dak Prescott, Zack Martin, DeMarcus Lawrence, Tyron Smith and Michael Gallup.
In the upcoming draft, Dallas has several opportunities to add talent. They have seven picks, one in each round of the 2023 NFL draft. They would have had three picks in the sixth round but they traded two away with the additions of two veteran starters in Stephon Gilmore and Brandin Cooks.
More key NFL offseason dates
April 17: Clubs with returning head coaches may begin offseason workout programs.
April 19: Deadline for clubs to time, test, visit, interview or conduct a physical examination with a draft-eligible player at club facility.
April 21: Deadline for restricted free agents to sign offers.
April 26: Deadline for prior club to exercise Right of First Refusal to restricted free agents.
April 27: Deadline for clubs to time, test, visit, interview (including video and phone calls) or conduct a physical examination with a draft-eligible player at any location.
April 27-April 29: NFL Draft in Kansas City
May 1: Deadline for clubs to exercise Fifth-Year Option for players selected in the first round of the 2020 Draft.
May 5-8 or May 12-15: Cowboys can hold their one three-day post-Draft rookie minicamp from Friday through Sunday or Saturday through Monday.
May 22-May 24: Spring League Meeting