Denny Hamlin says Bubba Wallace, No. 23 team should be happy with performance at Texas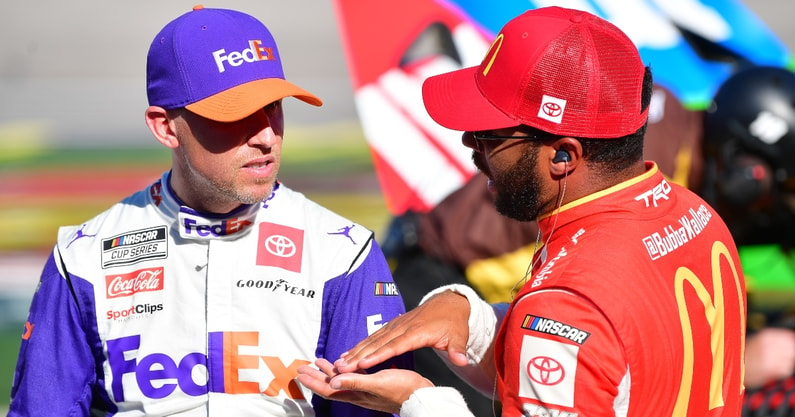 Denny Hamlin believes Bubba Wallace and the No. 23 team should be happy with their performance at Texas Motor Speedway.
While Wallace was visibly disappointed after the race despite his P3 finish, Hamlin had some words of encouragement for the 23XI Racing driver, elaborating on why Wallace and company should have their heads held high.
"They're running strong. Certainly, they're strong contenders," explained Hamlin, via Actions Detrimental. "They qualified great. They ran great. They lead 100 and something laps. It's, you've got to feel pretty good about it.
"But they also missed out on a lot of stage points. But they're trying to win the race. At the time they think, 'Hey, we've got a race-winning car, so we're going to pit.' We did the same thing on the No. 11. We pitted the same time they pitted."
Regardless, Bubba Wallace believed he had a shot of winning Texas, and locking in his spot in the Round of 8. Now, the 23XI Racing wheelman will have to survive Talladega and the Charlotte Roval to keep his championship hopes alive.
Nevertheless, Denny Hamlin was proud of Bubba Wallace's run on Sunday, and believes the wins are coming. We'll see if he can find Victory Lane before it's too late.
Bubba Wallace breaks down late battles with Kyle Larson and William Byron
Late in the race, Bubba Wallace was mixing it up with Kyle Larson. While Larson had been leading the event, Wallace was fighting him for the win, when Larson's car lost the air and went sideways into the wall.
Speaking with FOX's Bob Pockrass afterwards, Wallace harkened back to the battle he had with the former NASCAR Cup Series champion.
"It was a fun battle, for sure. Fighting hard for a whole lap, and I thought it was going to be like that the whole time, because I wasn't going to lift until he was going to lift," said Wallace. "That's unfortunately what happened. Unfortunately, he crashed and ruined his day. 
"But we're fighting for a win here in the Playoffs and to get to the next round."
In the end, Wallace would end up in P3, as Larson's Hendrick teammate William Byron got by him on the final restart, and would win the race. Continuing, Wallace elaborated on what went wrong for him, as he let Byron escape his grasp. 
"Fair and square, he just out-restarted me, and it's just frustrating. I really take pride in my restarts," explained Wallace. "I tried to to everything right. I let everybody down today. It sucks. 
"I think it was a good points day. I don't know where we stack up now. But got to keep fighting. Got to keep rolling and learning and processing things better. That's what the Playoffs and NASCAR (are) about. Got to keep going."