Former NFL OL Shaun O'Hara 'mesmerized' by T.J. Watt in Raiders game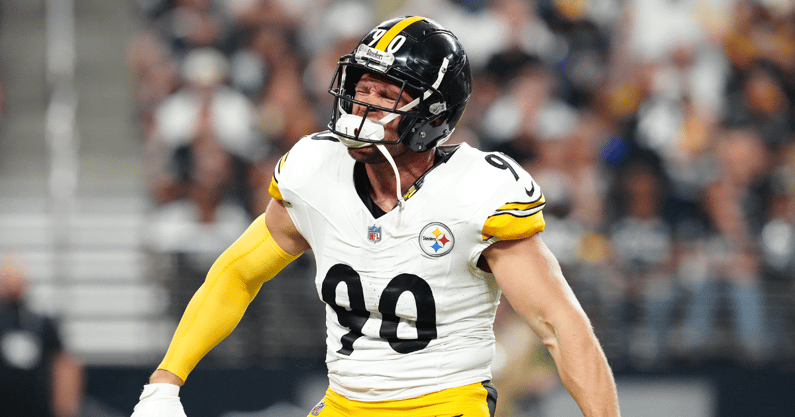 Your eyes watch TJ Watt. Yet, your mind can't comprehend him. After Watt posted a jaw-dropping performance in the Pittsburgh Steelers' 23-18 win over the Las Vegas Raiders on Sunday, former NFL offensive lineman and Good Morning Football co-host Shaun O'Hara raved about the Steelers linebacker.
"I was mesmerized by T.J. Watt in this game," O'Hara said. "I know I'm a former offensive lineman so I gravitate towards the line of scrimmage, but it's not the sacks … It's the amount of times I saw Jimmy Garoppolo do this [avoid contact].
"That little impact right there, as a quarterback you're aware of it all the time. You see the sacks and the way he disrupted the game, but it's not even the sacks or the hits. It's just his presence. Every single time the quarterback would drop back it was like here comes this big paw coming in to swipe."
Watt is a quarterback's nightmare. In just three games this season, Watt boasts six sacks, the most in the NFL. Two of those sacks came on Sunday, along with six pressures and three quarterback hits. The numbers are a drop in the bucket compared to Watt's illustrious career.
A master at work
In seven seasons in the league, Watt has amassed 252 solo tackles, 83.5 sacks and 25 forced fumbles. For his efforts, Watt has been named Pro Bowler five times and an All-Pro three times. Moreover, Watt was the NFL Defensive Player of the Year in 2021.
The former Wisconsin standout hasn't shown any signs of slowing down anytime soon.
"It's unbelievable to watch him, his explosiveness, how fast he is and his craft. I couldn't help but just lock in on him," O'Hara said.
TJ Watt on pace for a career year
According to ESPN's Stats and Info, Watt became the first defensive player in NFL history to tally 6.0 sacks and boast a defensive touchdown in a team's first three games of a season since individual sacks were first tracked in 1982.
If Watt was to hold his current pace, he would finish this season with 51 sacks. For reference, the official single-season NFL record is 22.5 sacks, which was set by Michael Strahan in 2001. TJ Watt's older brother isn't putting a record-breaking season past him.
"I mean, the way he's playing right now, he's on a different level," JJ Watt said on "The Pat McAfee Show." "He's been on a different level for a long time but he's been playing lights out right now. I really think he's got a shot to do it."