Joey Bosa fined $55,546 for criticizing officials, unsportsmanlike conduct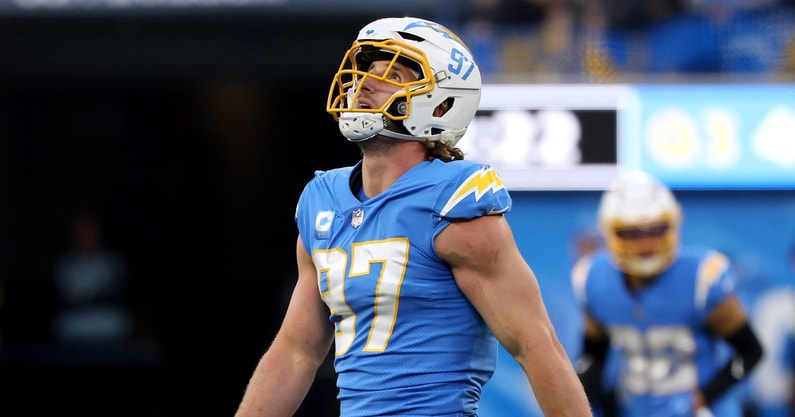 The NFL did not like what it saw with the Los Angeles Chargers star defensive lineman, Joey Bosa, in the team's loss in the Super Wildcard round to the Jacksonville Jaguars, nor were they particularly fond of his postgame comments, which were critical of the officiating crew. In light of Bosa's actions and postgame comments, the NFL has levied a significant fine on the former Ohio State Buckeyes star.
"The NFL fined Chargers star Joey Bosa $55,546 for unsportsmanlike conduct and public criticism of officiating in last week's playoff loss to the Jaguars," according to NFL Networks Tom Pelissero via Twitter.
It is still unknown what was said, but Bosa picked up an unsportsmanlike penalty after a few choice words for one of the officials on the field. For the Chargers' EDGE, that would be his second unsportsmanlike penalty of the game. Fortunately, Bosa was not disqualified for the foul because the calls fell under two separate categories.
Bosa postgame comments
Bosa slammed his helmet in frustration after speaking to an official, where he received a penalty for whatever he said, in a since viral moment. Bosa received two unsportsmanlike penalties in the process after he felt officials missed calls on Jacksonville.
While Bosa took responsibility for what he did on the field in terms of penalties, as well as his fair share of the blame of LA blowing a 27-0 lead, Bosa did not hold back about the referees.
"I do really, really want to say some things," Bosa said. "I need to be more accountable for my actions, obviously, but it's a heated game and I'm hurting out there, I'm playing on half a leg, I'm getting dragged to the ground, whatever, could hurt me along with screwing our team, and yeah, maybe some of 'em weren't as blatant as I thought, but I don't know. I think there just needs to be more accountability. 
"I mean, if I say something to them I get a $40,000 fine but if they blow a call that ruins an entire team's season they get to — they'll probably be back in the locker room after the game like, 'Haha, got that a–hole, oh yeah, got him 15 yards, what a loser.' I guarantee it, that's what they're f—ing talking like in the back. Whatever power trip. I'm sick of those f—ing people." 
Before his tirade, Bosa knew what was coming.
"I'm sure I have some fines coming my way already," Bosa said.