WATCH: Joey Bosa savagely responds to taunts from Eagles fans at NFC Championship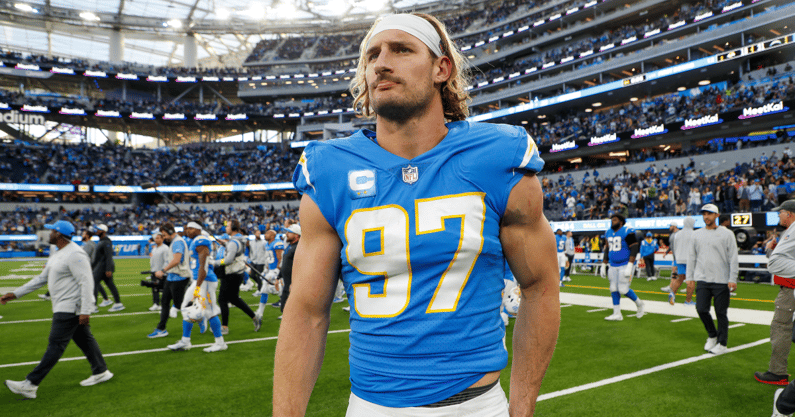 Los Angeles Chargers linebacker Joey Bosa got into a heated back-and-forth with Eagles fans Sunday at the NFC Championship. The fans approached Bosa while he was outside of Lincoln Financial Field waiting to watch Philadelphia take on the 49ers, for whom his younger brother Nick Bosa plays defensive end.
"Bosa!" the fans shouted repeatedly. "When do the Chargers play this week?"
Talk then turned to the $55,546 in fines that Joey Bosa racked up for criticizing the officiating in a Wild Card loss to Jacksonville on Jan. 14. The Eagles fans badgered Joey Bosa for the large amount, but the linebacker was ready with a savage comeback.
"How are those fines, Bosa?" a fan asked.
"They're good because I can afford 'em," Joey Bosa snapped back. "I'm f—ing rich. You f—ing broke b—-."
After making three straight Pro Bowl appearances from 2019-21, Joey Bosa missed all but five games this season due to a groin injury. He still returned in time for the playoffs, recording one tackle in the 31-30 loss to the Jaguars.
Unfortunately, Nick Bosa's season seems likely to end Sunday as well. With five minutes to go in the fourth quarter, the Eagles hold a commanding 31-7 lead over the 49ers.
Chargers QB Justin Herbert undergoes labrum surgery
Los Angeles Chargers quarterback Justin Herbert had surgery to repair the labrum in his left shoulder, NFL insider Ian Rapoport reported. That is his non-throwing arm and the team expects him to be cleared to participate in the offseason program.
It's not clear exactly when Herbert suffered the injury, though he played just two weeks ago in a Wild Card playoff game against Jacksonville. He was 25-of-43 passing for 273 yards and a touchdown as the Chargers suffered a narrow 31-30 loss.
A former first-round pick out of Oregon, Herbert just completed his third NFL season. He was selected as an alternate for the Pro Bowl after throwing for 4,739 yards, 25 touchdowns and 10 interceptions. However, he will not participate in light of the injury.