Julius Randle reportedly undergoes left ankle surgery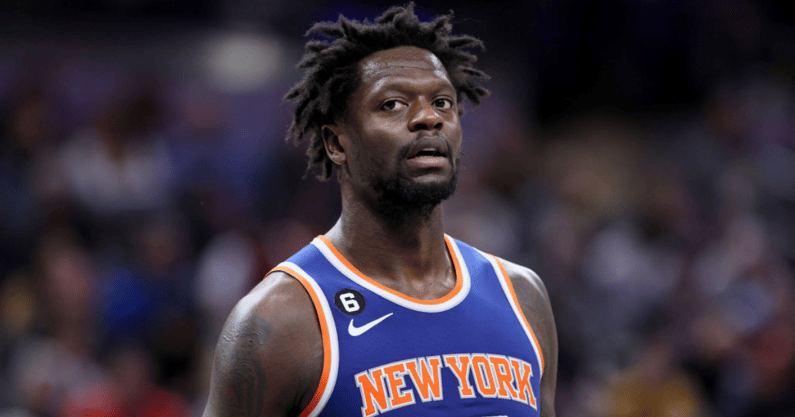 After suffering some late-season injuries, New York Knicks forward Julius Randle is on the mend. According to ESPN's Adrian Wojnarowski, Randle had successful arthroscopic surgery and is on track to be fully healthy and ready to play by the time camp starts this fall.
Here was that report on the former Kentucky star, which Woj published on Saturday morning:
"All-NBA forward Julius Randle underwent arthroscopic surgery on his left ankle and is expected to be ready for the New York Knicks' training camp in the fall, sources told ESPN on Saturday."
The foremost NBA beat reporter also provided a timetable for when Randle can start getting back into his regular basketball activities:
"The procedure, which was performed on Friday and considered successful, will allow Randle to resume basketball activities later this summer and be fully recovered for the start of the 2023-2024 season, sources said."
Apparently, Randle's injuries to end the year may have been a little worse than the New York star let on. Wojnarowski reports that he suffered a first sprained ankle at the tail end of the regular season and re-aggravated it in the fifth game of the Knicks' first-round series against Cleveland. From then on, he was hobbled significantly.
"Randle played through two significant ankle sprains in the final stages of the Knicks season when he became aware of the probable need for surgery, sources said," reports Woj. "But (he) decided to push through the injury to remain in the lineup for New York's run to the Eastern Conference semifinals."
It's a bummer Julius Randle couldn't finish out the year fully healthy, especially when the Eastern Conference was broken wide open by the No. 8 seed Miami Heat's unexpected run to the NBA Finals. Sure, the Heat vastly outplayed New York in the East semifinals and likely would have advanced even with a healthy Randle, but there's always that what if?
As for his actual play this past season, Randle had arguably the best — and if not, then the second-best — season of his career. He averaged just ahead of 25 points, 10 rebounds and four assists per game, which were good enough marks to earn him both All-Star and All-NBA honors. Best of all, the Knicks had their best season since Randle's been in town in large part thanks to him and new point guard Jalen Brunson.
Still a bright future ahead for Randle and this current Knicks group.