NASCAR announces championship weekend will return to Phoenix in 2024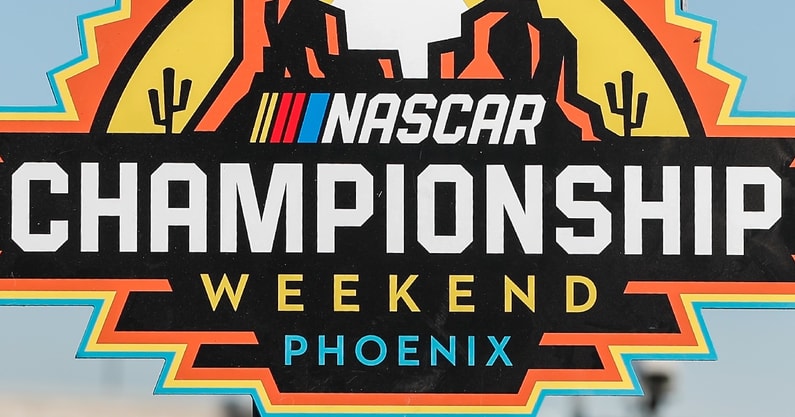 Over the past couple of seasons, Phoenix has become the spot where NASCAR has crowned their champions.
Originally, NASCAR planned to move the final race of their season from track to track, rotating and keeping things fresh. Instead, due to a myriad of factors, Phoenix has been the final stop on the tour, and that won't be changing anytime soon.
On Wednesday, NASCAR announced that Phoenix will remain the site of their championship weekend at least through the 2024 season, keeping with their recent trend.
"NASCAR announced the championship weekend will return to Phoenix next year, Nov. 3-5, 2024," tweeted Bob Pockrass of FOX Sports.
For many years, it was Homestead where NASCAR would crown their champion, but it's evident Phoenix has now overtaken them as a preferred destination. While fans have complained about the track during recent battles for the championship, the governing body of the sport simply isn't worried, or at least that's what it seems like.
Moreover, Phoenix has been good to Hendrick Motorsports when it comes to the championship race, as Chase Elliott captured his first title at the track in 2020, and Kyle Larson followed suit in 2021 by lifting the trophy for the organization. However, Joey Logano spoiled the party in 2022, capturing his second title and dominating the race in the process.
Another Hendrick driver could be on his way to his first title in 2023 though, as William Byron has enjoyed a breakout season thus far. Additionally, Phoenix remaining the site of NASCAR's championship weekend has to sit well with him, as the Hendrick wheelman captured victory at this spring's date at the track in March.
At the moment, Byron leads all drivers in NASCAR's playoff standings, which would give him a wonderful shot at ending up in the meat of it all come Phoenix this season.
Nevertheless, regardless of the racing on the track, Phoenix has been a tremendous host for NASCAR's championship weekend over the last couple of seasons, as the track is truly state of the art. Additionally, rain is almost never a factor out in the desert, so that's one less thing to worry about for the sport.
Time will tell who captures the 2023 NASCAR title, but they'll have to do so by being the best of the best at Phoenix. That bodes well for some drivers, but others may be getting weary of having to perform at their peak there.