NFL Free Agency: Julian Love signs 2-year, $12-million deal with Seattle Seahawks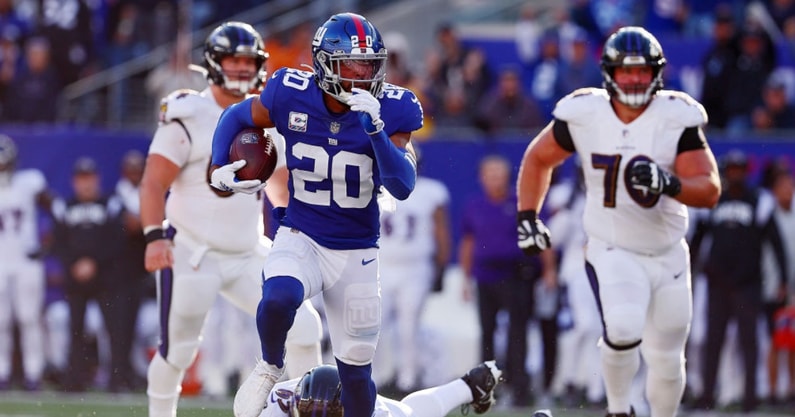 Former Notre Dame star Julian Love has made his decision in NFL free agency. CBS Sports' Josina Anderson reported Friday afternoon that Love texted her that he has "agreed to terms with Seattle" and will be a Seahawk next fall.
Shortly after Anderson' report, NFL insider Adam Schefter added the following context regarding Love's deal with Seattle:
"Former Giants' safety Julian Love reached agreement today on a two-year, $12 million deal with the Seattle Seahawks, per sources. Deal confirmed and negotiated by Drew Rosenhaus and Ryan Matha."
Julian Love has spent his entire career with the New York Giants after they drafted him in 2019. Last season, he turned in the best numbers of his career with 124 tackles and two interceptions.
New York drafted Love in the fourth round of the 2019 NFL Draft after a standout career at Notre Dame, where he was a consensus All-American in 2018.
More on the 2023 NFL offseason, free agency
The NFL 2023 calendar year is set to begin at 4 p.m. ET on March 15 when contracts running through 2022 will officially run out, making those players free agents. Prior to the beginning of free agency, teams will have a chance to designate one franchise or transition tag player, starting on Feb. 21 at 4 p.m. ET and ending on March 7. Beginning March 13 through March 15 teams will be allowed a legal negotiation with players who are set to become unrestricted free agents.
In addition to NFL free agency, the new year also marks the beginning of all trades being made official by the league office. April 21 marks the deadline to sign restricted free agents to offer sheets while April 26 marks the deadline for teams to match restricted free agent offers sheets. 722 players are slated to become free agents in 2023.
More on restricted, exclusive rights free agents
Players with only three years of accredited NFL experience become restricted free agents. Their original team will have the option to apply first-round, second-round, original-round, and right-of-fight-of-first-refusal tenders on players at escalating price tags. The higher the round, the more expensive the tender amount; however, if a separate team does offer a contract and the original team does not match that round pick will be conveyed from the new team to the original team. Right of first refusal only gives a team the option to match or not. If they don't match, they get nothing in return. An original-round tender would send a draft pick from whatever round the player was drafted back to the original team if they chose not to match. The original team will have five days to match once a player signs an offer sheet from a new team.