PFF ranks all 32 starting quarterbacks in the NFL ahead of 2023 season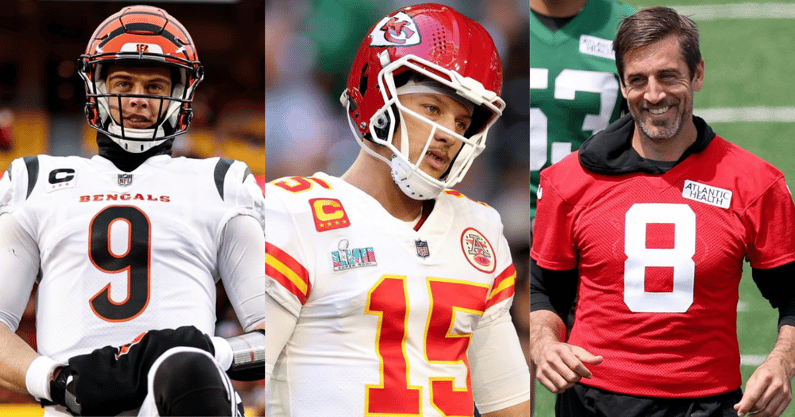 Quarterback is the primetime position in football these days, specifically in the NFL. Having one that's one of the best in the league can make all the difference between being in the bottom tier and competing for a title. Now, ahead of next season, Pro Football Focus (PFF) has ranked each expected QB1 for next season and put them in their place.
Kansas City QB Patrick Mahomes obviously took first place after winning NFL MVP and Super Bowl LVII MVP last season. However, some of the AFC's best followed close behind in the top five with some NFC names starting to get some love at the end of the Top 10.
PFF's Quarterback Rankings
Patrick Mahomes – Kansas City Chiefs
Josh Allen – Buffalo Bills
Joe Burrow – Cincinnati Bengals
Trevor Lawrence – Jacksonville Jaguars
Deshaun Watson – Cleveland Browns
Derek Carr – New Orleans Saints
Jared Goff – Detroit Lions
Justin Fields – Chicago Bears
Ryan Tannehill – Tennessee Titans
Brock Purdy – San Francisco 49ers
Jimmy Garoppolo – Las Vegas Raiders
Sam Howell – Washington Commanders
Baker Mayfield – Tampa Bay Buccaneers
Desmond Ridder – Atlanta Falcons
It says a lot about the AFC that the first six spots all went to quarterbacks in their conference. All four divisions in the AFC are represented in the Top 10 with each getting two selections besides the AFC South.
From there, spots 10 through 20 include big-time names that had up and down years in the 2022 NFL season. Tagovailoa and Stafford missed several games due to injury while Watson missed over half the season due to suspension. After that, stock on players like Smith, Goff, Jones, and Fields have never been higher. Veterans who are somewhere in the middle after last season, including Carr, Tannehill, and Wilson, also make up this portion of the list.
In the final 12 spots of the list, the most interesting thing to note is the placement of three rookie quarterbacks. Bryce Young, the No. 1 pick during the 2023 NFL Draft, found himself as the highest-rated rookie at No. 25. CJ Stroud and Anthony Richardson, the other quarterbacks taken in the top-five by Houston and Indianapolis respectively, were found in two of the final three spots.
Beyond that, it's worth considering that Purdy, Mr. Irrelevant in the 2022 NFL Draft, is one spot above Garropolo, who he replaced this season for San Francisco last season. Jimmy G.'s placement is even more brutal considering the latest updates on his foot injury in Las Vegas.
Love, the next face of the Green Bay Packers after the Rodgers trade, comes in at No. 26 while Mayfield, Tom Brady's expected replacement in Tampa Bay, landed at No. 28. McCoy also needs to be mentioned at No. 29 considering his placement on this list is connected to the fact that Kyler Murray isn't expected to return from his ACL tear until late next season.
It's up to you to determine how much you agree with PFF's list and how they ranked each player. Even so, more movement is sure to come over the offseason and by the time the next NFL season wraps up with these quarterbacks going head-to-head.