Rory McIlroy thinks LIV golfer Brooks Koepka deserves a spot on Ryder Cup team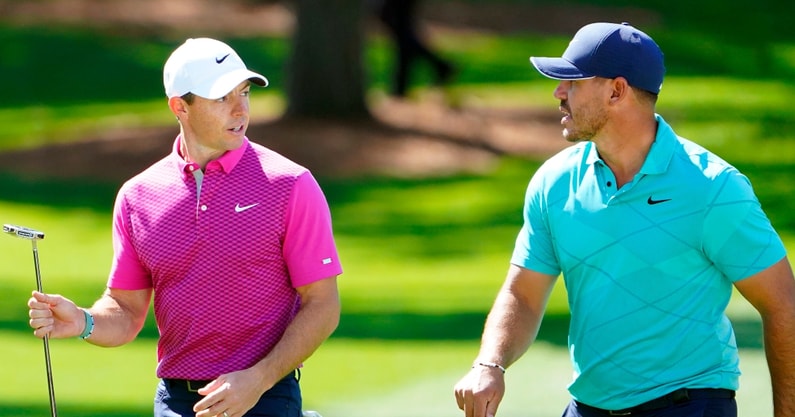 Breaking with his typically stalwart stance on LIV golf, PGA golfer Rory McIlroy came out in full support of American LIV Tour participant, Brooks Koepka playing for the U.S. team at the Ryder Cup on Wednesday.
The biennial tournament is not currently allowing golfers from LIV to participate and has even removed Sweden's Henrik Stenson from his captainship. However, as he is the current PGA Champion, Koepka has the credentials to make his team, according to McIlroy.
"I certainly think Brooks deserves to be on the United States team," McIlroy said Wednesday ahead of the PGA Memorial Tournament in Dublin, Ohio.
"I think with how he's played, I mean, he's second in the US standings, only played two counting events… don't know if there's anyone else on the LIV roster that would make the team on merit and how they're playing. But Brooks is definitely a guy that I think deserves to be on the US team."
When it came to the European squad for the Ryder Cup, however, McIlroy said he doesn't believe any of the European LIV golfers – Ian Poulter, Lee Westwood or Sergio Garcia – should make the team.
Rahm advocates for Garcia
Jon Rahm, speaking up for fellow Spaniard Garcia, who has been part of nearly every Ryder Cup team since 1999, said he doesn't believe "politics" should interfere with these decisions.
"It's a little sad to me that politics have gotten in the way of such a beautiful event," the PGA's No. 2-ranked player said on Tuesday from Ohio. "It's the best Europeans against the best American, period. And whatever is going on, who is playing LIV and who is not playing LIV to me shouldn't matter."
"I have a hard time to believe that the best player Europe has ever had, the most successful player Europe has had on the Ryder Cup isn't fit to be on the team," Rahm continued. "It's unfortunate. I will miss him."
Greg Norman says McIlroy's 'maybe' seen the light on LIV
The beef between the PGA Tour and LIV Golf seems to have slowed down quite a bit in recent months. While the two tours still aren't on the greatest terms, the constant back-and-forth bickering has subsided significantly. LIV commissioner Greg Norman believes it's because Rory McIlroy has "seen the light."
Over the past year, McIlroy has essentially served as the unofficial spokesperson of the PGA Tour. He has defended the league against Norman's Saudi-backed LIV Golf. While the four-time major winner once claimed the startup league was "dead in the water," he has softened on the stance lately.
Norman has taken notice.
"I am glad Rory is starting to maybe see the light a little bit," Norman told BBC Northern Ireland.
McIlroy has recently said that the two golf leagues need to find ways to co-exist. That hasn't quite happened yet, but Norman suggested that LIV is starting to have an impact on players still on the PGA Tour.
"I am glad Rory has recognized that LIV really truly identified how antiquated the PGA Tour was," Norman said. "I am glad Rory is recognizing LIV has been a leader in getting the PGA Tour to try and follow us. Why have we done that? Because of the players."
On3's Dustin Schutte contributed to this report.