Shane van Gisbergen would 'love' to race Cup Series full-time after Chicago win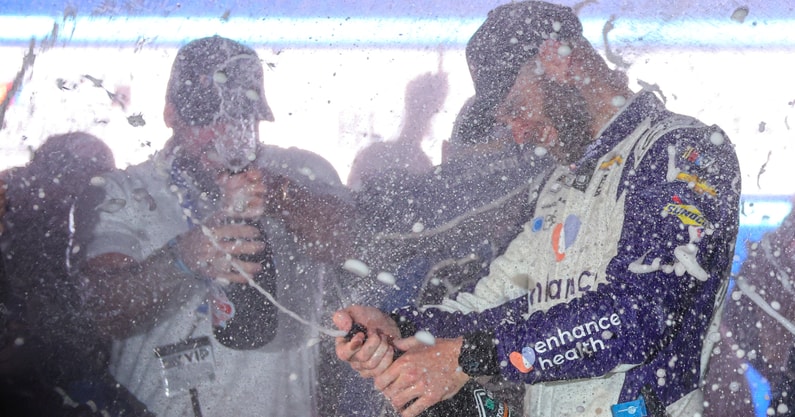 In a shortened race, Shane van Gisbergen was victorious on the streets of Chicago. In fact, he might make this a full-time gig pretty soon. After winning three Supercars championships, SVG has his eyes on the NASCAR Cup Series. After all, he has a perfect winning percentage.
Van Gisbergen put on a masterclass. His Supercars experience shined in his Cup Series debut. Despite starting on rain tires, despite the brand-new course, and despite being his first start ever he was excellent.
The question is, what is next for SVG? He clearly has the talent to hang with these Cup Series guys.
"No, of course not but you always dream of it," van Gisbergen said when asked if he thought he could win. "Thank you so much to the Trackhouse team and Project 91. What an experience and the crowd out here this was so cool. It's what you dream of so I'm planning to come and do more."
When he was asked about a potential future in the Cup Series, he was quick to reply.
"I'm doing one more year in [Australia], and then I'd love to come over here."
Shane van Gisbergen is the first New Zealander to win a Cup Series race. He was impressive the entire weekend. During practice, SVG was one of the first drivers to pick up on certain aspects of the track. While he missed out on the pole he almost won that as well.
SVG even had to battle back in this race after being one of the early leaders for much of the evening.
Shane van Gisbergen battled back from adversity
Right as Stage 2 came to an end, a caution came out. It led to the end of the stage and into the final stage. Before the race got going again, NASCAR announced they would be shortening the race to 75 laps. This cycled the field through as some cars pitted behind others before and after the decision was made.
Shane van Gisbergen was one of the leaders that lost his track position. However, in the latter part of the race, he was able to cut through the field and take the lead back. Kyle Larson was another driver that made his way up in the end of the race, but van Gisbergen was on another level.
When it came down to it late restarts couldn't stop him. Chase Elliott couldn't hold him off for P2. Then, Justin Haley had an epic battle with SVG. The two made passes on each other and really showed off their talents.
In the end, Shane van Gisbergen was too good. He had too much speed and he had fresher tires than Haley and the others. Trackhouse Racing gets a win with Project 91 and van Gisbergen opens the door to becoming one of the most coveted free agents in racing for 2025.