Sonoma Raceway fires off Denny Hamlin, Chase Elliott tweet after suspension, deletes it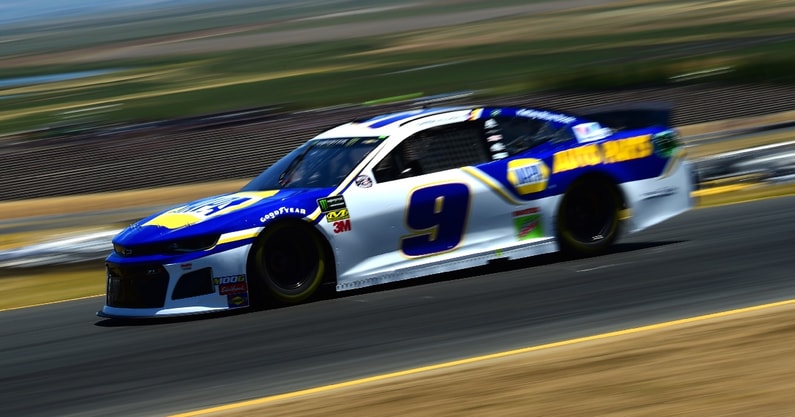 Sonoma Raceway almost won NASCAR Twitter for the day, but decided better of their message regarding the beef between Denny Hamlin and Chase Elliott.
On Tuesday, NASCAR suspended Elliott for this weekend's race at Gateway due to an incident where he purposefully wrecked Hamlin during the Coca-Cola 600. That means that Elliott will return from his suspension at the California-based road course, which also happens to be one of his best tracks on the circuit.
Evidently, Sonoma believes they could capitalize on it marketing-wise. Check out their since deleted tweet below, featuring a picture of Hamlin and Elliott with the caption, "See you at Sonoma."
Well, somebody in the racetrack's marketing department must've not approved of their clever tweet, as it was quickly taken down by Sonoma's Twitter account. It started to do numbers, but the tweet went into the abyss, before AP Sports' Jenna Fryer shared it to Twitter via a screenshot, because those live forever.
Regardless of whether the marketing tactic was in good faith, plenty of eyeballs will be tuned in for Sonoma to see if Elliott and Hamlin continue their beef on the racetrack, or if it remains a one-time thing. Nevertheless, any publicity is good publicity, and NASCAR is certainly gaining that through this rivalry.
Denny Hamlin unleashes expletive-laden rant on Chase Elliott wrecking him, not apologizing
Continuing, Denny Hamlin recorded his Action's Detrimental podcast for Dirty Mo Media on Tuesday, where he went off on the Hendrick Motorsports star for what he believes was a situation where Chase Elliott wrecked him on purpose.
"There's no explanation that he could possibly give, which he didn't, of reason for hanging a left. He obviously didn't want to admit it," started an incensed Hamlin. "He did, 'Ahh, I can't hear you, sorry,' and then, 'Sorry, I can't hear what you're saying, but my car just couldn't drive.' B——t. The f—ing wheels were dead straight. Even after we crashed, and like destroyed our s—, he goes down the back straightaway and you look at the tires, the front tires are pointed the correct direction. I pointed out in the data that I tweeted that once he got into the wall, there was nothing wrong with his car. He turned the wheel back straight, like he was going down the straightaway, and you can tell by data whether you've got toe link damage or not. You can tell that basically if your line is skewed one direction or another, where you have to turn it left, have to turn it right. Whether you've bent a toe link or done significant damage. For God's sakes, Tyler Reddick pounded the wall twice as hard as he did and didn't hurt his car. 
"Everyone hits the wall. But he threw a hissy-fit, and he just hung a left on us in the most dangerous part of the racetrack that you possibly could, and it ended my day and his, and in my opinion he shouldn't be racing next weekend. NASCAR set a precedent last year on this."
Alas, Denny Hamlin has to be pleased with NASCAR's decision, but we all know drivers don't exactly have short-term memories. Time will tell how this plays out throughout the rest of the season, but there's not going to be a lot of good-will between Hamlin and Elliott moving forward.