5-star RB Richard Young commits to the Alabama Crimson Tide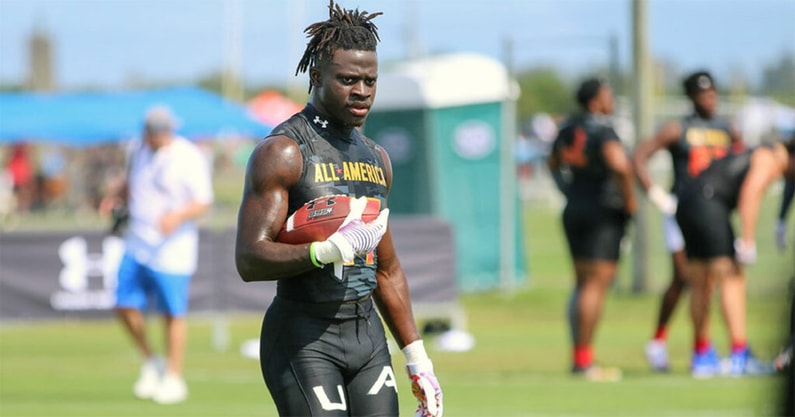 The Alabama Crimson Tide remain on a hot streak on the recruiting trail. On Friday, Nick Saban's staff added a commitment from yet another elite prospect in the Class of 2023.
Moments ago, five-star running back Richard Young announced his pledge to the Crimson Tide. Young chose Alabama over a top schools group that featured Georgia, Oregon, and others.
"I want to start off by thanking the man above because without him, nothing will be possible," Young wrote in the tweet below. "I want to thank my parents for everything they have done for me and the sacrifice they made for me to be where I am today. Want to thank my coaches for pushing me and making sure I'm always on the right track and working to be great every day.
"I also want to thank friends and loved ones for pushing me and supporting me through this long process," Young continued. "With that being said, for the next three to four years, I will be taking my talents and academics to the University of Alabama. Roll Tide!!!"
Young becomes the second running back to join forces with the Crimson Tide in this class. Georgia Bulldogs legacy running back Justice Haynes teamed up with the program 12 days ago.
Per the 2023 On3 Consensus, Young is the No. 31 overall player in this recruiting cycle. He also checks in as the No. 1 running back and the eighth-ranked prospect in the Sunshine State.
BamaOn3 will have more on this commitment today and this weekend.
Scouting Summary on Alabama RB commit Richard Young
"Physically-developed running back who emerged as a national name as a high school underclassman, the report reads. "Has a good combination of play speed and power. A muscular upper body with room to add mass in his lower half. Uses his leg drive to run through tackles at the second level. Shows well above average speed, which is validated by his track times (around 11.1 seconds in the 100 meters).
"Productive as a junior, rushing for 1,755 yards and 19 touchdowns while averaging nine yards per carry. Will need to considerably improve his ball skills as a receiver out of the backfield, as he has a tendency to fight the ball. Most of his best track times came as a high school underclassman. Older for the class, turning 18 years old in the spring of his junior year."
Are you subscribed?
Ready to get all your latest Alabama football news in one place? Become a member of BamaOn3 today. With your BamaOn3/On3+ membership, you'll have access to the goings-on in Tuscaloosa. You'll also be able to peruse other fansites within the network to hear just how rivals are feeling about the Tide. Make sure to follow along on Twitter (@BamaOn3) for all the Alabama news you need now!