Alabama All-American commit with potential to play early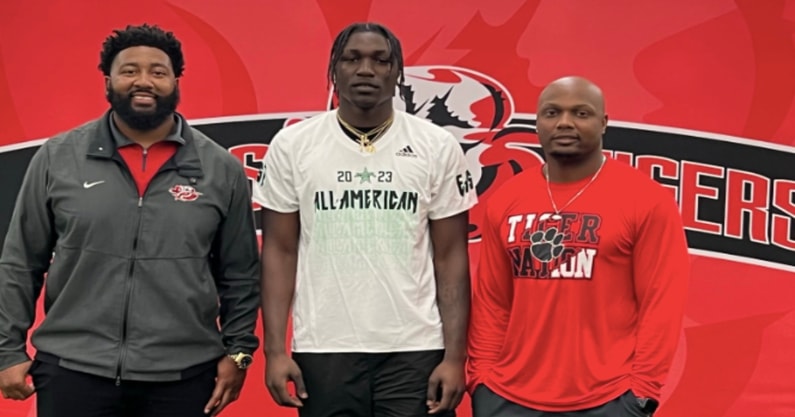 Yhonzae Pierre, Top-100 linebacker from Eufaula High School in Alabama, was recently named an All-American after a great senior season. Pierre's season, unfortunately, ended in a first round loss to Faith Academy a two weeks ago. He has shifted his focus to the hardwood with the team's first basketball game on Friday night against Dothan High School.
Pierre committed to the University of Alabama in April where he has remained 'locked-in' with his decision without taking visits elsewhere. He has continued to build great relationships with the future position coach, Coleman Hutzler, and area recruiter, Charles Kelly.
"The relationship has definitely grown a lot," Pierre said of his connection with Alabama. "I keep in touch with Coach Hutzler and Coach Kelly. We talk every two days. We are gaining trust with each other. They see me as outside linebacker. I feel like I can come in and be another Will Anderson. I can come in and compete for his spot."
Pierre shined at the Tide's camp during the summer which helped elevate his stock. Those in attendance described his performance as one of the best showings at outside linebacker in the last few years.
He has returned to Tuscaloosa several times since June including games against Mississippi State, Texas A&M, Utah State and Vanderbilt.
"I went for a few games," he said. "It feels good every time I am there. It feels like home. I am just ready to get there. I still feel really good about my decision. I feel like I can do a lot of good things at Bama. I feel like it's a great fit.
"It was kind of an off season. We have a lot of great guys. It just wasn't there for us this season. We will do better next year. I am ready to get there and hopefully get some playing time. I would love to start, but I am just shooting to get in the rotation.
CLICK HERE to find out which Alabama commitments will enroll in January!
Yhonzae Pierre has All-American season
The 6-foot-3.5, 220-pound defender was invited to the participate in the prestigious All-American Bowl (previously known as the U.S. Army All-American game). He was honored with his jersey last week. His cousin and former Alabama star, Courtney Upshaw, played in the Under Armour All-America game in 2008.  He said, "I am ready to put on for my city."
Pierre finished the year with 64 tackles, 8.5 sacks, 23 tackles for loss, five pass break-ups, five forced fumbles, one blocked PAT and also added two receiving touchdowns. 
"I feel like we had a good season especially after our coach left," Pierre said.  Former Eufaula coach Ed Rigby accepted the head coaching job at Pike Road (Ala.) in May. Jerrel Jernigan was promoted from wide receivers coach to head coach. Jernigan was a star receiver at Eufaula before an outstanding career at Troy and three seasons with the New York Giants which included a Super Bowl win.
"We had a lot of young guys, but we still had a good season in Class 6A," Pierre said. "I felt like I did good. I was a quicker off the ball and did a better job at stopping the run. I just want to keep my speed up and get faster. I want to learn some more moves and keep my weight up before I get to Bama."
Stock Up, Stock Down: Which targets are trending to Alabama?
Early impact at Alabama?
Eufaula defensive line coach Robert Brown saw great improvement from Pierre this past season and expects him to develop into a special player at Alabama. Coach Brown also noted the Alabama staff did a great job of keeping in close contact and always making him feel welcome in Tuscaloosa.
"He's very twitch and will fire off the edge," Coach Brown said. "He really stepped up in the run game this year. I think he fits in really well at Alabama. He will get bigger, stronger and faster. He's a perfect fit for the Jack position. I can see him being a key contributor early in his career."
Pierre's father, Larry, passed away on September 9 after suffering a stroke and aneurysm a few weeks prior. Pierre will sign with Alabama on December 21. He will enroll in June and will keep his dad always in his thoughts.
"It's been tough," he said. "I am doing what he loved watching me do. It's very motivating for me. I am playing for him."
More recruiting content
BamaInsider Recruiting Roundtable Q&A
Alabama kicker commit breaks HS record