Alabama coaches recognize eight players of the week after USF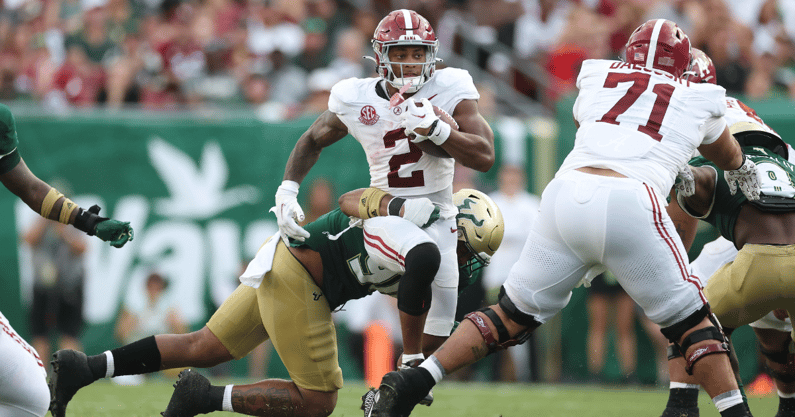 The Alabama coaching staff selected eight players of the week following the Crimson Tide's 17-3 win at USF last Saturday. Jase McClellan and Roydell Williams on offense; Chris Braswell, Deontae Lawson, Malachi Moore and Dallas Turner on defense; and James Burnip and Will Reichard on special teams were all selected for their efforts against the Bulls.
OFFENSE
Jase McClellan
Totaled 74 yards on 13 carries to average 5.7 yards per tote
Part of a Tide backfield that accumulated 203 total rushing yards on the afternoon
Added one reception for a six-yard gain
Roydell Williams
Carried the ball 17 times for 129 yards and a score to lead UA's ground game
The 129 yards were a new career-high mark for the senior
Averaged a team-high 7.6 yards per carry with a long rush of 48
Also caught one pass for a gain of two yards
Contributed on special teams, as well, totaling one tackle on punt coverage
DEFENSE
Chris Braswell
Provided consistent pressure off the edge to help hold the Bulls to only 87 yards passing
Totaled seven total tackles, including a team-leading 3.0 for loss (-8 yards)
Also added one sack (-5 yards), a quarterback hurry and one pass breakup
Deontae Lawson
Anchor of an Alabama defense that limited USF to only 264 total yards
Recorded a team-best and career-high 10 total tackles in the non-conference road pairing
Contributed 1.5 tackles for loss (-7 yards) and one sack (-6 yards)
Malachi Moore
Directed a Crimson Tide secondary that allowed just 87 passing yards on the day
Totaled eight tackles, including one for loss (-5 yards)
Also picked off a pass in the end zone for UA's second interception of the season
Dallas Turner
Accounted for seven total tackles, including a team-high 2.5 sacks (-8 yards)
His 2.5 sacks were half of the Tide's season-high 5.0 in the game
Also forced a fumble that led to an eventual Crimson Tide field goal
SPECIAL TEAMS
James Burnip
Totaled 369 yards on eight punts against the Bulls
Averaged 46.1 yards per boot with a long of 60
Pinned the USF offense inside the 20 on four of his kicks
Will Reichard
Made a 30-yard field goal while adding two PATs on the day
Has connected on 17 consecutive field goals dating back to last season
Added four kickoffs for a combined 260 yards and four touchbacks
*** This information was acquired from a recent press release from Alabama Athletics. 
Not a member, Alabama fans? Join BOL today!
Have you subscribed to BamaOnLine.com yet? You can sign up for ONE MONTH of premium access to our Alabama coverage for just $1! Be able to read all of BOL's premium articles and nuggets covering Alabama sports and recruiting and also join thousands of other Crimson Tide fans around the globe on the BOL Round Table message board! CLICK HERE!