Alabama flips Pac-12 defensive line commitment
Isaia Faga, three-star defensive lineman from Central High School in Phenix City, Alabama, has flipped his commitment from Utah to Alabama. The in-state player took an official visit with Alabama on June 9-11. He returned for an unofficial visit on Friday, and decided it was the right time to reveal a final choice.
Alabama had high interest for several months. He received an offer from Nick Saban during a March 4 Junior Day visit in Tuscaloosa. He built relationships with the coaches led by defensive line coach Freddie Roach and defensive coordinator Kevin Steele.
Faga connected really well with Coach Roach during the visit a few weekends ago. The 6-foot-2, 285-pounder is viewed as one who can play multiple positions on the defensive front.
"He was just telling me that if you come here and are a defensive lineman that plays for the University of Alabama, you're still a part of this family even after you're gone," Faga recently told BOL regarding his conversation with Coach Roach. "Was talking about brotherhood of the defensive linemen in general. He said it's a tight-knit family.
"He was also explaining to me where he thinks I would fit in the defensive scheme; said he thought I could play anywhere on the defensive line. That's why they're so high on me, because I'm very versatile in how I play; we went over install stuff to see how I was obtaining information."
SIGN UP: Get SIX months of BamaOnLine premium access for just $1!
Faga committed to Utah in December after visiting the previous month. His uncle, Lewis Powell, coaches the defensive ends for the Utes. Faga, a Las Vegas native, moved to the South in July 2019. His father, Faauo, is an Army Ranger stationed at Fort Benning (Ga.). He is expected to deploy at the end of June.
A lot changed after his commitment Faga may not have anticipated. He received offers from Alabama, Auburn, Florida, Oregon, Tennessee, Texas and more. He only had interest in two- Alabama and Texas. The Longhorns offered shortly after his original decision, and he visited Austin in January.
Texas was viewed as a major threat to flip him away from Utah after the Junior Day visit. Alabama started recruiting him little later than others, but it was still early enough. The Tide received multiple visits from Faga and his family after the initial offer.
Don't Miss: What Isaia Faga brings to the Alabama recruiting class
Alabama adds priority target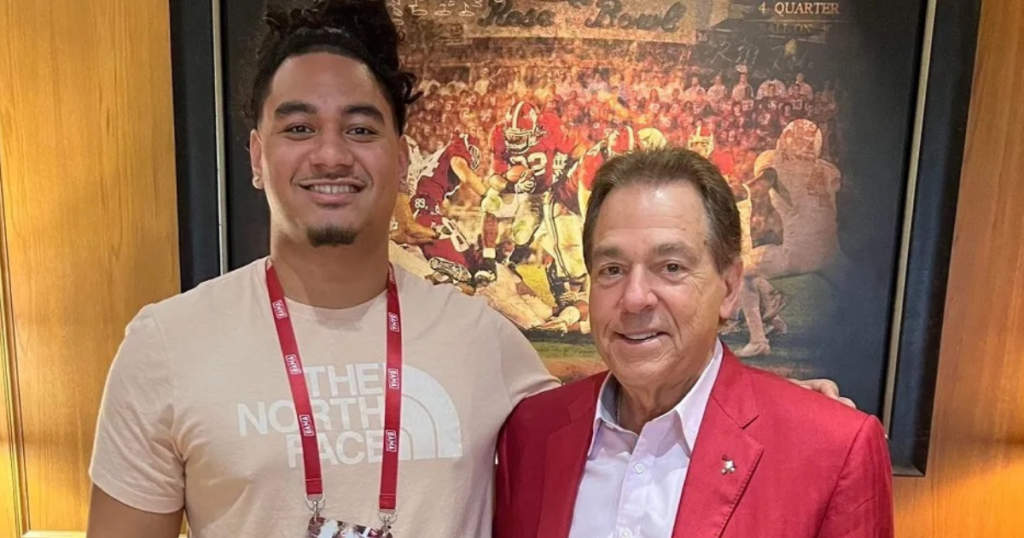 Faga did not need to attend camp for a 'committable' offer. Alabama heavily pursued him for months, and welcomed him for an official, and this weekend for another unofficial visit.
"It's just awesome knowing you have the option to go to a program that sends d-linemen to the NFL," Faga told BOL in an interview last month. "When I first started playing d-line in the eighth grade, I used to watch Quinnen Williams highlights. I'd try to mimic my game after those guys who went to Bama. I love Bama."
The Central-Phenix City star is commitment No. 9 for the No. 4 recruiting class per On3 Sports Industry Ranking. He is the second defensive line commitment joining Jeremiah Beaman, Top 100 from Parker High School in Birmingham. The Tide's in-state class also includes Jaylen Mbakwe (Clay-Chalkville), Perry Thompson (Foley) and Sterling Dixon (Mobile Christian).
BOL will have more coverage on Faga's flip to Alabama coming soon! Be sure to join the discussion with our staff and thousands of Tide fans regarding the news on the BOL RoundTable!