Alabama Signing Day Capsule: In-state EDGE Yhonzae Pierre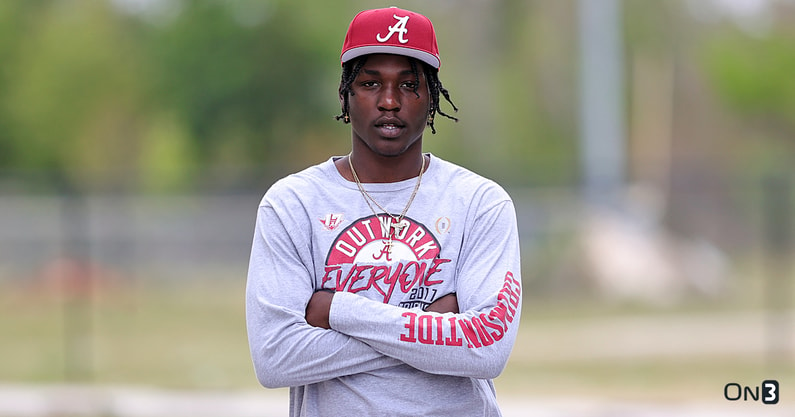 One of Alabama's best has signed with the Crimson Tide's football program.
Moments ago, it was officially announced that Eufaula (Ala.) product Yhonzae Pierre had signed his Letter of Intent with Bama. Pierre committed to Nick Saban's staff back on April 14 of this year, making him the second-longest-tenured pledge in this class.
Alabama Crimson Tide Early Signing Period Recruiting Central
There was absolutely no drama in Pierre's recruitment following his commitment to Alabama.
Pierre did not visit any other school while he was committed to Bama. He was also a regular in Tuscaloosa during the season, and officially visited the school from Dec. 2-4.
"It just made me feel a lot more comfortable with my decision," Pierre said of his visit. "I was very comfortable with it, but now I'm more comfortable with it knowing that I can become a better person in life. Accomplish stuff that I never accomplished before."
Pierre is set to participate in the All-American Bowl on Jan. 7, but will not arrive at Alabama until the summer.
Future Alabama EDGE Yhonzae Pierre's Signing Profile
Name: Yhonzae Pierre
Position: EDGE
Height/Weight: 6-foot-3, 221 pounds
High school and hometown: Eufaula High School/Eufaula (Ala.)
On3 Consensus Rankings: No. 53 overall/No. 6 EDGE/No. 7 in Alabama
Why Pierre chose Alabama (Full Story HERE): "I committed to Alabama over schools like Auburn and Georgia. Since I got the offer, Alabama has been my top school. It is the perfect fit for me. The way they work, how they compete, how they win, and how they develop players for the NFL is what I want to be a part of. Alabama is where I want to go."
Eufaula defensive line coach, Robert Brown, on Pierre's skill set (Full Story HERE): "He's very twitchy and will fire off the edge. He really stepped up in the run game this year. I think he fits in really well at Alabama. He will get bigger, stronger and faster. He's a perfect fit for the Jack position. I can see him being a key contributor early in his career."
On3 Director of Scouting and Rankings Charles Power's analysis of Pierre (Full Story HERE): "Yhonzae Pierre has gotten better. Really, what we liked about him is that he's extremely physical. I think he has a case of being the most violent defender in the cycle. You watch his senior video, and there's a ton of wow moments where he's almost harming the ball carrier. I think they're a little different, but there's a little bit of a Will Anderson vibe to his senior video. Will Anderson went into the all-star games ranked lower than where Yhonzae is right now, and he finished in the top five for us."
Click HERE to watch Yhonzae Pierre's senior season highlights!
Not a member? Join BamaInsider.com today!
Have you subscribed to BamaInsider.com? You can sign up now for $10.00, which gets you premium access until Aug. 31, 2023! Or, you can also get one month of access for just $4.99 (50 percent off). Get access to premium articles covering the University of Alabama athletics, recruiting content and also join thousands of Crimson Tide fans on the Talk of Champions message board! CLICK HERE!