Brandon Miller, elite three-point shooting power Alabama to 104-62 win over Jacksonville State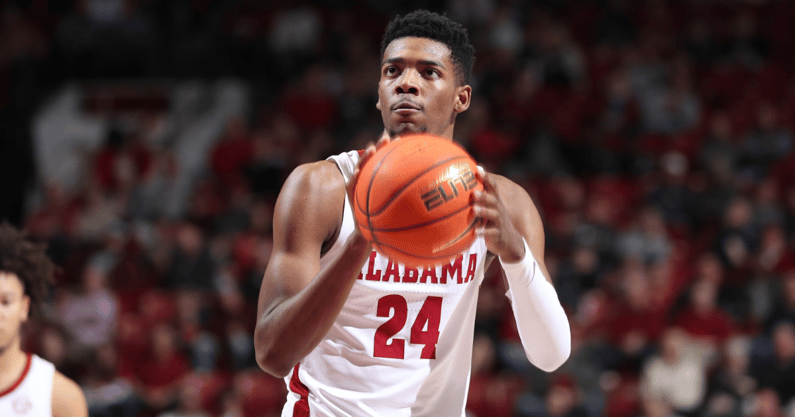 TUSCALOOSA, Ala. — Alabama's men's basketball team returned to Coleman Coliseum on Friday night. Ahead of a pivotal matchup with Michigan State next week, the Tide took on Jacksonville State in their fourth game of the season.
Both teams started off on fire from beyond the arc in the first half, each shooting 50 percent or better on their three-point attempts. It was Bama, however, that held a 12-point lead over the in-state foe going into the half.
Alabama held off the Gamecocks in the second period of play to come out on top 104-62 on Friday. Behind a dominant performance by true freshman Brandon Miller, Bama moved to 4-0 on the season.
Here are BamaInsider's main takeaways from the Crimson Tide's big win over Jacksonville State.
Alabama shoots the lights out at Coleman Coliseum
Brandon Miller continues to show off his superstar potential every single game.
Friday featured Miller's best performance of the young season, shooting 9-of-12 from the field and scoring a season-high 28 points on the night. Miller was unconscious from beyond the arc as he connected on seven of his nine three-point attempts, including a four-point play in the second half. Miller, who was named to the 2023 John R. Wooden Award Watch List on Tuesday, is Alabama's leading scorer on the season.
Miller connecting on over 75 percent of his three-point attempts was emblematic of an incredible shooting performance by Bama on Friday. Alabama's season-high from beyond the arc coming into this game was 10 makes. In just one half of play against Jacksonville State, the Tide eclipsed that mark by going 12-of-22 from distance. On the night, Nate Oats' group was 21-of-46 on their three-point attempts.
From the field, the Crimson Tide shot 51.5 percent, their second-best mark of the season.
Transfer Mark Sears bounced back from a poor shooting day against South Alabama with a strong first half. After going 2-of-11 from the field on Tuesday, Sears put up 16 points on 6-of-8 shooting in the first half versus Jacksonville State. The former Ohio point guard also shot 4-of-6 from beyond the arc and had three assists in the period. He couldn't make a shot in the next 20 minutes, but Sears' solid first half helped Alabama go into the break with a double-digit lead.
Speaking of Alabama point guards, Jahvon Quinerly was exceptional in just 17 minutes of play. Quinerly did an excellent job of using his quickness to get past defenders with ease and pass it out to shooters on the outside. He also got on the scoreboard in his second game of the season, knocking down a pair of three-pointers. Despite his low minute count, Quinerly led the Crimson Tide with eight assists on the night.
From a defensive perspective, the Crimson Tide responded well after a tough first half. Alabama allowed the Gamecocks to shoot 44.4 percent from the field and 50 percent from beyond the arc. On multiple occasions, they had trouble with their closeouts on the perimeter. In the second period, however, Bama held Jacksonville State to only 23 points on 25.9 percent shooting from the field and just 2-of-10 shooting from distance.
Oats and Company will also be happy with the reduced turnovers. After averaging 18.3 turnovers per game, Alabama had just 13 turnovers against Jacksonville State.
The Crimson Tide's rebounding numbers also continue to stand out. Bama collected 49 rebounds on the night, 19 of which were on the offensive end. That last number is impressive as Alabama only had 32 missed shots, with those offensive rebounds leading to 21 second chance points. True freshman Noah Clowney led Alabama in rebounding (10 rebounds) for the second straight game; it's his third double-digit rebounding game of the season.
Sophomore Nimari Burnett had his best game of the season. He scored 18 points on 5-of-6 shooting from distance and collected four rebounds.
Freshman Jaden Bradley scored seven points on 3-of-4 shooting from the field. He also had six rebounds and was second on the team with five assists.
Next up, the Crimson Tide will play Michigan State on Thanksgiving in Portland (Ore.) in the Phil Knight Invitational. That game, which will be on ESPN, has a scheduled tip-off of 9:30 p.m. Central Time.
Not a member? Join BamaInsider.com today!
Have you subscribed to BamaInsider.com? You can sign up NOW for $10.00, which will get you premium access until Aug. 31, 2023. Or, you can also get one month 50 percent off for $4.99! Get access to premium articles covering the University of Alabama athletics, recruiting content and join thousands of Crimson Tide fans on the Talk of Champions message board! CLICK HERE!