Everything Kevin Willard said Friday ahead of Alabama matchup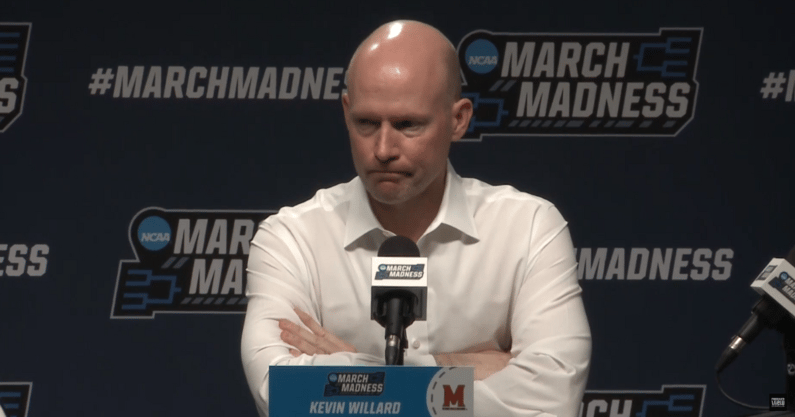 BIRMINGHAM, Ala. — Kevin Willard and the entire No. 8 seed Maryland basketball team is gearing up to face off against the top overall seed Alabama on Saturday in Birmingham, Ala. On Friday, Willard spoke to the media one last time ahead of that second-round NCAA Tournament matchup.
Here's everything he said:
Q. You kind of joked yesterday after the game about some of the road struggles that you guys have had, and it wasn't so bad being down where you were. There's going to be a lot of Alabama fans here tomorrow. How do you kind of help your team avoid getting off to a slow start and get going and not letting the crowd take over?
KEVIN WILLARD: "We just experienced it in the Big Ten Tournament, Indiana had 17,000 fans. We got off to a good start.
"It's just something you've got to deal with. That's the bad thing about being the 8, 9 seed. That's why you don't want to be the 8, 9, because you're going to get a home game your second game.
"I think we've played in enough venues. I don't think the crowd's the factor. If you look at Alabama's roster, I'm more worried about that than I am the crowd."
Q. Coach, you raved about practice on Wednesday. How was practice today? What was the main focus?
KEVIN WILLARD: "Practice was okay today. Guys were in good spirits, good focus. It's tough to kind of go — it was more of a mental day.
"Just get these guys to understand 'Bama personnel, kind of what they're doing in their pick-and-rolls. We'll spend more time tonight on what they do defensively, but today was more or less put in the game plan. Really they're such a talented roster, trying to get these guys to understand personnel because I think personnel, more than anything with this team, is critical."
Q. 30 years ago you were around for a pretty big second round upset, your dad coaching. Wonder if there's anything he did, just in terms of mindset, general preparation, that maybe you learned from?
KEVIN WILLARD: "No, he took his team to Magic Kingdom the day before. I remember because I was with him. It wasn't Magic Kingdom, it was — the movie one. Universal, thank you. He took them to Universal and just kind of kept it relaxed.
"Same thing with us. I think we're going to go to Top Golf later, kind of get them out of the hotel, maybe Cheesecake Factory, get out of hotel food.
"Yeah, I think the most thing is every team is different. I think this team, my team, they're an older team. They kind of get it. They understand the challenge. I like that about them. They understand that Alabama's really good, they're very talented.
"So we're really just letting them enjoy the experience but kind of get them focused for tomorrow."
Q. Kevin, you talk about personnel. As a coach who appreciates talented and good players, what's the scouting report on Brandon Miller?
KEVIN WILLARD: "Oof. The funny thing about this roster is, I think this is the most talented roster I've seen in college basketball since the '93/'94 Kentucky team. I think Coach Pitino's '93 — with Antoine Walker, Walter McCarthy. This team reminds me of that team with the length, athleticism, how unselfish they play, very similar point guards.
"I love the way Jahvon Quinnerly is playing right now. I'm happy for him. I've known him since he was in ninth grade.
"The issue with Brandon is he has such good range. So it's not like you can just — and he's so talented off the dribble. He uses his size. Everyone says he's Paul George, and that's a really good comparison because I think that's who he reminds me of.
"You're not going to sit there and say, okay, we're going to pressure him and make him dribble. He can dribble. He makes plays, and he's unselfish.
"We're going to try to switch up some guys on him, maybe put some taller guys on him. Again, you can't focus on him. He didn't score last night, and they scored 96 points. Like, I haven't seen that, and that's why, I think, this team reminds me of that '93/'94 team. They had guys that, if one guy didn't play well, they had two All-Americans coming off the bench.
"So it's a talented roster, and I think what I'm really impressed with them — I've watched their last four games now — is how unselfish they are. They really pass the basketball. It's not a complicated offense, but it's a good offense because they're unselfish."
Q. You mentioned you're going to do a deeper dive on it tonight, but Alabama, third in the country on just defensive efficiency, third in perimeter defense. What do they do so well on that end that will present some trouble for you guys?
KEVIN WILLARD: "It's because of how they play offensively is why they're good defensively. If you know Nate, they're trying to shoot threes and trying to get dunks. So I guess in practice you're trying to stop the three, and you're trying to stop dunks.
"Because they're such a talented roster, they're going against each other. They're trying to shoot threes in practice. I'm sure they're trying to stop the threes in practice. They're trying to get dunks in practice, so I'm sure they're trying to stop dunks in practice. I think the way they play offensively dictates the way they play defensively.
"So they're very aggressive. They switch out really well. They play a really good drop coverage on pick-and-roll where they're trying to get you take mid-range shots, which they don't want to take. They take very few mid-range shots, if any. I think the only one I've really seen take one is Miller and Jahvon Quinnerly. No one else has taken a mid-range.
"I think, because of the way they play offensively, it really helps them in the way they play defensively."
Q. On Brandon, Nate's kind of mentioned how he's dealing with a groin injury the last couple games. Have you noticed anything different about the way he's played or how they use him compared to before that?
KEVIN WILLARD: "No, I mean, he's such a talented player. He's been through a lot. He's also a freshman that's gone through his first full college season. So I think, like I said, I don't think they really needed him last night. So it's pretty impressive when you score 96 and you don't need the second pick in the Draft.
"No, I think he's big time. I think he just took a nice night off and well deserved."
Q. In terms of you guys, like how you played this year and how you'll play tomorrow, what version of that is how you expect to play next year, three years, five years from now?
KEVIN WILLARD: "We press, but we really don't press. We will get much more aggressive as we get deeper. I want to get to the point where we have two or three presses, not just one press.
"When you take over a job and you have 11 new guys that have never played, 7 guys that have played for three different guys, you've got to make sure you're really simple. You don't sit there and all of a sudden get them going, remembering what the last coach told them or the last coach from that.
"So once we kind of get classes after classes after classes, we will probably play much more aggressive than we have played, especially at home. I mean, our home court advantage is probably as good as anywhere in the country. So when you get 17,900 going crazy, like it's the ultimate style to play when you have that kind of home court advantage.
"So we will be much more aggressive as I go farther and farther down."
Q. You guys kind of leaned into a lot of national pundits picking West Virginia yesterday. Are you guys embracing the underdog role tomorrow, or is it just another game against a really talented team?
KEVIN WILLARD: "I don't know if — to be honest, I'd be shocked if our kids knew who everyone picked. They're watching Netflix. I don't know if they know — I mean, like Pat's a well — I've known Pat forever. He's one of the most national guys. They wouldn't know who Pat is. Don't take that the wrong way, Pat. It's just they're 18, 19, 20-year-old kids. I mean, I know who everybody is.
"So, no, they understand the challenge at hand. That's what I've liked about this group. When we had Purdue on the road, Purdue at home, no one picked us. No one's picked us all year. These guys don't look at it that way. I don't think this generation looks at it that way from a standpoint of they're so inundated with Twitter, TikTok, Instagram, I don't think they know who like the national media's picking.
"I don't think they're turning on — I hate to say it. Sorry, everybody. They're not picking up Sports Illustrated. It's just not this generation. I do. Don't write anything bad about me. I still follow everybody, but this generation doesn't do it."
Q. Kind of just building off of that, there's been a lot of upsets in this South bracket. Do you use that as motivation for the players? Do you talk to them about that?
KEVIN WILLARD: "No. You got to focus on trying to stop Alabama. You can't sit there and say, hey, that team beat that team. That's great.
"No, like our focus is on Alabama. You can't focus on anything else besides trying to stop Alabama. That in itself is a challenge, so that's going to be our sole focus."
Q. One of the quirks about this being in Birmingham is you also have Auburn fans here tomorrow at the same session. Does that play into it at all?
KEVIN WILLARD: "I would love for the Auburn game to be second. I'm hoping Auburn wins because then their fans will stick around. I'm afraid, if Auburn loses, then at 9:40 at night, knowing Auburn fans, they're probably going to the bar."
Q. Hard to follow up that. With the quick turnaround, how do you kind of balance preparing versus not preparing too much? Watching too many games or not enough? How do you balance that with the fast turnaround here?
KEVIN WILLARD: "I think you just have to get a feel for your kids. We watched — we did recovery last night. We talked to them a little bit about it. We watched film this morning. We just practiced.
"Again, this generation does — I think, because they're so well connected, they've played against guys in AAU. They do have a better feel for who guys are. This team has picked up scouting reports very well, and I think the fact that we really focus mostly on personnel when we do scouting. I don't do nearly as much plays or how we're going to stop plays. We have our defense, and we just play our defense.
"It's a little bit easier this time of year because we are just hyperfocused on personnel."
Q. Do you have a message for the well-lubricated Auburn fans?
KEVIN WILLARD: "Yeah, stick around. Should be a good game. And it's 9:40 at night. What else is there to do in Birmingham? It's like come watch a great game and chill out. I think the NCAA sells beer now. I'm not sure. Do they?
Yeah, it's a great place to be. It's going to be a good game. They've got a great game. Why not?"