NCAA Tournament: How to watch Alabama vs. Maryland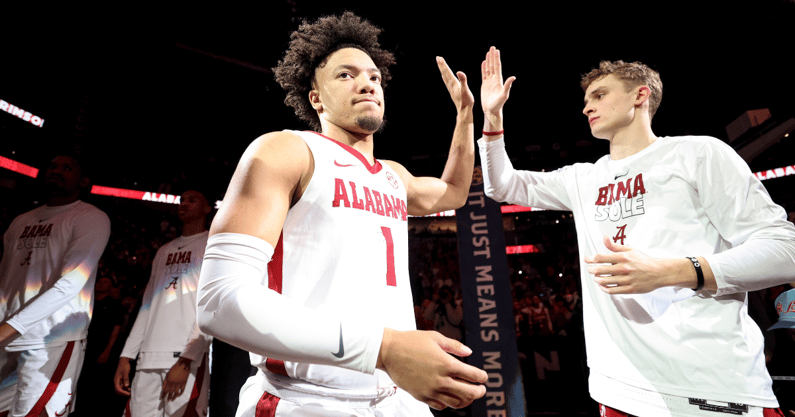 BIRMINGHAM, Ala. — The top overall seed Alabama men's basketball team (30-5, 16-2 SEC) is back in Birmingham for the second round of the NCAA Tournament on Saturday. After beating No. 16 seed Texas A&M-Corpus Christi 96-75 on Thursday, the Crimson Tide now face off against the No. 8 seed Maryland for a spot in the Sweet 16.
The last time these two teams played was also the second round of the NCAA Tournament back during the 2020-21 season. The Crimson Tide won handily to move on to the Sweet 16. The only other time Alabama has beaten the Terrapins was during the 2011-12 season when the Tide won 62-42. Maryland, on the other hand, has won the other four contests.
In order to get you ready for tipoff, we've collected all the pertinent information that you'll need for this matchup between Alabama and Maryland. That includes TV information, how to listen, statistical leaders for both teams, betting odds and a brief history of the series.
Click here to join Alabama fans on the Talk of Champions message board
When, Where
When: Saturday, March 18 at 8:40 p.m. CT (9:40 ET)
Where: Legacy Arena (Birmingham, Ala.)
How to Watch, Listen
Broadcast: TBS
Live Streaming: CBS Sports App
Radio: Crimson Tide Sports Network
Radio crew: Chris Stewart (play-by-play), Bryan Passink (analyst)
How Else to Listen: List of all Alabama radio affiliates
Statistical Leaders
Alabama Crimson Tide
Maryland Terrapins
Scoring: G Jahmir Young (15.9 ppg)
Assists: G Jahmir Young (3.1 apg)
Rebounds: F Julian Reese (7.3 rpg)
Steals: G Jahmir Young (1.3 spg)
Blocks: F Julian Reese (1.2 bpg)
Three-Point %: G Ian Martinez (41.7%)
Betting Information
*Check back for updated betting information on game day.
Betting Line (VegasInsider): Alabama -8.5
Over/Under: 142.5
Series History
Series Record: 4-2 (Maryland leads)
Last Meeting: 2020-21 (Alabama won 96-77)
Win Streak: 1 game (Alabama)
Not a member? Join BamaInsider!
Have you subscribed to BamaInsider.com? You can sign up now for $29.99, which gets you premium access until Aug. 31, 2023! Or, you can also get monthly access for just $9.99 per month. Get access to premium articles covering the University of Alabama athletics, recruiting content and also join thousands of Crimson Tide fans on the Talk of Champions message board! CLICK HERE!