Nick Saban on Texas A&M: They 'bought every player on their team'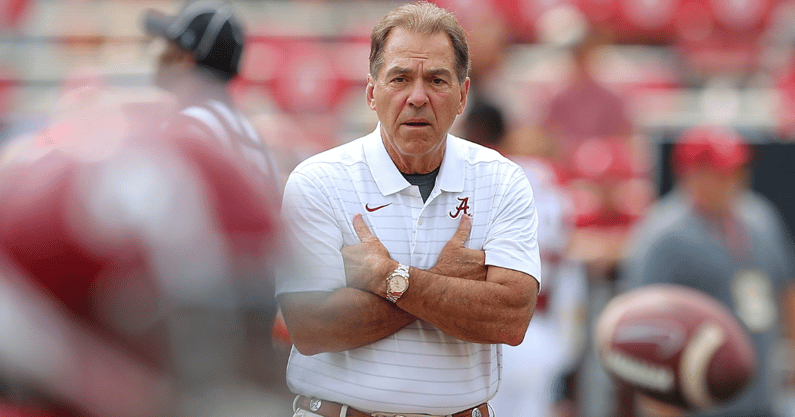 The emergence of name, image and likeness has completely changed the college football world. Some are using it as a way to help young athletes. Others are using it to outright buy players — or those are the accusations, at least. Alabama coach Nick Saban says Texas A&M and Jimbo Fisher fall into that latter category.
While speaking at an event celebrating the 50-day countdown to the World Games in Birmingham, Saban threw quite a bit of shade at his former assistant, even saying that Fisher and A&M "bought every player on their team" through NIL deals.
"I know the consequence is going to be difficult for the people who are spending tons of money to get players," Saban said via AL.com. "You read about it, you know who they are. We were second in recruiting last year. A&M was first. A&M bought every player on their team. Made a deal for name, image and likeness.
"We didn't buy one player. Aight? But I don't know if we're going to be able to sustain that in the future, because more and more people are doing it. It's tough."
After taking more of an indirect approach to criticizing how certain programs are using NIL to lure players, Saban is now switching gears. This is not a method we usually see from the seven-time national championship-winning coach, which makes the timing even more odd.
It could simply be a late response to what Fisher said about Saban and Alabama back in February, which came during a rant about being accused of using NIL to buy players.
"To have coaches, in our league and across this league to say it — clown acts. Alright?" Fisher said soon after National Signing Day. "Irresponsible as hell. Multiple coaches in our league. And the guys griping about NIL, griping about transfer portal are using it the most and bragging about it the most. That's the ironic part.
"It's funny when Nick Saban said his quarterback got an $800,000 deal. It was wonderful. Now, it ain't wonderful no more, huh? We ain't got that. Ours are on record what comes up."
Should we expect a response from Fisher? I'd assume so. If not soon, then at least at SEC Media Days coming up in mid-July.
---
Are you subscribed?
Ready to get all your latest Alabama football news in one place? Become a member of BamaOn3 today. With your Bama On3/On3+ membership, you'll not only have access to the goings-on in Tuscaloosa, but you'll be able to peruse other fansites within the network to hear just how rivals are feeling about the Tide, as well. Make sure to follow along on Twitter (@BamaOn3) for all the Alabama news you need now!