SOCIAL MEDIA SLANT: Reactions to 5-star EDGE Keon Keeley's commitment to Alabama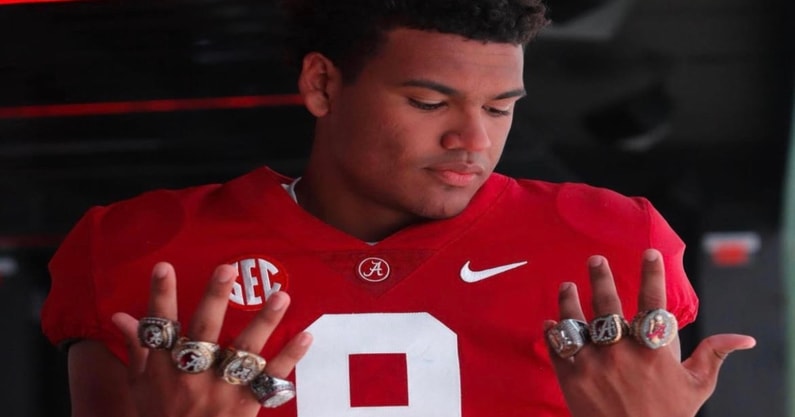 Throughout the past four months, one name has been near the top — or at the top — of the wish list for Alabama's staff, fans, and commits: Keon Keeley.
Shortly before and after Keeley's decommitment from Notre Dame, Alabama's commitments openly pushed on social media for the the five-star to join the Tide's 2023 class. Keeley, the No. 1 EDGE in the country, took notice of all the love shown by Bama's pledges earlier this fall.
"I've seen them," Keeley told us in September. "I appreciate the love from the Bama recruits. In season, we stay off (social) media. It's nice for them to say that. I've kept in contact with some. They just tell me Alabama is Alabama; come be great."
With Keeley being such a priority for Nick Saban's staff, it's not a surprise to see that his commitment on Monday drew a big reaction.
Here are some social media posts from Alabama's commits, staff members, and even players following Keeley's announcement.
Social media reactions to Keon Keeley's commitment to Alabama
5-star Alabama commit Caleb Downs
Alabama defender Will Anderson Jr.
Alabama RB commit Richard Young
Keeley's mother, Janicke Keeley

Alabama OL commit Olaus Alinen
Alabama OL commit Wilkin Formby
Alabama WR commit Cole Adams
Alabama TE pledge Ty Lockwood
Alabama commits Eli Holstein, Jordan Renaud, Miles McVay, and Richard Young.
Alabama freshman offensive lineman Tyler Booker, as well as Bama commits Olaus Alinen, Ty Lockwood, and Wilkin Formby.
Alabama Outside Linebackers Coach Coleman Hutzler
Alabama Football Marketing Coordinator Savannah French
Keith Miller, executive director of Showcase Football
Check out our other Keon Keeley related content!
*** Keon Keeley explains why Alabama came out on top: "Alabama was where I really loved it"
** Berkeley Prep HC Dominick Ciao says Alabama commit Keon Keeley has "tremendous upside"
* On3 rankings expert raves about new Alabama commit Keon Keeley
Not a member? Join BamaInsider.com today!
Have you subscribed to BamaInsider.com? You can sign up now for $10.00, which gets you premium access until Aug. 31, 2023! Or, you can also get one month of access for just $4.99 (50 percent off). Get access to premium articles covering the University of Alabama athletics, recruiting content and also join thousands of Crimson Tide fans on the Talk of Champions message board! CLICK HERE!