Why Alabama football can stockpile premium talent at wide receiver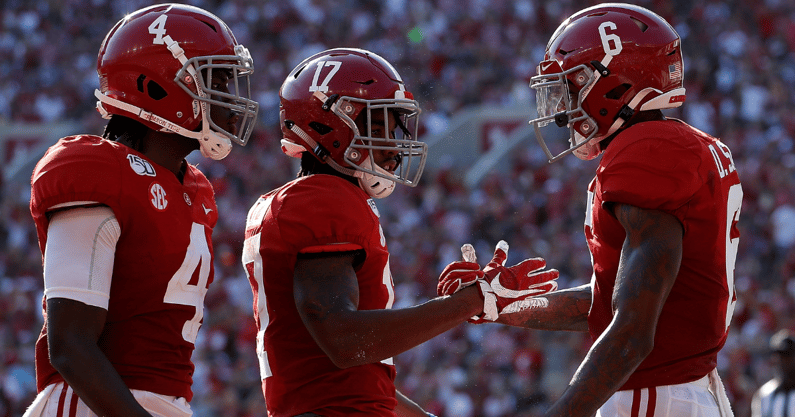 From 2017-19, Alabama went three straight seasons of fielding four first-round wide receivers. The run started with Calvin Ridley, Jerry Jeudy, DeVonta Smith and Henry Ruggs III in 2017. By the time Ridley was dropping off to head to the NFL, Jaylen Waddle was arriving on campus to replace him in the rotation.
I'm not sure if we've ever seen another stretch like that, but at the very least, I know it's a rarity.
Those 2017 wide receiver signings are what changed the game for the Crimson Tide. Ridley was a part of the 2015 class while Waddle didn't sign until 2018, but Alabama still brought in four top-100 prospects at the positon during that cycle. That list includes Jeudy (No. 19 overall), Smith (No. 57), Ruggs (No. 73) and Tyrell Shavers (No. 95).
By now, we know that Shavers never panned out in Tuscaloosa, but the likelihood of all four signings turning into superstars was always going to be slim. In some ways, even getting three of the four to that level is surprising, and it has completely changed the recruiting game for Alabama.
Why, you might ask? Well, that three-year stretch from 2017-19 proved that Alabama's offense can highlight up to four premier receivers. We're not even going to mention the heavy passing game usage of tight end Irv Smith Jr. or running back Najee Harris either. We're strictly talking about four wide receivers.
Sure, there were some limitations to the passing game in 2017 with quarterback Jalen Hurts at the helm. The future second-round pick was still a young, developing player who was still holding onto a run-first mentality. But if you think about it, Alabama was still able to highlight several of its receivers that season.
Ridley almost had 1,000 yards receiving, Ruggs was a touchdown machine (six scores on only 12 catches) and Smith proved to be Mr. Clutch for his big catches against Vanderbilt, Mississippi State and, of course, Georgia in the national title game. Plus, Jeudy was second on the team in receiving yards.
Even with Ridley, Cam Sims and Robert Foster off to the NFL, the Tide had plenty of star power at the position — and everyone knew it.
Over the next two years, Jeudy, Ruggs and Smith would combine for 5,914 yards and 62 touchdowns. Oh, and Waddle would also chip in 1,408 yards and 13 scores of his own during that two-year stretch. Jeudy saw the most consistency in his target share, but all four skillsets were highlighted at various points.
Alabama has been benefitting off of that impressive run ever since, too.
To explain, I'll fast forward to the past three recruiting cycles.
Last February, Alabama signed four of the top-10 high school wide receivers in the country. That list includes five-star Ja'Corey Brooks (No. 2), as well as four-stars Agiye Hall (No. 4), JoJo Earle (No. 6) and Christian Leary (No. 8). The Tide also brought in Ohio State transfer Jameson Williams, who ended up with 1,572 yards and 15 touchdowns en route to being a top-10 pick back in April.
That's five premier receiver talents all added in the same class. Not bad, right? The next cycle was even better, as the Crimson Tide signed seven (yes, SEVEN) highly-coveted wide receivers. Five of those signings came from the high school level with the other two coming from the transfer portal in Jermaine Burton and Tyler Harrell.
Check it out.
Aaron Anderson: 4-star / No. 36 overall / No. 4 WR
Shazz Preston: 4-star / No. 50 overall / No. 6 WR
Isaiah Bond: 4-star / No. 61 overall / No. 7 WR
Kobe Prentice: 4-star / No. 74 overall / No. 11 WR
Kendrick Law: 4-star / No. 97 overall / No. 4 ATH
Jermaine Burton: No. 2 WR in the transfer portal
Tyler Harrell: No. 14 WR in the transfer portal
And that's with three of the five receivers from the previous cycle returning for 2022.
So, why would all these guys be willing to sign on with so much talent already in that room? Well, think back to the Crimson Tide having four first-round receivers on the same roster for three straight seasons. In Alabama's offense, the No. 4 guy can make an impact, get featured in front of NFL teams and still compete for championships.
That's also why Alabama was able to secure yet another high-profile pass-catcher on Tuesday in top JUCO wide receiver Malik Benson. Between him and four-star Cole Adams, the Crimson Tide are still finding ways to stockpile premium talent for the future.