2 Auburn signees make On3's All-American Bowl Superlatives list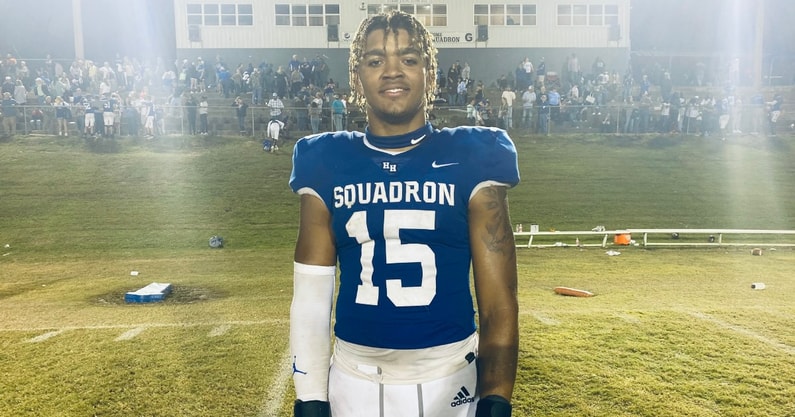 Auburn was well-represented at last week's All-American Bowl in Texas and the future Tigers seemed to mostly impress during the game and earlier at the daily practices. Two of them have made Sam Spiegelman's list of All-American Bowl Superlatives.
They are:
–Kayin Lee, cornerback
Category: Best in coverage
What Sam said: Auburn signee Kayin Lee was a week-long top performer and one of the premiere cover cornerbacks on hand in San Antonio. The Peach State native is instinctive and explosive closing on the ball. Lee showcased his ability to instantly break on the football with great closing speed on deeper pass attempts downfield, too.
–Keldric Faulk, defensive end
Category: Biggest surprises
What Sam said: Auburn signeee Keldric Faulk managed a tackle, TFL and recovered a fumble in game action. The Alabama native was a speedy edge-rusher as an underclassman and has blossomed into a massive-sized hybrid defensive lineman. At 6-foot-6 and 245 pounds, Faulk was impactful rushing off the edge and from inside techniques. He has outstanding size and length, bends well and is innately powerful.
***
Both players are January enrollees at Auburn. Faulk flipped to Auburn from Florida State on Dec. 21. Later that day, Lee flipped from Ohio State.
Here is Lee's On3 scouting summary: Highly instinctive cornerback who is one of the more productive and accomplished defensive prospects in the state of Georgia. Has some of the best ball production among defensive backs in the 2023 cycle. Picked off seven passes while helping his team to a state title as a junior. A savvy, instinctive corner who reads quarterbacks and breaks on the ball. Capable of recognizing route patterns. Freelances off of his man to make plays. Has a thinner frame at around 5-foot-11, 170 pounds, but plays above his weight as a run and cover down defender. Strikes and drives through ball carriers. Lacks some high-end measurables for the position with a thinner build and solid, but not great athleticism for the position.
Here is Faulk's On3 scouting summary: Developmental jumbo athlete with the size and tools to develop into a disruptive pass rusher. Has a big frame, measuring at over 6-foot-5 and around 245 pounds with a 81-inch wing-span prior to his junior season. A coordinated, fluid athlete who plays on both sides of the ball as a pass rusher and receiver for his high school. Shows a burgeoning skill set as a pass rusher off the edge. Has quickness and shows the ability to win with his hands despite lacking technical polish. Also flashes athleticism as a pass catcher with the speed to pull away from defensive backs in the open field. Will need to continue developing both physically and technically. Has plenty of room to add muscle as he is relatively undeveloped in terms of muscle mass. Plays a lower level of competition at the high school level and may need time to adjust to the uptick in competition once in college. Younger for the cycle, not turning 17-years-old until his senior season.