2 coaches, 4 off-field staffers fired by Auburn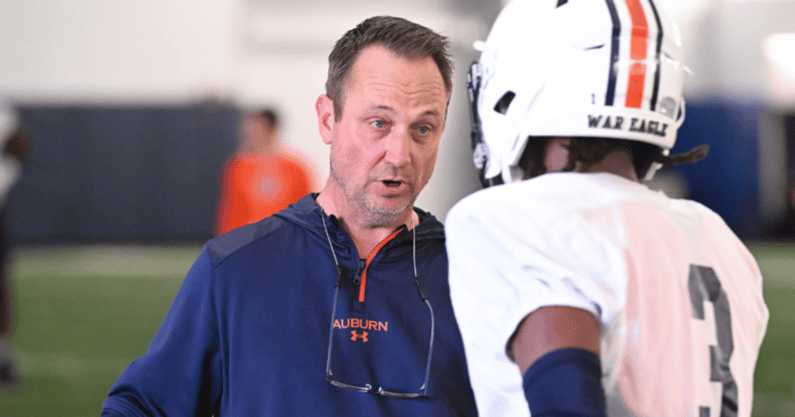 The firings at Auburn on Monday haven't stopped with head coach Bryan Harsin.
More people are on their way out.
Auburn Live's Jeffrey Lee and Justin Hokanson have learned that two Tigers assistants and four off-field personnel have been let go. All but one of them came with Harsin to Auburn from Boise State, Harsin's previous stop.
They are: Offensive coordinator Eric Kiesau, tight ends coach/assistant head coach Brad Bedell, strength and conditioning coach Jeff Pitman, general manager/director of scouting Drew Fabianich, associate athletics director/football chief of staff Brad Larrondo and director of recruiting Darren Uscher.
-Kiesau was Harsin's third offensive coordinator during his short tenure as Auburn coach. Mike Bobo held the title in 2022 but was fired last winter. Harsin then hired Seattle Seahawks quarterbacks coach Austin Davis for the position, but he left the program after only a few weeks. At that point, Auburn and Harsin turned to Kiesau, who had been the Tigers' receivers coach.
Auburn's offense ranks just 74th nationally this season.
Kiesau was Boise State offensive coordinator in 2020 but came to Auburn with Harsin as a senior offensive analyst. He was promoted to receivers coach when Harsin fired Cornelius Williams after just four games in 2021.
-Bedell had spent four seasons as Boise State's offensive line coach under Harsin before arriving at Auburn.
-Pitman was with Harsin at both Boise State (2014-20) and Arkansas State (2013).
-Fabianich arrived at Auburn in July after spending the past 18 years with the Dallas Cowboys, where he had been a national scout.
-Larrondo was among Harsin's first hires at Auburn. He previously had been a member of the Boise State athletic department since 1993. Many considered him to be Harsin's right-hand man.
-Uscher also joined Harsin's staff at Auburn after working with him for several years at Boise State. He spent five seasons as Boise State's director of recruiting.