Auburn football officially announces new hires, staff changes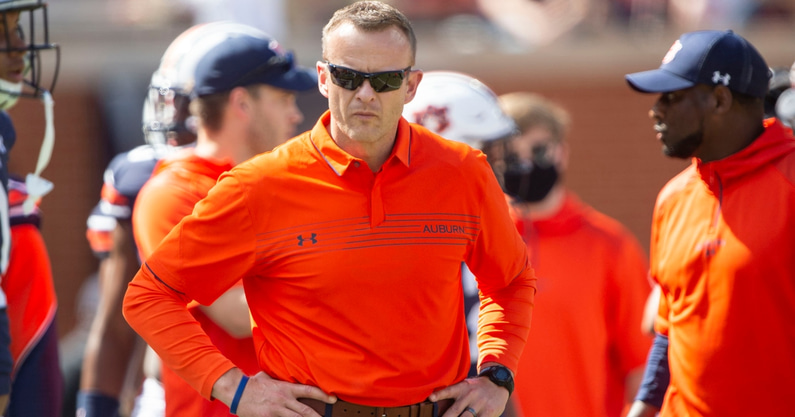 AUBURN – Auburn football made official what Auburn Live has reported over the last few days. Football staff changes are being made, mostly on the defensive side of the ball.
Football Insider: Intel on Jeff Schmedding, Derek Mason and more
Auburn expected to hire Jimmy Brumbaugh as DL coach
Auburn expected to hire ex-Florida LB coach Christian Robinson
Per an official release from Auburn:
Auburn head coach Bryan Harsin has announced the following defensive staff changes for the Tigers' football program: 
•    Derek Mason is stepping down from his position as defensive coordinator
•    Jeff Schmedding, who has served as assistant head coach/linebackers coach and defensive run game coordinator, has been elevated to defensive coordinator
•    Cornerbacks coach Zac Etheridge will take over coaching Auburn's secondary and serve as recruiting coordinator
•    Bert Watts will continue to coordinate the special teams and coach edge linebackers while adding the title of associate head coach
•    Former Auburn All-SEC defensive lineman Jimmy Brumbaugh has been hired as defensive line coach
•    Christian Robinson, who has served as linebackers coach the last four years at Florida, has been hired as linebackers coach/defensive run game coordinator
"First and foremost, I want to thank Coach Mason for his leadership as our defensive coordinator this past season and wish nothing but the best for him on his next steps," Harsin said. "The decision to leave Auburn was not an easy one for him, and he will always be a part of the Auburn family.
"Coach Schmedding was at Coach Mason's side day after day getting our defense prepared and ready. He is a tremendous defensive coach, who has coordinated championship defenses and is a proven winner. I know our defense will take the next steps forward under Coach Schmedding's leadership."
Prior to his arrival at Auburn, Schmedding was defensive coordinator at Boise State for two seasons, helping lead the Broncos to a Mountain West Championship in 2019 and a unit ranked in the top 25 nationally in defense in scoring defense. Schmedding spent 15 years at Eastern Washington where he served as defensive coordinator from 2015-18. The Eagles won the Football Championship Subdivision (FCS) National Championship in 2010 and made the national title game in 2018.
"We had some really positive things happen defensively this year and working alongside Coach Mason was a great experience for me," Schmedding said. "I can't thank Coach Harsin enough for having the confidence in me to lead this defense. There is work to be done as we build on this past season. I know our defensive staff is ready for the challenge. I'm excited about continuing to collaborate with Coach Watts and Coach Etheridge and welcoming in the teaching and leadership qualities that Jimmy and Christian will bring to the table."
"As we worked through this entire process, we were able to zero in and find two defensive assistant coaches who fit the coaching criteria and expectations we must have," Harsin said. "Jimmy Brumbaugh is an Auburn Man with an extensive resume that includes several SEC schools and a long list of players he's developed who have gone on to play in the NFL. He will be a veteran presence and great teacher of the game for our men up front. You couple that with Christian Robinson, who is a coach who was literally raised with SEC football. Played in this league and has coached the last seven years at four different SEC programs. He's a humble and hungry coach that we can't wait to get around our backers and the rest of the defense."
A former All-SEC defensive lineman at Auburn, Brumbaugh has nearly 20 years of coaching experience and returns to the Plains after serving as a defensive line analyst at Oregon in 2021, helping the Ducks to a 10-4 record and Top 25 finish. 
In 2019 and 2020 seasons, Brumbaugh was the defensive line coach at Colorado and the co-defensive coordinator/defensive line coach at Tennessee. Before joining the staff at Colorado, Brumbaugh was the co-defensive coordinator and defensive line coach at Maryland (2017-18) for two seasons. 
"I'm honored to be back at a place I love," Brumbaugh said. "Auburn is special and it's elite. The chance to learn from and work with Coach Harsin and the staff in place is one of the great opportunities in my career. Saturdays in the fall in Jordan-Hare are second to none and I can't wait to get started working with this group."
He had spent the prior four seasons at Kentucky (2013-16) establishing himself as one of the top defensive line coaches in the country. He also served as an assistant coach at Louisiana Tech (2008-09) and Syracuse (2010-11) and was an assistant strength and conditioning coordinator at LSU (2006-07). At LSU, Brumbaugh helped the Tigers win a BCS National Championship in 2007.
A total of 17 players developed under Brumbaugh have been selected in the NFL Draft, including six first rounders.
During his time as a player at Auburn from 1995-99, Brumbaugh started 44 of his 48 career games, recording 291 tackles and 15 sacks. Brumbaugh was named to the SEC All-Freshman team in 1995, garnered second-team All-SEC honors as a sophomore in 1996 before earning first-team All-SEC accolades as a junior in 1997. 
Brumbaugh was a member of the Tigers' 1997 SEC Western Division champion team. He played in only three games in 1998 due to injury. He was granted a medical hardship waiver and had 51 tackles, six sacks and three fumble recoveries after returning for the 1999 season.
Brumbaugh played in the Blue-Gray Classic All-Star Game following the 1999 campaign and participated in preseason camp with the San Francisco 49ers in 2000 after signing as an undrafted free agent. 

Brumbaugh returned to Auburn after his pro career to finish up his degree, graduating in 2004. He then got into coaching, starting out as a student assistant for Jacksonville State, which won the 2004 Ohio Valley Conference. His first full-time position followed the next year, as he was the defensive line coach at Chattanooga in 2005.
Robinson spent the previous four seasons as linebackers coach at Florida, where he helped the Gators finished seventh nationally in scoring defense in 2019. That season the Gators were among the tops in the SEC in numerous defensive categories and were third nationally in red zone defense. 
"I want to thank Coach Harsin for this tremendous opportunity," Robinson said. "As a player and coach in this league, I've seen the power of Auburn football and the passion of this fan base. There is a long history of great linebacker play here. It's a privilege to help lead this next group of backers. War Eagle!"
Among the linebackers he coached at Florida include NFL draft picks Jonathan Greenard and Vosean Joseph, as well as Ventrell Miller and Mohamoud Diabate.  Miller led the Gators in tackles in 2020, while Diabate had the most tackles among all Gator defenders the last two seasons. 
Prior to his time in Gainesville, Robinson was a graduate assistant at the University of Georgia (2013-14), Ole Miss (2015-16) and Mississippi State (2017).
At Ole Miss, Robinson worked with the defensive line, helping tutor 2015 Hornung Award finalist and first team All-American Robert Nkemdiche, who was taken in the first round (29th overall) of the 2016 NFL Draft by the Arizona Cardinals. Rebel defensive linemen combined for 24 sacks that season, led by a school record-tying 10 from sophomore Marquis Haynes.
A Norcross, Ga., native, played at the University of Georgia from 2009-12, playing in 51 games with 17 starts as a linebacker, compiling 159 tackles, 22.5 TFLs and 4.5 sacks. He was a part of back-to-back SEC Eastern Division title teams in 2011 and 2012.
Robinson began his coaching career at his alma mater in 2013 as a defensive graduate assistant and quality control assistant. During the two-year span (2013-14) he spent in Athens, Ga., the Bulldogs led the SEC in turnover margin and ranked among the nation's best pass defenses in 2014.
Robinson earned a bachelor's degree in sports management from Georgia in 2012 and attended mini-camp with the St. Louis Rams before pursuing a coaching career.