Auburn expected to hire Jimmy Brumbaugh as new defensive line coach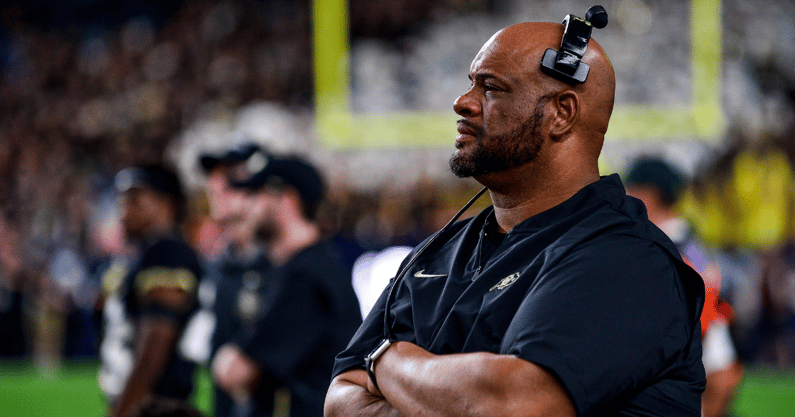 AUBURN – Auburn head coach Bryan Harsin is expected to hire Jimmy Brumbaugh as the Tigers' new defensive line coach, Auburn Live has learned. The hire comes thirteen days after Nick Eason departed for his alma mater Clemson. Brumbaugh was most recently a defensive analyst at Oregon.
[Roster Management: Taking stock of Auburn's personnel after transfers and additions]
Jimmy Brumbaugh's Southeastern Conference experience spans over three decades as both a successful player and coach. Brumbaugh joined Tennessee's staff as co-defensive coordinator and defensive line coach in February 2020 after one season at Colorado, where he was the Buffaloes' defensive line coach.
THE BRUMBAUGH FILE
Born: Dec. 9, 1976
Hometown: Keystone Heights, Florida
Education: Bachelor's in health and human performance (Auburn, 2004)
Playing Experience: Auburn – DL (1995-99)
Wife: Kelly
Children: Legend, Nash
COACHING HISTORY
2004: Jacksonville State, Student Assistant/Defensive Line
2005: Chattanooga: Defensive Line
2006-07: LSU, Assistant Strength and Conditioning Coordinator
2008-09: Louisiana Tech, Defensive Line
2010: Syracuse, Defensive Line
2011: Syracuse, Defensive Tackle
2012: East Mississippi Community College, Defensive Line/Strength and Conditioning Coordinator
2013-16: Kentucky, Defensive Line
2017-18: Maryland, Co-Defensive Coordinator/Defensive Line
2019: Colorado, Defensive Line
2020-present: Tennessee, Co-Defensive Coordinator/Defensive LineBefore joining the staff at Colorado, Brumbaugh was the co-defensive coordinator and defensive line coach at Maryland for two seasons. He had spent the prior four seasons at Kentucky—working alongside current Vol defensive coordinator Derrick Ansley for three years—establishing himself as one of the top defensive line coaches in the country. He also served as an assistant coach at Louisiana Tech and Syracuse and was an assistant strength and conditioning coordinator at LSU.
The 2020 season will be Brumbaugh's 17th in collegiate coaching. A total of 17 players developed under Brumbaugh have been selected in the NFL Draft, including six first rounders.
Colorado (2019)  
In 2019, Brumbaugh's one season at Colorado on Mel Tucker's staff, the Buffs improved their rushing defense (153.6 ypg) led by defensive lineman Mustafa Johnson, who registered 34 tackles and 4.5 sacks. He earned all All-Pac 12 honorable mention accolades, and he garnered Pac-12 Defensive Lineman of the Week honors with a career-best three sacks and one forced fumble against Nebraska.
Kentucky (2013-16)
As the defensive line coach at Kentucky (2013-16), Brumbaugh forged a steady unit for four seasons and developed three future NFL Draft picks. He mentored Bud Dupree for two seasons as the future Pittsburgh Steeler earned All-SEC honors in 2013 and 2014, while finishing in the league's top 10 in sacks both seasons.

Dupree was a first-round selection by the Pittsburgh Steelers, going No. 22 overall in 2015. Za'Darius Smith, who Brumbaugh coached in junior college and at UK, was chosen in the fourth round by the Baltimore Ravens. Smith was named to the 2020 Pro Bowl after leading the Green Bay Packers with 13.5 sacks. Overall, four defensive linemen earned All-SEC honors during his tenure with the Wildcats.
Brumbaugh was part of a coaching staff that turned the Wildcat program around. Kentucky reached its first bowl game in six years in Brumbaugh's final year with an appearance in the 2016 TaxSlayer Bowl.

East Mississippi Community College (2012)
In 2012, Brumbaugh was at East Mississippi Community College, where he was in charge of the defensive line and also was the strength and conditioning coordinator. He helped lead the Lions to a top-10 national ranking, an 8-2 record and the Mississippi North Division championship. Brumbaugh's defensive line combined for 224 tackles, including 44.5 tackles for loss, 21.5 sacks and seven forced fumbles. For the season, the EMCC defense allowed just 75 rushing yards and only 15.3 points per game.

In his lone season at EMCC, Brumbaugh developed six defensive linemen who signed Division I scholarships, including Kentucky's Smith, the nation's No. 1-rated junior college defensive end prospect by JCGridiron.com.
Syracuse (2010-11)
Prior to his time at Kentucky, Brumbaugh spent two seasons at Syracuse, where he coached defensive tackles in 2011 and the defensive line in 2010. The Orange defense displayed drastic improvements under Brumbaugh in 2010, moving from 81st to 17th nationally in scoring defense and from 37th to seventh in total defense. Under Brumbaugh's tutelage, defensive end Chandler Jones garnered All-Big East recognition twice and was drafted 21st overall by the New England Patriots in the 2012 NFL Draft.
Louisiana Tech (2008-09)
Before taking the job at Syracuse, Brumbaugh coached the defensive line at Louisiana Tech in 2008 and 2009. He took over a defensive front that ranked 46th nationally against the rush in 2007 and moved that ranking to 13th at the conclusion of the 2008 season.

LSU (2006-07)
Brumbaugh also has extensive experience as a strength and conditioning coach, working two seasons (2006-07) as an assistant strength and conditioning coordinator at LSU. Under then-head coach Les Miles, LSU won the 2007 national championship, defeating Ohio State, 38-24, in the BCS title game in New Orleans.
While with LSU, Brumbaugh helped produce 12 NFL Draft selections, including five first-round picks. He worked with Glenn Dorsey, who became one of the most decorated players in school history as he captured the Lombardi, Nagurski, Outland and Lott Trophies in 2007. Dorsey was also a two-time first-team All-American.

Playing Career
Brumbaugh lettered four years as a defensive lineman at Auburn, playing both the nose and outside tackle positions, from 1995-99. He started 44 of his 48 career games, recording 291 tackles and 15 sacks. Brumbaugh was named to the SEC All-Freshman team in 1995, earned Auburn's Most Improved Defensive Lineman honor for spring ball and then garnered second-team All-SEC honors as a sophomore in 1996 before earning first-team All-SEC accolades as a junior in 1997. 
Brumbaugh was a member of the Tigers' 1997 SEC Western Division champion team and played in the 1995 Outback, 1996 Independence and 1997 Peach Bowls. Due to an injury he sustained at the end of the 1997 season, Brumbaugh played in only three games in 1998. He was granted a medical hardship waiver and had 51 tackles, six sacks and three fumble recoveries after returning for the 1999 season.

Brumbaugh played in the Blue-Gray Classic All-Star Game following the 1999 campaign and participated in preseason camp with the San Francisco 49ers in 2000 after signing as an undrafted free agent. He went on to play in the XFL with the Birmingham Bolts and then in arena football with the Georgia Force and Birmingham Steeldogs before embarking on a coaching career.

Background
Brumbaugh returned to Auburn after his pro career to finish up his degree, graduating in 2004 with a bachelor's degree in health and human performance. He then decided to get into coaching, starting out as a student assistant for Jacksonville State, which won the 2004 Ohio Valley Conference championship with a 7-1 league record and 9-2 overall mark. His first full-time position followed the next year, as he was the defensive line coach at Chattanooga, which posted a 6-5 record in 2005.
NATIONAL CHAMPIONSHIPS (1)
2007 BCS – LSU
CONFERENCE CHAMPIONSHIPS (2)
2007 SEC – LSU
2004 Ohio Valley – Jacksonville State
BOWL GAMES COACHED IN (5)
2016 TaxSlayer Bowl – Kentucky
2010 Pinstripe Bowl – Syracuse
2008 Independence Bowl – Louisiana Tech
2008 BCS National Championship Game – LSU
2007 Sugar Bowl – LSU 

NFL DRAFT PICKS COACHED (17 draft picks, 6 first rounders)
S Antoine Brooks Jr. (RD 6) – Maryland '20 – Pittsburgh Steelers
S Darnell Savage Jr. (RD 1) – Maryland '19 – Green Bay Packers
DT Byron Cowart (RD 5) – Maryland '19 – New England Patriots
DE Josh Allen (RD 1) – Kentucky '19 – Jacksonville Jaguars
LB Jermaine Carter Jr. (RD 5) – Maryland '18 – Carolina Panthers
DE Bud Dupree (RD 1) – Kentucky '15 – Pittsburgh Steelers
DE Za'Darius Smith (RD 4) – Kentucky '15 – Baltimore Ravens
DT Jay Bromley (RD 3) – Syracuse '14 – New York Giants
DE Chandler Jones (RD 1) – Syracuse '12 – New England Patriots
DT Drake Nevis (RD 3) – LSU '11 – Indianapolis Colts
DT Lazarius Levingston (RD 7) – LSU '11 – Seattle Seahawks
DT Al Woods (RD 4) – LSU '10 – New Orleans Saints
DT D'Anthony Smith (RD 3) – Louisiana Tech '10 – Jacksonville Jaguars
DE Tyson Jackson (RD 1) – LSU '09 – Kansas City Chiefs
DT Ricky Jean-Francois (RD 7) – LSU '09 – San Francisco 49ers
DT Glenn Dorsey (RD 1) – LSU '08 – Kansas City Chiefs
DE Chase Pittman (RD 7) – LSU '07 – Cleveland Browns
The defensive line is poised to be Auburn's best position group in 2022. The Tigers will return Derick Hall, Colby Wooden, Marcus Harris, Eku Leota, Marquis Burks, Marquis Robinson, Zykevious Walker, Tobechi Okoli and Ian Matthews. In addition, Auburn signed 3-star Enyce Sledge, top junior college defensive lineman Jeffrey M'ba and Oregon transfer Jayson Jones.
Auburn will return 41.5 tackles for loss of the 56.5 tackles for loss made by the defensive line, and 25 sacks of the 30 sacks made by the defensive line.
We will add more information to this story shortly.